Reasons to move to Tampa in 2022
Get Your Moving Quote
"*" indicates required fields
You're not alone if you've been thinking about moving to Tampa Bay following a recent visit. In the Tampa Bay area, there are numerous reasons to relocate. Even if you're a baby boomer looking for a retirement home, Tampa Bay has something to offer you, no matter what stage of life you're in. The following is a list of the best reasons to move to Tampa, as compiled by our team of specialists at müv.
Tampa has top-rated clear water beaches
Clearwater Beach, St. Petersburg Beach, and the beaches of Caladesi Island and Fort Desoto Park make up Tampa Bay's white-sand beaches. 2018 and 2016 saw Clearwater Beach, Florida's most popular beach, awarded the nation's top beach. This means that even on a scorching Florida day, the beach's very fine sand remains refreshingly chilly. From Clearwater Beach, you can watch the sun go down over the ocean. To optimize your time at the beach, consider hiring one of the best moving companies in Florida. The majority of the work will be done for you if you hire a moving company. You need to dial their phone number.
Tampa is ideal for outdoor activities
With an average temperature well above 50 degrees and an abundance of sunny days, Tampa Bay is a great place to live. Kayaking through Florida's lush woodlands is a wonderful way to get some exercise while also seeing a wide range of species. Rental boats are available to explore the Intracoastal Waterway and the islands surrounding it, as well as distant beach bars that can only be accessed by water. The Johns Pass may be seen from the sea.
The real estate is not too expensive
Affordable housing may be found for both millennials and the elderly in the Tampa Bay area. In Tampa Bay, the median property price is $390,000, while the median rent is currently just over $2,000 per month. A higher price tag is unavoidable if you want to be near the action of downtown Tampa or the coast. Make sure to ask about local housing alternatives when you pay a visit.
A strong employment market
The amount of unemployed people in Tampa is quite low (less than 4 percent) (well under the national average). Employment opportunities in Tampa are concentrated in four sectors: defense and military services; healthcare; and higher education. There is a plethora of Bloomin Brands If you're looking for work, this might be one of the reasons to move to Tampa for you. There are several advantages to hiring local movers in Tampa, such as saving time and money, while relocating to the city. Transport should not be a source of concern when looking for a job.
Great dining options
Many dining alternatives are available to Tampa residents, from fast-food chains to gourmet dining establishments. Several of these establishments allow dogs, and they often have live music. Tampa and St. Petersburg are just some of the area's most popular destinations. You can hire a packing service Tampa in addition to a moving company if you decide to relocate. Relocating to Tampa and experiencing all of its wonderful eateries is made easier with this guide.
Very good health care
It's critical to have both preventive and emergency healthcare while moving to a new location. three prominent hospitals in the Tampa Bay area: St. Joseph's (SJH), Tampa General Hospital(TGH). US News & World Report recently ranked Tampa General Hospital as Florida's second-best hospital. Take a look at the rankings for Tampa General Hospital.
Plenty of cruises
If you live in Tampa, you'll have easy access to the city's beautiful beaches, as well as cruise ships that will take you to the Caribbean. At Port Tampa Bay, you may board cruises from Royal Caribbean, Holland America, and Norwegian for voyages lasting four to seven days, or even longer. To top it all off, your cruise will depart from right in Tampa Bay, saving you time and money by not requiring you to travel elsewhere.
A good city to retire
Tampa Bay was named Florida's seventh-best retirement city in 2017. The research was based on 28 criteria, including the contentment of local residents, taxes that are not too much to handle, house costs that are acceptable, and the standard of medical care available. As a matter of course, the Tampa Bay area is regularly recognized in this manner. Tampa is a great place to live year-round due to its year-round sunshine, and an option for living outdoors all the time. Moving and storage Tampa is a good option for the elderly (and everyone else). You might think about hiring a moving and/or storage company because elderly people rarely like to carry all of their hefty items.
There are always events and festivals
Visiting the Tampa Bay area often is a joy because of all the exciting events, outdoor festivals, and live performances that take place there. All it takes is just a  quick search to find all the many annual events that take place in the city. In Tampa Bay, you can enjoy your stay through any kind of entertainment. The people there will be happy to inform and help you find out what's happening in Tampa.
The waterfront is amazing
Tampa has a riverwalk, in case you didn't know. In Downtown Tampa, along the Hillsborough River, the 2.4-mile Tampa Riverwalk is a great place to eat and drink while taking in views of the river and the surrounding area. There is a playground and a splash pad at Curtis Hixon Waterfront Park for your children to enjoy. Riverfest is a festival that takes place in the summer and features a wiener dog derby and other fun activities.
A growing millennial population
The survey found that moving to Tampa, Florida can be an option if you wish to attract the young. These people are moving to Tampa Bay because of the strong employment market, tech startup culture, and booming local craft beer industry that includes Cigar City Brewing, Coppertail Brewing, and Angry Chair Brewing. Tampa has a lot to offer, and we hope you can see why after reading this list of benefits. As a result, people see that as reasons to move to Tampa.
Few simple steps
Contact our business
Reach out to our Florida movers by phone, email or through our website.
Get your free quote
Give müv the details of your upcoming relocation and receive a no-obligation moving quote and a tailored plan of action.
Enjoy your relocation
Forget about the stress of moving while one of the top moving companies in Florida handles your move.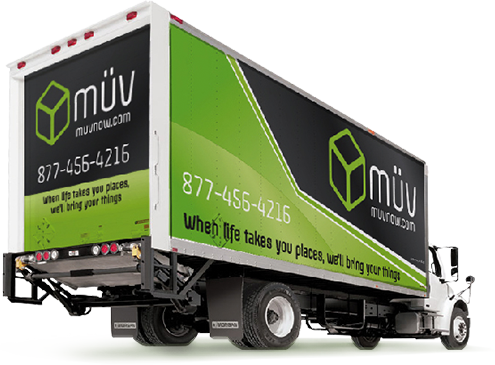 Sales Center Hours of Operation:
Monday - Friday: 9am-6pm
Saturday: 9am-1pm