Guide for moving from Orlando to Space Coast
Get Your Moving Quote
"*" indicates required fields
They say that Florida is a dream come true and that it's entirely different from any other part of the US. We can agree with the fact that the nature and climate zone of this region are 100% unique. Everyone should experience that if there is such a possibility. However, there are some people who still want to reach for the perfect home. For us, it's an excellent reason for the action of moving from Orlando to Space Coast. You'll definitely need a professional team of movers, like our skilled moving crew of reliable Central Florida movers. We are always ready to start transporting your belongings to a new location. Here is how to start on your relocation journey.
Moving from Orlando to Space Coast: The ultimate guide
We can tell that it will be stressful at first, but you know that it'll all be forgotten as soon as you enter your new home. Think about that beautiful backyard and exploring a new neighborhood, and you'll have the strength to finally start packing. When we finally encouraged you to start, this is the list of things you have to do:
Create a list
Creating a list is the first phase of moving. This is one of the best ways to finish everything on time and follow the whole process. You can make a Google Docs or Excel table so you can fill it as you go. Write down every important phone number and date. If you do need to change the furniture position when you arrive at your new home or still want to replace an old sofa, start writing dimensions so it can fit perfectly. One more thing you can add is the exact moving date. When you're in hurry, you can easily forget the exact date, and it can bring in additional costs. In order to prevent these scenarios, call trusted moving professionals.
Get packing supplies
Depending on your budget, you can decide on taking more or less expensive packing supplies. If your budget is limited and you want to spend less on all the boxes and tapes, there are two options. Firstly, you can try finding free boxes from numerous companies online. If you are ready to search, you look better around every market, and we are sure you'll find something. The second option is to make a deal with a moving company. Sometimes, moving companies can enable packing materials if you decide on using their services. It could be much cheaper if you agree to use their materials than find your own. There are no rules, but you need to find the best deal for yourself. Now you can start moving from Orlando to Space Coast.
Packing
Packing is the part when you have to use your patience. Go room by room so you won't forget everything. Firstly wrap your furniture and prepare the biggest pieces for the move. If you possess leather items, be sure to clean them from the dust and potential stains. Then use packing blankets and tape to pack it. Just be patient and get some help to make sure your tape s not directly on the leather. After that, you can go on packing other items. Start with the room with the most details. The kitchen is definitely the tricky part. You have to be patient when packing cutlery, plates, and glasses. You will need a marker to mark every box with fragile items. That will help your Space Coast movers to pack the boxes into the moving truck. Knowing that there are some fragile items inside, those boxes will automatically go on top.
Cleaning
When your house is finally empty, the last step is detailed cleaning. You have to make sure to remove stains from the floors, walls, and stairs. Cleaning every inch of the space is a must so you can know that the house will welcome the future owner in the proper way. Try not to use too aggressive substances for cleaning, so you won't damage the wooden floors. Take care of the windows too and make sure there are no fingerprints left. Not just because of the future owner, but because of you. You have to say goodbye to the house, so leave it perfectly clean and go further. Having this in mind, you can calmly explore Space Coast as soon as you arrive.
Spend time with your family
It doesn't sound like a typical moving tip, but it's so important. Spending time with your family is a crucial part because they need attention too. We know that this time is stressful for you and that you've spent days and nights packing and cleaning. This indeed affects your children and the rest of the family. If you have a pet, he'll surely feel abandoned and alone. Don't let them feel that way. Engage a professional mover for your moving from Orlando to Space Coast so you can get some time together. When you get in touch with one of the most trustworthy moving companies Orlando, movers will know how to do their job, so you don't have to be there every second. Instead, you can get some time for a walk and a quiet afternoon with your family.
Conclusion
One more thing you have to do is to get in the car and go. When all the boxes are finally packed, your residential movers Orlando team will do the rest and transport your belongings to a new location. Now, when the hardest part is finally over, you can start your journey to your perfect home. We hope you already packed your first night box with everything you'll need that first day. After that, it will take some time to rest, but we also hope you'll be in the mood for unpacking, which can also be pretty exhausting.
However, no matter how hard it was, living in your new house doesn't have a price. Once you pack everything, it is time for a fresh beginning. Just remember, be patient and everything will go better than you planned. Moving from Orlando to Space Coast won't be ideal, but you can be sure it'll be worth it.
Few simple steps
Contact our business
Reach out to our Florida movers by phone, email or through our website.
Get your free quote
Give müv the details of your upcoming relocation and receive a no-obligation moving quote and a tailored plan of action.
Enjoy your relocation
Forget about the stress of moving while one of the top moving companies in Florida handles your move.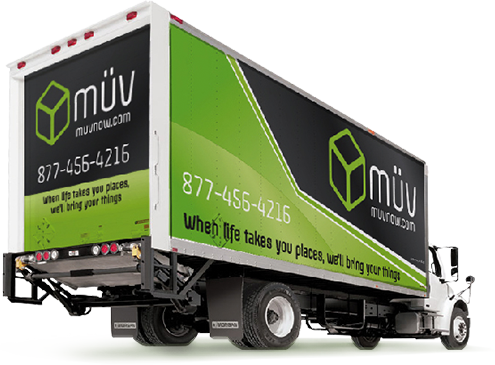 Sales Center Hours of Operation:
Monday - Friday: 9am-6pm
Saturday: 9am-1pm