5 Benefits of Hiring Packing and Moving Service in Orlando
Get Your Moving Quote
"*" indicates required fields
Moving from one home to another can be a hard and stressful task. You have to make a lot of decisions. One of those decisions is whether or not to employ an experienced moving company to help with your move. All Central Florida movers have helped millions of Florida homeowners easily move their items into their new homes. While there are many advantages to hiring experienced movers for both long-distance and local moves. But, if you live in Orlando, read more to find out what are the 5 benefits of hiring packing and moving service in Orlando.
Why Do People Hire Moving Companies?
Before we tell you the benefits of hiring packing and moving service in Orlando, we first want to tell you why you even need a moving company. Relocating is sometimes one of the hardest life occasions that individuals face. From packing your items to leasing a moving truck, the procedure can be time-consuming, overwhelming, and quite costly. You definitely have many choices to pick from when arranging your move. You can pack, load, unpack and set up your items using your own vehicles and ask for help from your friends or family.
Or, you can do all that using a rented moving vehicle. But then keep in mind that, alongside the daily rental rate cost, there are other fees to use their moving pads, hand trucks, and packing materials. You can also hire movers Orlando residents recommend, and have all of these things taken care of. And you can focus your time on dealing with all of the other problems that come along with moving.
Leave the packing to the experts
One of the benefits of hiring packing and moving service is that you won't have to worry about the boring packing procedure. Experienced movers have the understanding and skillfulness needed to safely and correctly pack up all of your items quickly and efficiently. They'll understand the best packing material needed to wrap your valuables as well as antiques. So, nothing is damaged during the relocation process. And you don't have to spend hours researching and looking for ways to do it properly. The packing service Orlando movers provide is one of the favorite services out there.
Relieve some of the moving stress
Whether you plan a short-distance move, or across the state one, the procedure of moving can be quite stressful. And that's where one of the advantages of hiring packing and moving service in Orlando comes into play. When you employ a moving company, you can rest leisurely knowing you have professional movers and packers managing your items. Professionals will help take some of the moving pressure off of our shoulders. And because of that, it will be a lot easier for you to breathe.
Save time
For people that are in a rush to move, hiring a moving company and their services is salvation! You may already have a schedule of when specific things must be done. And with professional help, you can finish everything while others help you move. While people are packing and unpacking your belongings, you can concentrate on other things. For example, enrolling your kids in school or contacting your internet provider to change addresses.
Keeping your items safe is one of the benefits of hiring packing and moving service in Orlando
At times we will find ourselves in some problematic situations. For example, your lease is over and you need to go to a new apartment. But the move-in day is not yet! So you need a place to store your belongings. And this is where the advantages of hiring packing and moving service in Orlando shine again. You see you can use storage Orlando FL services! This way your items are safe and in perfect condition, and can wait till the moving date.
Avoid potential injuries 
When moving there are many potential hazards. Although many people don't even realize how much work a move is, over time they find themselves in some tight situations. For example, moving heavy or glass furniture can be extremely dangerous. In situations where something might happen, you can face not only small injuries but huge ones as well. So, hiring professionals ally save you a lot of trouble.
More Benefits of Using Professional Help
We told you what are the 5 pros of hiring packing and moving service in Orlando, but there are always more! Once you find reliable movers you will notice the benefits quite fast. We will tell you even more!
Saving money
People usually think that hiring professionals means spending a lot of money. But what most fail to realize is that a nice way to save money instead. When you hire a company and its services, some things like packing materials, insurance, etc., are already included in the moving prices. So, not only will you save time but money as well.
Insurance
We already touched up on the topic of insurance. But let us explain why this is important. Insurance is one of the biggest benefits that any company can provide. Of course, when moving, you can also pay for your own insurance. But it comes a lot cheaper and better when alongside a moving company. Although there are many upsides to hiring packing and moving service in Orlando you do need to remember that insurance is a nice thing to have when moving. It helps you in case of any damages during the move. That way if something happens you can be paid for the damages and losses.
Enjoy Your Stress-Free Move
As you can see, there are more than only 5 benefits of hiring packing and moving service in Orlando. There are no disadvantages to making this decision. Take that step and enjoy your stress-free move. You will see that you won't regret it.
Few simple steps
Contact our business
Reach out to our Florida movers by phone, email or through our website.
Get your free quote
Give müv the details of your upcoming relocation and receive a no-obligation moving quote and a tailored plan of action.
Enjoy your relocation
Forget about the stress of moving while one of the top moving companies in Florida handles your move.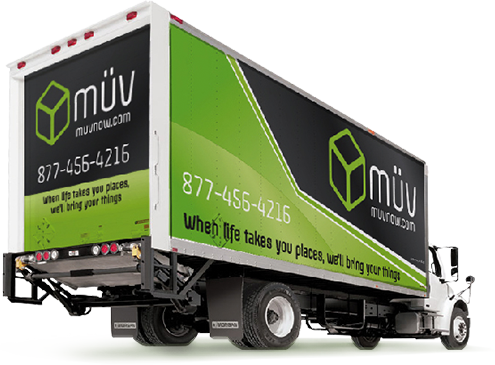 Sales Center Hours of Operation:
Monday - Friday: 9am-6pm
Saturday: 9am-1pm