5 reasons why renting storage in Orlando is a good idea
Get Your Moving Quote
"*" indicates required fields
You have probably heard that people have been renting storage units a lot lately. You may think that it is unnecessary, especially if you don't plan to move. Even then, you may be wondering why renting storage in Orlando is a good idea. Or is it just a waste of time and money? You might be surprised to learn that people rent storage daily, even if they don't have to go anywhere! There are many reasons for that, and all of them are valid. Moving companies in Central Florida can confirm that relocation goes much smoother if there are unnecessary items in the storage. In addition to that, transferring items from a storage unit to a new location is also more manageable. So, keep on reading to see why renting storage in Orlando is a good idea – at any time you might require it.
What are storage units, and what type do you need when renting?
As the term itself declares, storage units are closed spaces and containers that can be used to store your belongings. A storage unit could be temperature controlled, but it doesn't always have the same facilities that make up a home that is fit for habitation. Other storage units are often formed of sheet metal and are rather crude constructions with very large temperature fluctuations. You can use:
onsite storage solutions,
offsite storage solutions,
short-term storage,
and long-term storage.
When you use offsite storage units, you probably rent them for a more extended period. You must know why renting storage in Orlando far away from your home, for a shorter period, is not recommendable. On the other hand, onsite storage is also a good idea. No matter how long you want to keep your things in there, you are always in control of this type of storage. Storage Orlando FL is a great way to help you keep your things safe.
Temperature-controlled storage units
Recently, people have completely stopped taking into consideration any storage units, apart from climate or temperature-controlled ones. There are some items that can't go into regular storage solutions. With this kind of storage, there is nothing to think or worry about. Local movers Orlando will just transfer your belongings and you will know they are in a good place. Climate-controlled storage may be a bit more expensive, but it is necessary in some cases.
The first reason why renting storage in Orlando is good is due to relocation
Of course, relocation is the most common reason for renting a storage unit. If you are moving to a new home, or you are moving your office, storage is the right solution. First of all, you may not be able to fit all of your belongings into a new place. Maybe your new apartment doesn't have a closet big enough to keep all of your things, or your new office is smaller. Nevertheless, office movers Orlando will be there to help you. Whether you want to relocate half of your things to the storage, the other half to your office, or keep everything stored, reliable movers will assist you.
Another reason you want to keep things in the store while moving is to prepare everything. Your new home maybe isn't ready. On the other hand, you get the feeling that bulky items just make a mess in your old house while trying to pack. So, the solution is to store the items you won't be needing until your relocation is over.
Another reason for renting storage is the redecoration
The situation with redecorating and renovating the house is similar to relocation. There are a lot of items you want to keep out of your way. At the same time, you don't want the antique furniture to get damaged while you use drills and other equipment. On Pinterest, you can find many decor ideas, so you might not even want to take some of the things back from storage. Either way, storage is the solution, whether you just want to keep the items away temporarily, or you don't need them anymore but don't want to throw them away just yet.
Keep seasonal clothes in storage
One of the main reasons for renting storage is to keep seasonal clothes or any other seasonal item in there. This may seem odd to someone. Why would you keep clothes in storage? However, long-term storage is excellent when you have many seasonal items and not that much space in your home. Your clothes will always be neat and protected. On the other hand, ski equipment or children's pools can all be in storage until the season to use them arrives.
If you are a collector, storage is a must-have
It goes without saying that if you collect big items, no matter how big your house is, you will probably never have enough space. For example, some people collect old bikes. Of course, you won't use a storage unit for stamps, but if you collect bulky items, such as bikes, antique furniture, or books, the best is to keep them in storage. And not just for space. In storage, they will be protected from any damage.
Storage units are great for students
If you are a student, you are probably moving around a lot. From one dorm to another, from one rented home to the other. In addition to that, you visit your family during the holiday season. So, when you are about to finish your studies and finally settle down, rent storage to keep the items you have collected over the years. It will be great to move in and you already have half of the things.
Storage units make our life easier
As you can see, there are many reasons why renting storage in Orlando is a good idea. We have mentioned only some of them. If you have been having second thoughts, this is your cue to find a reliable storage service and choose the type of storage you need.
Few simple steps
Contact our business
Reach out to our Florida movers by phone, email or through our website.
Get your free quote
Give müv the details of your upcoming relocation and receive a no-obligation moving quote and a tailored plan of action.
Enjoy your relocation
Forget about the stress of moving while one of the top moving companies in Florida handles your move.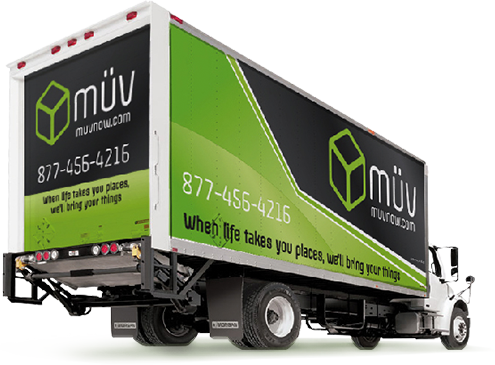 Sales Center Hours of Operation:
Monday - Friday: 9am-6pm
Saturday: 9am-1pm