Best places to live in Florida
Get Your Moving Quote
"*" indicates required fields
Warm sandy beaches and surf waves are all we want to see during the summer. For most people, the summer is the time they're looking forward to all year long. Who wouldn't want their summer to last forever? If that's also how you feel, maybe it's time to consider moving to Florida. This state has something for everyone, and you'll never be craving for the sun ever again. You're sure to get used to life here in no time to the perfect mix of urban surroundings and remote paradise. Significant changes like relocation can be complex for some people. First and foremost, the relocation process can be a challenge for the inexperienced. That's where a reliable moving company, like müv, could come in handy. Furthermore, we can also offer some helpful insight into the best places to live in Florida so that you know where to start.
Welcome to Florida – we'll be your guide
Florida is a large state. There is someone for everyone here. No matter what stage of your life you're currently at, you will be able to find happiness here. If you're a student, you can expect great education opportunities, which will surely lead to profitable job opportunities. If you've only just now started a family, you can be sure that your children will enjoy sandy beaches and a fun water park. If you're bored and in the mood to have fun, then Florida nightlife is just what the doctor ordered. And if you're hoping for a peaceful retirement, beautiful Floridian sunsets and long walks by the beach will surely be to your taste. No matter what industry you're in or what you hope to get by relocating to Florida, you can be sure that you won't make a mistake.
Knowledge is power, so learn all about the best places to live in Florida here and now!
All you need to do is get in touch with the right moving company, and you'll be on your way. The relocation process itself is a challenge. However, when you think about what you're gaining, you'll find it's worth the trouble. You just need to learn more about what different cities in Florida have to offer and pick the one that suits your wishes the best.
Starting with Tampa, which is definitely one of the best places to live in Florida
Starting your life on Florida beaches would be ideal in the city of Tampa. This charming place is a major city on the famous Gulf Coast. Being the third most populated city in Florida, you can be sure that you'll find a wide variety of activities in Tampa that can suit anyone's taste. To start with, being a large city, with a lot of traffic in all possible senses of that word, you're bound to find employment here, no matter what branch you're in. Tampa is simply ideal for young entrepreneurs who are set on making the world a better place. Therefore, asking around for the services like moving and storage Tampa residents is definitely a good idea.
Tampa is also great fun – you can explore until your heart's content once you get here
Apart from having great job opportunities, with private sector employment increased by 72,400 jobs over the year, Tampa is incredibly fun. This lovely city has some of the most beautiful landmarks in the entire state of Florida. Were you to relocate here, you'd likely enjoy the perks of having some of the best views from your bedroom window. Having a lovely view might not be a reason to move, but add it all together and your life might start to look like a thing from the movies. Tampa Bay is especially beautiful and a place deserving of a visit. It is filled with lovely sandy beaches and scenic vistas for everyone to enjoy. Some of the best places in Tampa Bay that you should look forward to visiting once you get here include:
Bayshore Boulevard

Boca Ciega Millennium Park

Indian Rocks beach

North Redington beach

Lake Seminole Park
These places will your everyday pleasant and your evenings magical. If you're planning on moving to Florida, then you shouldn't neglect to take a look and try your luck in Tampa!
If you seek to retire, then one of the best places to live in Florida is Melbourne
Depending on the reason for your relocation, a different kind of place might be for you at this precise moment. For example, there is more than one option if you're moving to Florida to retire. However, one of the best is Melbourne. Floridians say that the city of Melbourne in Florida is the best place for a peaceful retirement. If you're moving to this sunny state because you want to spend your golden years by the sea and under clear skies, then Melbourne is just the place for you. You won't find a better place for a peaceful retirement from amazing healthcare facilities to retiree taxes. Therefore, you could start looking for some reliable moving companies Melbourne FL residents trust and recommend. Melbourne is definitely a place for you if you're getting closer to your retirement.
Come to Orlando if you're looking for employment
If you're planning a relocation in order to seek employment, then Orlando might be just the place for you. Orlando is the county seat of Orange County and, therefore, an ideal place for young entrepreneurs and fresh-out-of-college job seekers. It is one of the busiest cities in the US, with more conferences and seminars than any other place. As such, it is a paradise for people who are finding their way in pretty much any industry. If you live in the IT world, you couldn't hope for a better location. Orlando is known for its growing tech sectors. Therefore, you can be sure to find a perfect opportunity for advancement here. All you need to do is contact some of the best movers Orlando has to offer. After that, you'll find your way to Orlando easily and you'll be there in no time.
Relocate to Space Coast and get the best of both worlds
Space Coast is one of the few themed coasts in Florida. Located between the Kennedy Space Center (KSC) and Cape Canaveral Space Force Station, Space Coast prides itself on being closely related to Nasa. It's precisely for this reason that this coast carries its name. If you're looking for an adventurous-sounding place where you can still enjoy the benefits of living near the beach, then relocating to Space Coast should be a no-brainer. Furthermore, Space Coast is also a perfect mix of enjoyment and advancement. Apart from having a lot of restaurants and bars, you must visit, it also has a lot to offer in the way of job opportunities. If you're looking to start a shining career while still enjoying the beach view from your office window, then this is just the place for you. Contact the Space Coast movers today and reach towards your starry future.
St Petersburg could be a great investment in your future
Another great place for young entrepreneurs is St Petersburg. This is the fifth-largest city in Florida, and, as such, has a reputation for being an excellent place for newcomers to the state. It's not quite large enough for you to feel overwhelmed, but you still get enough thrill to keep the excitement going. The city has seen the job market increase lately, and analysts predict that it will continue to prosper. Therefore, if you'd really like to invest in your future and live in a place with great potential, the city of St Petersburg is for you.
It's also a place where you can enjoy art and nature in your free time
St Petersburg is also an excellent place for nature lovers, artists, and surfers. It is located on the beach, so you won't have much trouble looking for fun. Furthermore, it has several natural parks for you to enjoy. Not being too large works in the city's favor. It leaves room for you to take a breather and enjoy nature and the open air. The city also has a thriving art community and is ideal for budding artists looking for their place under the sun. If all of this sounds appealing to you, don't hesitate! Get in touch with movers St Petersburg FL residents rely on to help them with moving problems.
If you seek a mix of culture and nature, come to Winter Park
Winter Park is also one of the cities in Florida where many would like to live. This city is located in Orange County and has great connections with the rest of the cities in the county. Winter Park is a smaller city, that doesn't have a lot of residents. However, it does have a rich history and is an enjoyable place for anyone who likes to spend their time in museums, parks, and restaurants. Winter Park is a place of culture. There are a lot of cultural events taking place there. This city's largest street, Park Avenue, is filled with fine shops, so you're guaranteed a good time if you're a shopaholic. Furthermore, Winter Park has beautiful nature. Large trees and gorgeous lakes are what this city is most proud of. Therefore, you should consider asking around for moving companies Winter Park has to offer and relocating there.
Fort Myers – one of the most desired locations in Florida
Finally, if you truly want to experience the best living in Florida has to offer, then one of the places you should consider is Fort Myers. It may be a bit more touristy, but this anchor of the metropolitan statistical area would be a great place for a fresh start. It's known as a place where you can enjoy lovely beaches, go fishing, and truly get the most of that Florida lifestyle. Being one of the richer cities on this list, it may not be exactly for everyone's budget. However, the greater the risk, the greater the reward. If you love adventure and are longing for something more, Fort Myers is just the place for you. Try your luck and see what you're made of! Fort Myers carries the name of one of the most desired places to live in for a reason.
Choose from some of the Best places to live in Florida and start planning your move
Now that you know what your options are, it's time to make a decision. Depending on what you're looking for, any one of these places could be for you. When you're making a choice between the best places to live in Florida, you can't go wrong if you think of your needs first and foremost. Florida is a large state with many beautiful cities that have a lot to offer. However, only you know what's best for you. Don't decide blindly because that's the only way you could make a mistake.
Few simple steps
Contact our business
Reach out to our Florida movers by phone, email or through our website.
Get your free quote
Give müv the details of your upcoming relocation and receive a no-obligation moving quote and a tailored plan of action.
Enjoy your relocation
Forget about the stress of moving while one of the top moving companies in Florida handles your move.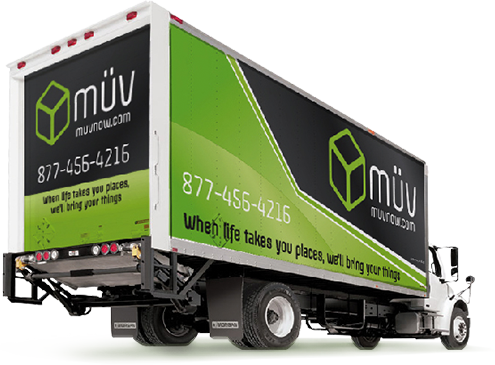 Sales Center Hours of Operation:
Monday - Friday: 9am-6pm
Saturday: 9am-1pm