How to speed up unpacking
Get Your Moving Quote
"*" indicates required fields
Moving home includes a lot of activities, from hiring residential movers Tampa and packing to transporting all your belongings and unpacking them. Good organization and creating an action plan is the key to a stress-free and successful move. The whole process can take weeks, even months, and it doesn't end on a moving day. Once you are finally in your home, you have to dig through boxes and unpack them. We have some tips on how to speed up unpacking.
Do not pack everything!
Packing is the most time-consuming and tiring part of relocation. You have to go through all your belongings, organize and pack them. It is important to declutter your home before you start packing. If you are wondering how to speed up unpacking, our first advice is – to pack only things you use and need. Divide all your things into three piles: keep, toss, and donate. There is no point in packing clothes you no longer wear or transporting pieces of furniture that won't fit into your new home. Get rid of gadgets you don't use, magazines, old kids' toys, etc. You can donate them if they are in good condition or organize a yard sale. And, don't forget to gather moving supplies in advance.
How to speed up unpacking – create an inventory list
Once you decide which items you want to transport to your new home, make an inventory list. The list should include all your possessions, their condition, and their value. Although it sounds like a huge job, creating a list of inventory is actually really useful. You can use it to ensure all your things have been delivered undamaged, it can help you decide whether you need to rent a storage unit, and it will accelerate the unpacking process. Also, it can be very useful when discussing insurance policies with müv.
Pack an essentials bag
This is a bag that includes all necessities for the first 24 hours in your new home. The first night in a new home is hard enough without you having to go through all the boxes in search of a toothbrush. It is even more important to pack this bag if you are moving with children. In that case, it is advisable to pack a separate box for kids' essentials. This is the last box that will be loaded onto a moving truck and the first one you will unpack in your new home.
Some of the items that your essentials box should include are:
Toiletries
Pajamas
Clothes
Medication
Cutlery and plates
Pillows, sheets, and towels
Food and snacks
Kids' favorite toys
Diapers
Chargers
Important documents
This bag will be your survival kit during the first couple of days in your new home. It will probably take some time before you unpack all your boxes and find the perfect spot for everything. With an essentials box, you will have all your necessities easily accessible.
How to speed up unpacking? Label moving boxes!
After you protect and pack all your things, it is important to label moving boxes. Imagine a truck full of identical boxes. You wouldn't have the slightest idea where anything goes or how even to start unpacking. So, create a system that will help you stay organized. You can use stickers, different color markers, or packing tape in different colors. Write some essential information on the side of each box, so that you would be able to read it once the boxes are piled up. You can write handling instructions or just put "fragile"or content information such as "books. " Also, write a destination room on each box – this way you will know exactly where everything goes.
Unpack room by room
If you want to unpack efficiently, you need to have a system instead of just unpacking boxes randomly. Examine box labels and unpack room by room. Start with the kitchen items – hook up appliances, and unpack pots and pans. This will make your life in the new home easier. Bedrooms are next. Unpack the linens for each room and organize your closets. Now you can unpack the most important items in the bathroom – medications, towels, toiletries, shower curtain, etc. Last, unpack the garage and utility areas. Items that go here are not essential so you can organize these areas once you finish everything else.
Do you need help unpacking?
There are many full-service moving companies on the market. This means that your movers can help you pack, disassemble furniture, transport everything to your new home, and unpack moving boxes. If you need packing service Tampa, hire movers that are reliable and experienced. Well-trained movers can handle this aspect of your relocation and ensure a safe and smooth move.
In order to find movers that provide quality moving services in Tampa and fit your budget, you need to do some research. Visit specialized moving companies' websites where you can find license information, reviews, ratings, comments, and previously submitted comments. Request several free in-house moving estimates and compare the moving costs. Also, you can ask your friends and family for a recommendation. If they have moved recently and have had a positive experience, they can save you a lot of time and energy.
In conclusion
Everyone wants to know how to speed up unpacking. It is important to have a plan and a system that works. This will facilitate the unpacking process and you won't get nervous or agitated. Hopefully, these tips and tricks will help you during your moving and unpacking process. We wish you a safe relocation and a great start to this new life chapter.
Few simple steps
Contact our business
Reach out to our Florida movers by phone, email or through our website.
Get your free quote
Give müv the details of your upcoming relocation and receive a no-obligation moving quote and a tailored plan of action.
Enjoy your relocation
Forget about the stress of moving while one of the top moving companies in Florida handles your move.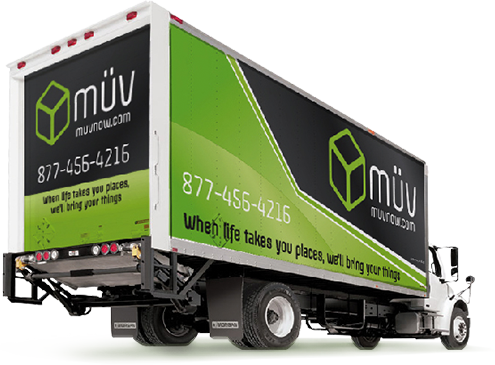 Sales Center Hours of Operation:
Monday - Friday: 9am-6pm
Saturday: 9am-1pm