7 quick facts about living in Tampa
Get Your Moving Quote
"*" indicates required fields
One of the first things you should do before you start looking for movers is to learn as much as you can about your new home. The more information you know about the city you are moving to, the easier it is to stay focused and motivated. If living in Tampa is something you have been considering for quite some time, then this quick guide is exactly what you need. Also, keep in mind that an experienced team of movers is also necessary to handle your move. That's why we at müv want you to know that our services stand at your disposal once you pick your moving dates. Make sure to contact us for more details about our top-level offer that make any move simple and enjoyable!
What makes life in Tampa so unique?
Before you start looking for the moving and packing service Tampa has on offer, make sure to learn some of the most important facts about the city. As one of the thriving cities in Florida, Tampa is the place to be for many reasons. Families, entrepreneurs, students, and many other people move there every year, which speaks volumes. You are more likely to build a new, prosperous life in Tampa. The strong economy and work-life balance are just some of the numerous positive traits of this exceptional city.
1. Neighborhoods for everybody's taste
Compared with other major cities in Florida, Tampa has a more affordable housing market. Plus, you can choose to live in any part of the city that matches your vibe and preferences. Here are some of the most notable neighborhoods you should know of:
Downtown – the heart of Tampa where entrepreneurs speak their businesses into existence. It's the most vibrant part of the city that's always buzzing with different kinds of people heading home, to work, a party, etc.
Hyde Park – A diverse neighborhood where life is anything but boring. You can enjoy all the benefits this neighborhood offers (dining and shopping options, nightlife, green surfaces, etc.) while staying connected to the city center at the same time thanks to excellent public transportation.
St. Petersburg – One of the most popular neighborhoods with amazing beaches.
There are many other neighborhoods that are popular for historical spots, or proximity to the outdoors. In addition, each part of the city has a unique story to tell. This is why living in Tampa feels like living in many different cultures at the same time!
2. Employment rate in Tampa is on the rise
When we speak of employment in Florida, it's worth mentioning Tampa as a thriving business center with a booming job market. Whether you seek a better salary or higher position, Tampa offers a plethora of chances. However, you must have in mind that landing a decent job comes before you hire local movers in Tampa. You can never be sure how long the job hunt in an urban area like Tampa is going to last.
3. Living in Tampa means living in a multicultural environment
Another beautiful thing about life in Tampa is its community. Wherever you go, you will notice a touch of a different culture through dining options, art, and people speaking different languages. You can expect to have pleasant neighbors once you move to Tampa. People there are known for their relaxed, laid-back lifestyle.
4. Outdoor lovers won't regret living in Tampa
Moving to a new place of residence is easier when you know you can do your favorite activities there. Believe it or not, many people moving to Tampa name the outdoors as one of their major motivations. Proximity to hiking trails and nature preserves, as well as a wide array of water-based activities explain why the people of Tampa live an active lifestyle. It's not a surprise that Tampa Bay is one of the most popular spots.
5. Tampa isn't that far from other interesting cities
It takes 1.5 up to 4 hours of driving to reach some of the most notable places in Florida like the city of Miami, Orlando, and so on. When you feel like you need a change of environment, just get in the car, and have a nice weekend wherever you want.
6. You can forget about winter when living in Tampa
Are you looking for a place where you would gladly relocate without turning back? If so, then expect the city of Tampa to steal your heart. The weather is warm throughout the entire year, and you don't have to wear your winter clothes except when visiting friends/relatives in colder areas.
7. Top-level healthcare system
Tampa has some of the top-ranked hospitals in entire Florida. Plus, it's cheaper compared to many big cities. It won't take you too long to sort all your medical documentation in Tampa healthcare facilities. The top-notch organization is the reason why the healthcare system is rarely chaotic.
Let the professional moving experts help you start a new life chapter in Tampa!
Be careful when looking for moving services in Tampa. It's important to focus only on licensed and experienced moving companies that maintain the highest service quality. Besides moving services, focus also on storage solutions and packing supplies the companies have on offer. After you choose several most promising movers, call them for additional information and book their moving estimates. This is the fastest yet most efficient way to get in touch with capable and trustworthy movers.
Make sure not to rush your plans regarding living in Tampa. The same applies to your moving journey. When you do one moving task at a time, everything runs faster and smoother. Therefore, try your best to stay patient and rely on expert movers. Soon you will enjoy your new home and life in Tampa you deserve!
Few simple steps
Contact our business
Reach out to our Florida movers by phone, email or through our website.
Get your free quote
Give müv the details of your upcoming relocation and receive a no-obligation moving quote and a tailored plan of action.
Enjoy your relocation
Forget about the stress of moving while one of the top moving companies in Florida handles your move.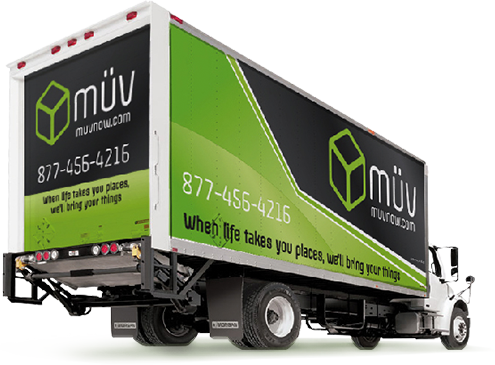 Sales Center Hours of Operation:
Monday - Friday: 9am-6pm
Saturday: 9am-1pm