How to label boxes for moving
Get Your Moving Quote
"*" indicates required fields
Welcome to the packing part of your relocation. People are usually divided about this one since some of them find it to be very difficult and exhausting. Others, find it super fun and actually relaxing. And while there are many methods to ease this entire process you will still need to rely on tips and tricks of your own. Every household is different and so your packing will be as well. One of the most important points of packing is definitely how to label boxes for moving. If you do it right, both packing and unpacking will be much easier. Here is what to focus on! 
The Importance Of Labeling
Although it may sound like a step you can easily skip, labeling actually has a much bigger purpose when it comes to packing.  As moving companies in Central Florida usually advise, labeling boxes is making both packing and unpacking much easier. You will be able to speed up the packing and avoid forgetting something important. Besides that, your old place will be much more specious during packing as each item will have its category. Once movers arrive or you start the transportation yourself, you will know exactly how and where to place certain boxes. This will prevent the fragile ones from damaging or breaking. 
How To Label Boxes For Moving
For successful box labeling, you will need a couple of tools to start with. Besides that, you will need the rest of the packing materials close to you as well. Before you start with labeling make sure that the entire packing process is well planned. If for some reason you can't do it yourself, or it is simply too much for you, rely on packing service Orlando. Not only you will not be stressing out but you will know for sure that your items are in safe hands. If packing is your thing after all just make sure to start it on time. 
Before labeling starts, get yourself some high-quality packing boxes. They will use as perfect protection for every single item you will place there. As soon as you do that you can start gathering the tools you will need for labeling. Although you may be creative and even have fun while labeling, there are two essential items you will need for this process.
Markers
Just as you thought, you will need a couple of markers for labeling. When choosing the best ones you need to think of a couple of things. Make sure the markers are of high quality. This will make labels visible and highlighted and the color will stick to the box properly. You may find suggestions on the type of marker on moving blogs Orlando in case you need extra help. Markers should also be permanent. The last thing you need is the color to wash away in the middle of your relocation. 
Write letters or symbols clearly and across every side of the box. This will help you recognize the type at any given time. Also, make a plan and categories before you start. Scratching labels will only make things more difficult and messy. 
Colored Tape
Another method of labeling is one with tape. Get yourself a couple of rolls of colored tapes for each color you include in the labeling. If you decide to rely on moving services in Orlando you should do it before the movers arrive. They could also guide you on how to label boxes for moving if you need them to. Once you get the tapes, assign a color to each room in your old home. Then proceed with sticking the tape on boxes before you start filling them in. If your old home is big and you need to pack multiple rooms, then pack one room at a time. As soon as you are done with the room you can set boxes aside and continue to the next one. As a result, you will have a neat and colorful set of boxes ready for transportation. 
Choosing Labels
You probably wonder what are the best labels you can use for the packing? It all depends on your household and the number of rooms. But there are some general labels that may come in handy nevertheless. Here are a couple of suggestions:
Fragile- Place fragile items in these boxes, you may include class, porcelain, or any other material that may be easy to break or damage.
Heavy- These boxes will contain heavy items and you should be careful with them.
Open First- For the first night at your new place you will need items from these boxes
Storage- Place items you want to leave in storage for a certain period of time.
These don't include rooms as you will have to write those anyway. The ones you label with "storage" you can set aside until it is time to transport them to storage Orlando FL. Be careful with boxes that are labeled as "fragile". You can ask movers to transport them first, or simply leave them in a separate room. 
Bottom Line
As soon as you learn how to label boxes for moving, things will start happening fast. Just stick to your plan, be relaxed, and try not to rush. If you need additional help when it comes to packing, you can always search for more ways to pack your moving boxes. As a result, your relocation will go smoothly and you will be at your new place in no time. 
Few simple steps
Contact our business
Reach out to our Florida movers by phone, email or through our website.
Get your free quote
Give müv the details of your upcoming relocation and receive a no-obligation moving quote and a tailored plan of action.
Enjoy your relocation
Forget about the stress of moving while one of the top moving companies in Florida handles your move.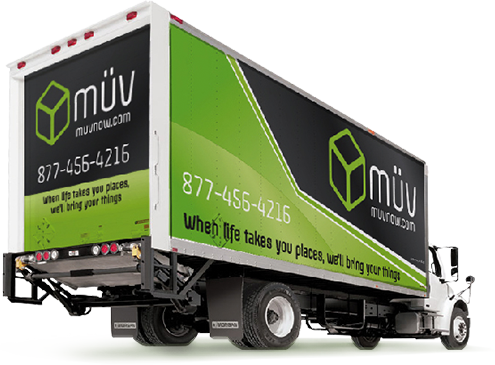 Sales Center Hours of Operation:
Monday - Friday: 9am-6pm
Saturday: 9am-1pm