7 quick facts about moving from Orlando to Tampa
Get Your Moving Quote
"*" indicates required fields
Are you considering moving from Orlando to Tampa this year? You're not the only one! More and more people are moving to smaller cities, which is a rational decision. In these harsh times where the majority of people are struggling to make it, moving to a less expensive area is the best decision you can make. The housing shortage in Orlando is real. And they're becoming more and more expensive each year. Therefore, moving to Tampa would be a good decision. But before you make the move, let's get to know the city.
7 quick facts about moving from Orlando to Tampa
Tampa is a gorgeous little community in central Florida, and it's not very far away from Orlando. If you've chosen Tampa, you surely have good taste. This wonderful community will surprise you. Although, not as big or popular as Orlando, Tampa certainly has its charm. Let's get to know it a little better and see how it differs from Orlando. If you decide to move from Orlando to Tampa, there are trustworthy moving companies in Central Florida you can rely on.
1. Tampa has a very young population
Tampa is experiencing a little boom lately. More and more young people and graduates are moving to Tampa for work. Many millennials have moved here with their families as well. The city is growing with each day. And it's no wonder why. This charming family-friendly city would sweep anyone off their feet. There's much less traffic than in Orlando, you could get a much bigger house for less money and there's a good amount of job opportunities. Plus, it's close to some of Florida's biggest metropolises, like Orlando. If you're looking to move here right away, our storage Orlando FL may come in handy.
2. There are many historic places
Tampa would not be what it is now if it weren't for the city's historical reliance on port access through Tampa Bay and the Hillsborough River. The port's expanding popularity and greater connectivity to the metropolis led to a surge in wealth and industrial activity. Tampa's port was a phosphate mining and shipping powerhouse in the 1800s. Cruising cruises and shrimp boats both call at the port, which is now the seventh-largest in the United States. A city by the sea is unlike any other – it combines immense activity and tranquility in perfect balance.
3. The culture here is amazing
It's a year-round celebration of the arts and entertainment in Tampa Bay. All across the city, from the paintings on the cement walls to various art pieces, there is no lack of creative expression or revered individuality. Department of Arts and Cultural Affairs programs to "humanize the physical environment and enliven public places" in order to link the past, present, and future history of the city.
Every year, from the middle of January to the middle of March, Tampa Bay comes alive with the same exhilarating vitality. You may have heard about the main event, but we bet you haven't heard of the history of this event. The first Gasparilla was planned for May 1904, coinciding with the city's May Day celebrations and introducing a new theme to the festivities. It was inspired by New Orleans, the country's party capital. First on land, then in the Bay, the Gasparilla pirate invasion began. In the Tampa Bay area, Gasparilla has become synonymous with partying and family fun. It's also the country's third-largest parade (per Wikipedia). No matter your age, you're sure to have a good time during Gasparilla season.
4. The job market is booming
Tampa's job market is growing at a quicker rate than the rest of the country. Wages for individuals are higher than average for the country, but family earnings are much lower. If you've ever wondered why so many families relocate from places like Austin, Texas, you've come to the right place. View the downtown skyline of Tampa, Florida. That this city is serious about commerce may be seen in the architecture. Working in Tampa allows you to experience a wide range of cultures. There are many more professional options for bilinguals in this city because of its large Spanish-speaking populace. If you're looking to move here from Orlando, take a look at Orlando moving services and choose what you need.
5. You'll have many school districts to choose from
Worried about your children's safety while attending school in Tampa? There's no need. The University of South Florida and the University of Tampa are just two of the many excellent options for college-age students in Tampa. The Hillsborough County School District, which serves Tampa, is the eighth-largest in the United States. Your children will be able to take advantage of a wide range of educational resources and extracurricular activities thanks to this extensive network. For kids in grades 6-12, Tampa Prep, a college preparatory school, is one of the most sought-after high schools in the area. The school, which is one of the city's few private schools, is well-known for its onerous application process.
6. A beach is always nearby!
Being so close to pristine beaches is one of the best things about residing in Tampa. A good beach can generally be found in under an hour, whether you're in Tampa or a neighboring city. If you have a large family, you may want to check out all of them! If you'd like to live by the beach, our movers in Tampa FL can help you move to your dream house.
7. The food scene is spectacular
The Cuban sandwich may be Tampa's culinary claim to fame. That's just the beginning when it comes to culinary options. The best restaurants in Tampa provide a wide range of cuisines, as you'd expect from a city with such a diverse population. And it's even better than in Orlando. Everything from a new farm-to-table restaurant to a Latin-inspired food truck can be found within a few minutes' walk. You'll still have the same quality of life moving from Orlando to Florida.
Few simple steps
Contact our business
Reach out to our Florida movers by phone, email or through our website.
Get your free quote
Give müv the details of your upcoming relocation and receive a no-obligation moving quote and a tailored plan of action.
Enjoy your relocation
Forget about the stress of moving while one of the top moving companies in Florida handles your move.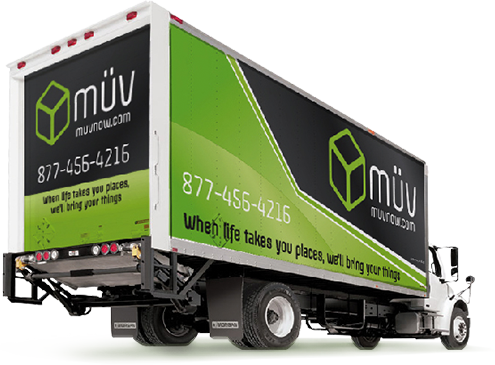 Sales Center Hours of Operation:
Monday - Friday: 9am-6pm
Saturday: 9am-1pm