How to meet neighbors after moving to Tampa
Get Your Moving Quote
"*" indicates required fields
Many wonder how to meet neighbors after moving to their new place of residence. While for some it comes easy, for others it takes a bit more time. Moving is a demanding process, and it's not a surprise why adjusting to their new environment takes time. That's why we at müv came up with this quick, yet helpful guide for you! Also, we stand at your disposal in case you are planning your move to Tampa in the near future. We operate as quality and detailed-oriented movers with a goal to serve only the best relocation. Therefore, contact us at your earliest convenience for more information!
Tampa is the place where meeting new neighbors after moving is quite easy
Being one of the top Florida cities for living and working, the city of Tampa ranks among the most desired moving destination. People from different cultural backgrounds come there to try out their chances and organize a much more fulfilling life. Living in Tampa has many benefits, and its community is one of them. Tampa is the place where a wide range of events take place every now and then that many people attend. It's impossible not to strike up a conversation with Tampa residents, since they are known as sociable and laid-back people. That being said, expect your neighbors to be warm and welcoming once you move in.
Let your new neighbors know that you're moving in
The process of moving in will be noisy and messy, which is something no one can fully control. However, this is the perfect opportunity to say hi to the neighbors! Tell them that you're their new neighbor and that you're about to move in all your stuff. Apologize in advance for the noise. The residents of Tampa appreciate good manners and kindness. If you're moving into an apartment, leave a printed announcement on a bulletin board inside the building. Also, remind your residential movers in Tampa not to rush, but to take time with each box and furniture piece while moving in.
Be kind and helpful to your neighbors
The people of Tampa are known for their generosity. They have a strong sense of community and appreciate people from all parts of the world. Although a big community, Tampa is a cultural melting pot where people live happier compared to many cities of the same size. That's because residents of Tampa value healthy relations with their neighbors and the rest of the community. Furthermore, they are also some of the most positive people in Central Florida you'll ever meet. That being said, all you have to do is be yourself when meeting them. Put a smile on your face, ask them about their day, and let them know you are there for them. If you have elder neighbors or those with disabilities, help them cross the street, with groceries, etc. Bottom line is, that there are many little yet significant ways to show your generous nature to new neighbors.
Throw a small party
Once you establish good connections with new neighbors, the next step is to throw a small party – like a barbecue. This is one of the best ways to bond with new people and have fun in the process. Plus, you can use this opportunity to get your new neighbors better. That's why in-person conversations over coffee, tea, or beer (and barbecue) are the best ways to learn more about them. Nowadays, it's good to have someone living close to you who can come to your aid (when necessary), and vice versa.
Make sure to have a fresh start in Tampa
In order to have a stress-free beginning in your new neighborhood, make sure to book credible and trustworthy local movers Tampa offers. Only such moving companies are capable to execute the move professionally and effortlessly. Contrary to popular opinion, it's actually easy to find the movers who care about their customers and make the move run smoothly. However, that doesn't mean you should pick the first moving company that shows up in your search results.
This is how you'll easily recognize some of the best moving companies Tampa has on offer, and avoid scams at the same time:
Stick only to the licensed companies that offer a free estimate.
Check testimonials for more information about the quality of moving, storage, packing, and other services you need.
Pick a few movers, call their representatives, and ask them directly anything you want to know. Also, use this opportunity to confirm the information provided on their websites (price points, 24/7 access to storage, etc.). Furthermore, feel free to check with any particular moving company if there are fees they don't mention on their website.
Make sure the company that interests you the most offers insurance options.
Get enough rest before you start exploring Tampa and meeting new neighbors
So, how to meet neighbors after moving? The answer is – by getting enough rest first. Surely you won't just dump all the moving boxes and go socializing. Moving is a long journey that takes a lot of time, effort, and energy. Once you are done with the move and unpacking, you'll need time to recharge and organize your duties. Regardless of how excited about your new neighborhood you might be, it takes time until you start feeling at home. That's why the first thing to do after the move is to get some sleep, and slowly set up your new home. After that, go for a walk, have a cup of coffee at a local cafe, observe people, etc. Greet your neighbors with a smile and remain kind. However, avoid rushing your post-move adaptation. You're more likely to meet new people and establish healthy relations if you're well-rested and relaxed. 
Few simple steps
Contact our business
Reach out to our Florida movers by phone, email or through our website.
Get your free quote
Give müv the details of your upcoming relocation and receive a no-obligation moving quote and a tailored plan of action.
Enjoy your relocation
Forget about the stress of moving while one of the top moving companies in Florida handles your move.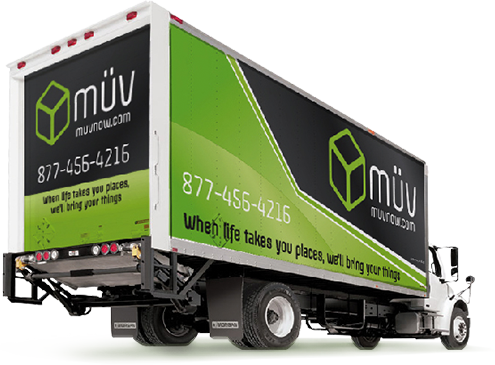 Sales Center Hours of Operation:
Monday - Friday: 9am-6pm
Saturday: 9am-1pm