How to store office equipment
Get Your Moving Quote
"*" indicates required fields
Do you plan to move your office and store equipment during relocation? We will explain how you can do that with minimal disruptions to your business, which is undoubtedly your main priority. People relocate offices for various reasons, but expanding their business or improving its operations are usually the main ones. Office moves can be stressful and even more complicated than residential ones. You need to find reliable commercial movers Orlando, plan your move, and understand how to store office equipment.
Organize your office move
Having a solid plan is a crucial factor in a successful move. You need to start planning early and communicate your intentions to staff members. Managers and team leaders should help you coordinate the move, and all employees need to be aware of their responsibilities and tasks. Once you communicate new information internally, it is time to contact your partners and suppliers. They are the ones who will be directly affected by your move. The best way to do this is to create a moving checklist – a list of all activities and a timeline. In this way, you will stay organized and focused.
How to store office equipment – the packing process
Office equipment usually involves expensive and delicate items, such as gadgets, computers, necessary paperwork, etc. It is extremely important to properly prepare your equipment before transport and avoid any potential damage when it comes to commercial moves. First, create an inventory list. Organize all your items, take pictures, and include everything on the list – office supplies, electronic devices, and furniture. Pictures can help you in case your movers lose, break, or damage something during transport so that you can compare the original and current conditions.
Next, gather packing supplies. You will need bubble wrap, packing paper, cardboard boxes, plastic containers, markers, scissors, and tape. Protect each item with bubble wrap before placing it in a box. Check that your boxes and sturdy, durable, and in good condition, and don't overpack them. Also, it is important to label moving boxes. This will make it easier for you to access specific items. If you are inexperienced, we would recommend hiring a full-service moving company. These companies provide bot moving and packing services Florida. You won't have to worry about moving supplies, property damage, heavy-lifting, or moving injuries. Moving professionals will handle every aspect of your move.
Find good movers in Florida
Finding good movers in Florida is the most critical part of the relocation process. The company you choose should meet your needs, have experience with commercial moves, and be licensed. You can find general information about companies as well as license information on their websites. Also, visit specialized moving websites where you can find companies' reviews and ratings, previously submitted comments, and complaints. Request several moving estimates and compare moving costs. Choose a company that fits your budget.
How to store office equipment
Renting storage Orlando Fl during office move can be very useful, accelerate and facilitate the whole process. Also, with reliable and high-quality storage units, you can rest assured that all your inventory is safe and secure. If you are wondering how to store office equipment, we have some ideas.
Furniture: disassemble furniture into pieces. By taking apart desks and chairs, you will make more room in your storage.
Fragile items: this includes mirrors and breakable furniture. Use bubble wrap or packing paper to protect them, put them in a sturdy cardboard box, and label the box "fragile".
Wires and cables: disconnect wires and cables from electrical equipment. You should store them together in a bag or plastic container. Otherwise, you risk damaging cable ports and terminals.
Electronics: the best way to store your electronic devices such as computers, TVs, laptops, and printers is to use the original boxes they came in. Don't forget to remove the batteries and store them separately to prevent the battery acid from leaking. If you have pieces of equipment that can open, such as printers or copiers, tape them up.
What to look for in a storage facility
Choosing the right storage facility requires some research. The first step would be to make a list of priorities. Location is certainly one of the deciding factors. Find a facility that is close to your new office premises so that you would have easy access to your equipment and documents. Secondly, choose a facility with 24/7 surveillance, security system, fencing, and guards. Your top priority is the safety of your equipment. Finally, the storage size. Choose a storage unit that can fit all your belongings. Once you make a list of inventory, that is, things you plan to store, it wouldn't be difficult to determine the size of storage you need. You can choose between a small, medium, and large storage unit size. Small units are around 50 square feet, medium units are around 150 square feet, and large units can hold up to 300 square feet.
In conclusion
As you can see, organizing an office move is not an easy task. You need to plan the move, notify many people, create a moving checklist, and delegate tasks to employees. Also, the central focus of your moving strategy should be minimizing disruptions to your daily business operations. So, start preparing well in time. It can take weeks, even months, to pack and organize everything. In addition, you need to think about how to store office equipment and prevent any potential damage. Find a reliable moving and storage company that can ensure the safety of your things, prepare your office equipment, provide moving supplies, and prepare everything for transport.
Few simple steps
Contact our business
Reach out to our Florida movers by phone, email or through our website.
Get your free quote
Give müv the details of your upcoming relocation and receive a no-obligation moving quote and a tailored plan of action.
Enjoy your relocation
Forget about the stress of moving while one of the top moving companies in Florida handles your move.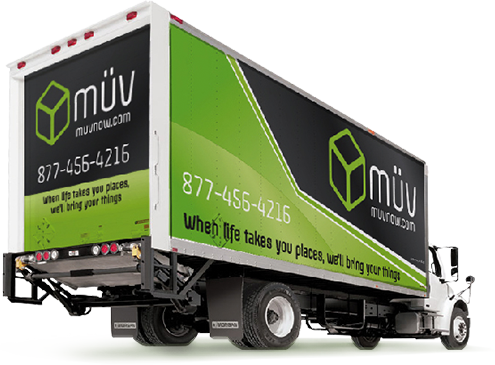 Sales Center Hours of Operation:
Monday - Friday: 9am-6pm
Saturday: 9am-1pm