Benefits of renting storage for business
Get Your Moving Quote
"*" indicates required fields
Even though we live in the 21st century, some business owners still prefer having their work written down. It is an old-school approach and a very good one, to be honest. And despite having other means to document legalities, there is no better way than using the good old techniques that served us for thousands of years. Although, after a couple of years, you'll be swimming in papers and documents. One must find a way to store them adequately and preserve them for years to come. This is just one of the benefits of renting storage for business, and today, we will provide much more. We will explain the benefits and how you can use storage units to support your business in a great way. Let's dive right in.
A business contingency plan is one of the benefits of renting storage for business
If you have decided to skip on automation and keep all your physical copies and documents, you must store them somewhere. You are probably aware that those documents will occupy your entire office. If not now, in a couple of years you won't be able to move freely through your workspace. Therefore, you must find a solution. You can keep everything inside your garage, basement, or attic. But this solution will clutter your personal space unnecessarily. Why not rent reliable storage Orlando FL offers and keep everything there? This is one of the obvious benefits of renting storage for business. You can easily find a storage space near your office and an affordable one as well. But before you decide, let us explain what you'll do further down the line.
The first benefit is that you'll always have a contingency plan. Storage space can be used for much more than storing. Of course, storing stuff is the main perk but you can use it to store personal and work-related belongings. Also, it can be used as an extra office space in case your original office is out of work. A simple pipe burst can slow you down for weeks. But not if you have a storage unit with your backups. You can even work from there, as a temporary solution. So, if you like what you hear, for now, start browsing online and check what your Central Florida movers have to offer. You will find a plethora of storage units to choose from.
Safety of your belongings is also one of the benefits of renting storage for business
One of the biggest concerns when renting a storage unit in general is – will your items be safe there? The answer is – yes, absolutely. Nowadays, with all the cutting-edge technology and techniques we have, your items will be safer than if you store them in your home. There are units with several perks that you can overlook. Yes, you might need to pay extra, but this is something that varies significantly between storage unit providers. So, check the perks first and then figure out what is the best for you. Those are the following:
Climate-controlled storage unit.
24-hour surveillance.
24/7 coverage and access.
Guard on site.
Reinforced steel door with combination lock.
And of course, there are indoor and outdoor solutions. You would probably want to have all your work-related documents, assets, and inventory stashed inside the facility where no one can reach them. But before you decide, you should check what your movers in Orlando FL have to offer. Sometimes outdoor units are as good as indoor ones, especially if the entire plot is under surveillance and heavily guarded. All in all, you will sleep tight knowing your items are safe. And this is surely one of the benefits of renting storage for business.
You'll have clutter-free office space
As you may already know, office space tends to clutter from time to time. All the documentation and physical copies are consuming your space over time. And when you add all personal belongings from your employees and coworkers, it can become quite a mess. Therefore, you must have a storage plan. Usually, there is a dedicated office space or a room where you hold all those items. But you can use that space for so much more. If you rent a storage unit and keep your files there, you'll have 24 access when you need them, and at the same time, your office space will be clutter-free. Wonderful, right?
Get rid of the excess furniture and organize your space better
Every now and then, we get the idea to renovate or simply change the look of our office space. To get rid of that huge sofa or a shelving system that took half of your office space would be amazing. After all, old and unused furniture pieces should be replaced once in a while. Or at least stored for some other day. And that is exactly what you should do. Call your office movers Orlando and figure out what size of the unit will fit best. Store all your excess furniture in a safe and cozy environment. You will use it once you are using your unit, for sure. If not for work, at least take a break and relax.
Use storage space to help you expand your business
Another amazing perk that a storage unit will bring is the possibility of an easy business expansion. Whatever your idea is, one thing is sure. You'll be able to store all your assets and inventory and move to other relocation unencumbered. It will be fast, affordable, and safe. You can even use your storage for the temporary operations base while adapting your new office. There are quite a few possibilities, depending on how you want to do it. Also, if you are moving along with your business, you can store your personal things, documents, furniture, etc.
That is it. Now you know more about the benefits of renting storage for business. As some people use their storage units to create a garage, gym, or workshop, you can also use it for your business. Work from there, store work-related equipment, or simply use it as a hole to toss your hard copies in. Whatever you decide, just make sure to rent a climate-controlled storage unit. Such a unit will keep your documents intact for decades. Good luck.
Few simple steps
Contact our business
Reach out to our Florida movers by phone, email or through our website.
Get your free quote
Give müv the details of your upcoming relocation and receive a no-obligation moving quote and a tailored plan of action.
Enjoy your relocation
Forget about the stress of moving while one of the top moving companies in Florida handles your move.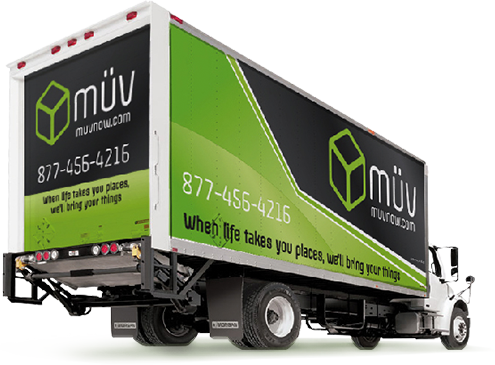 Sales Center Hours of Operation:
Monday - Friday: 9am-6pm
Saturday: 9am-1pm