How to manage a company relocation in Tampa
Get Your Moving Quote
"*" indicates required fields
Moving is always a difficult task, that usually takes a lot of time. You need to finish many smaller jobs, from finding the perfect movers, to unpacking when the transfer is over. In addition to that, when you decide to move a company, things may seem even more complicated. Apart from doing all the mentioned tasks, you also have to include your employees in the process. And, you have to do all of that while still managing the work. You don't want to lose your clients. Even when you find the most reliable movers, such as müv, you still have much to handle and take care of. It all seems like it is never going to be over. Don't worry – we are here to help you. After reading, you will know how to manage a company relocation in Tampa.
You can manage a company relocation easily by making a detailed plan
When it comes to moving, be it commercial or residential, making a plan is the first, and one of the most important steps. First of all, you need to plan when are you going to start looking for the moving companies and how. You need to choose the best among office movers in Tampa that can help you manage your relocation without problems. After hiring a moving company, you need to set the dates of the packing and the date of relocation. Also, you need to plan the conversations with your employees to see who can stay in the company and relocate and who can't be moving.
Plan the budget thoroughly
In addition to planning everything else, you need to plan the budget. You must have in mind that many people depend on this relocation. Not just your employees but your clients too. Make sure you have enough money for the very relocation, but also some additional costs. Unfortunately, moving the company's premises sometimes can lead to losing some clients, or your job can stop for a while. You need to make sure you have enough money to pay your employees.
How to manage a company relocation depends on your relationship with the employees
If you want your office relocation to be successful, you must include your employees in the process. Find enough time to speak to all of them. Explain to them the new situation and ask them for their opinion. Of course, there will always be people who wouldn't like it. In that case, try stimulating them with a higher salary, new position, or even organizing the relocation for the members of their families. This doesn't mean you will have to do everything they ask of you. But, making a compromise and fulfilling some reasonable conditions is something that you should do. Remember that moving can also be emotionally difficult and exhausting for them too. Only if you communicate everything properly there won't be any problems.
Give the tasks to the members of your company
After you finish conversations with all the members of your company, make an agreement with them and give them some case. You will know how to manage a company relocation if you know who is going t do what. You need to:
Name the relocation manager.
Find a few people who are ready to navigate the relocation in their departments.
Give the task to each department.
Assign the individual tasks.
All of this means that you need to find people who will be responsible for talking to the movers, organizing packing, managing moving finance, visiting the new premises in Tampa where the company will be located, etc. It seems like a lot, but when you find people responsible for each job, it will be much easier, for you, but also for them. They won't be lost because they will have a certain task to focus on. Of course, you have to navigate all of these processes. also, if you want to make it a little bit easier for your employees, at least physically, you can hire packing service Tampa to help you and the people who work for you. This way you can cross out at least one important item from your company relocation list.
Before packing IT equipment, protect your data
One task that can, unfortunately, go wrong when relocating your office, is losing important data. During the moving procedure, anything might happen to your devices and information. Due to faulty servers or hard disks, you can lose crucial records. It is crucial to back up your data and safeguard it when traveling in order to prevent loss and security breaches. To protect the information about your visitors and employees, for instance, you may utilize a digital visitor management system that will protect your data. Also make a plan of when and how you are going to take care of this, and who will be responsible for this task. Losing the data can cost you a lot more than you can imagine.
Consider renting a storage unit
When it comes to company relocation, renting a storage unit can be a great idea. First of all, when you create a timeline and set the date, there can always come to some unplanned circumstances. For example, the new company premises in Tampa might not be ready, and you must leave the previous headquarters. In cases like this, moving and storage Tampa can save you and spare you a lot of problems. It will also make your employees feel less pressure because they know they have where to put their belongings.
A company relocation in Tampa is easy if you make a good organization
Everything will go smoothly when you know how to manage a company relocation in Tampa. The organization is the key. Also, having an honest conversation with your employees is crucial. They should know their obligations and tasks, but you also need to be considerate. In any case, hiring a reliable moving company is at the top of your priorities. When you plan everything in detail, you won't have any problems.
Few simple steps
Contact our business
Reach out to our Florida movers by phone, email or through our website.
Get your free quote
Give müv the details of your upcoming relocation and receive a no-obligation moving quote and a tailored plan of action.
Enjoy your relocation
Forget about the stress of moving while one of the top moving companies in Florida handles your move.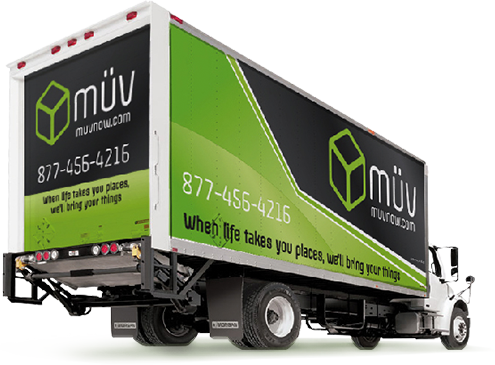 Sales Center Hours of Operation:
Monday - Friday: 9am-6pm
Saturday: 9am-1pm