How to discover Oakland after settling in
Get Your Moving Quote
"*" indicates required fields
You've moved to a new city but you don't know anyone and you want to find out more about it. We as one of the moving companies in central Florida would like to help you discover Oakland after settling in. We'll share with you ways in which you can explore not only Oakland but any other city or a new place. This can also be applied on your travels, or your business trips if you have some spare time. So let's dive and see how to discover Oakland!
If you're an introvert, first discover Oakland by using the power of the Internet
Nowadays you can do anything online, from the comfort of your home. Most people would agree that it takes about three months to get used to your new neighborhood. But if you're afraid but still want to explore it, try using the good old Google. Google has a lot of great services like Google street view, maps, a search engine, etc. With these tools, you won't have to take a single step out of your bed but you'll discover every corner of Oakland.  Most stores and interesting places have blogs, websites, Youtube videos, etc. So it's not something out of the ordinary to discover a city from your bed.
The second option is using social media like Instagram, Facebook, or Tik Tok.  Every social media has its advantage. For instance, Instagram has mostly photos and reels (short videos like on Tik Tok) that you can watch. So, if you want to rely on Instagram this is where you'll find pictures of all of the "cool stuff" around. If you rely on Facebook, you'll probably read a lot and you'll find many fan pages and groups. These are useful when it comes to shopping, experiences, etc. Finally, Tik Tok was mostly for a younger audience, but it's becoming more and more popular for adults as well. Its function is more similar to Instagram so you can find out about "hot topics and places" around you. Yelp is great for restaurant reviews.
Discover Oakland after settling by saying yes to everything
We, as some of the most reliable movers Oakland FL can help you move your things – but you have to do the rest of getting to know the city by yourself. What does that mean? You have to get out there, to meet new people. And if someone from the office invites you to go somewhere, go with them! So, if you haven't already done it, maybe invite some colleagues or neighbors for the welcome party. That way they'll keep you in mind, and they'll invite you to their parties, too. You can also ask your friends, family, or relatives if they know anyone in Oakland who can help you. If you work remotely, ask your co-workers about people from Oakland.
You can also install apps like Tinder, Bumble, Hinge, Badoo, Match.com, etc., to have a date. If you're not single, you can ask your other half to do the exploration with you.  You can also use social media and Google to join groups with similar interests as yours. We as local movers Orlando would advise you to do so if you don't know anyone to do the "background check" first and also online. Also if you know a friend of a friend of a friend, it might now be a bad idea to contact them on social media and ask them to take you on a tour. If nothing of this applies to you, just behave like a tourist, get dressed nicely, open a map and start exploring.
Local newspapers, influencers, and culture
This is as they call it "old school" way of doing things – and it is worth trying. First of all, you can do this online nowadays. If you want to be old school, you can buy a printed copy. You'll see many different sections like cinema, culture, events, etc. You can find this mostly on Facebook or on the Oakland city official website. So, get subscribed to a newsletter. Also, seek out if anyone around your neighborhood has a special club or an event you can relate to. If nothing of this works or you're simply younger, try finding influencers from Oakland or influencers from other cities that have traveled to Oakland.  This way you'll meet the city faster, and they'll probably leave a lot of locations, tips, etc.
Never go to the same place twice
We can provide you with any type of moving services in Orlando, and we can give you some useful tips about Oakland as well. Out of all places, you'll probably mostly go to the restaurants, cafes, etc. This is a great way of exploring the city, since after your meal you can explore the surroundings.  This way you'll create a new comfort zone where you'll constantly look for new restaurants. Also, you'll develop these skills of exploring the surroundings. For example, while waiting for the food, you'll explore the surroundings by using Google or Wikipedia.
We hope that you liked our advice on how to discover Oakland after settling in. If you've settled in but you still didn't unpack because you need more storage we can help you with that too. We hope that you found this post useful and have a great time in Oakland!
Few simple steps
Contact our business
Reach out to our Florida movers by phone, email or through our website.
Get your free quote
Give müv the details of your upcoming relocation and receive a no-obligation moving quote and a tailored plan of action.
Enjoy your relocation
Forget about the stress of moving while one of the top moving companies in Florida handles your move.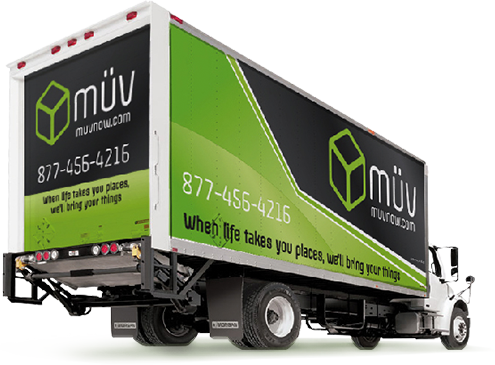 Sales Center Hours of Operation:
Monday - Friday: 9am-6pm
Saturday: 9am-1pm