Best suburbs in Tampa area to watch for in 2023
Get Your Moving Quote
"*" indicates required fields
The Tampa Bay area is a beautiful place on the west coast of Florida, with 3,175,275 people living there. It's one of the best areas in all of Florida for people of all ages. With sunny weather, gorgeous beaches, plenty of entertainment, and job opportunities, it's really a magnificent place to raise a family or start a new chapter in your life. With so many cities and neighborhoods to choose from, it can be pretty difficult to make the right call! Finding reliable moving services in Tampa is just one small part of the journey, you also have to find the right neighborhood and home for you and your needs. Let's take a look at the best suburbs in Tampa area to watch for in 2023.
Brandon
Brandon is a great suburb in the Tampa area, with 115,909 residents as per the 2020 census. It is constantly found in numerous lists of the top 15 or top 20 best suburbs to live in the Tampa area. Niche Magazine has given it almost all A's for public schools, housing, diversity, nightlife, etc. It really is a great place to raise a family, retire in, build a career or just enjoy life to its fullest. The setting of Brandon is dense suburban, and about 60% of residents own their homes. When it comes to home values, the average price for a house in Brandon is $216,000 while the average rent is $1,389. What's interesting about this place is that there are more residents with a college or associate's degree than with only a high school degree. That's no surprise given the quality of schools there!
Brandon offers many great activities for people of all ages. There are many great restaurants, bars, and cafes where you can kick back after a long day of work. There are some excellent breweries there if you enjoy a good craft beer. Of course, these are not the only things you can do in Brandon. If you enjoy nature, Paul Sanders park will be your new favorite spot. You can organize a picnic with your friends and family, or just take your children or pets to its playgrounds. There are some great houses on the market, so make sure you capitalize on that. Once you've chosen a house, find the best moving companies Brandon FL has to offer and start packing! 
Clearwater – one of the overall best suburbs in Tampa area
Clearwater is a fantastic suburb in the Tampa area with a population of 115,975 people. The area feel is an urban-suburban mix, and more than 60% of people own their homes here. The prices of homes are pretty similar to Brandon's. An average house price is $221,000 and the average rent is $1,173. The crime rate there is low while the diversity in this suburb is pretty high. Now, we said that Clearwater is a fantastic suburb, but why exactly is it like that? That is because it is literally the perfect place for people of all age groups. First of all, Clearwater is the 2nd best city to retire in the entire United States, as per Niche Magazine! Secondly, it's the home of the best-rated public school in the Tampa area – St. Petersburg Collegiate High School. Finally, has been named the top beach town in Florida!
With so many beautiful beaches in Florida, you can imagine what Clearwater looks like with this prestigious nickname. The famous Clearwater Beach has an awesome boardwalk filled with many shops, bars, and restaurants. It's one of those places you can't get tired of. You can rollerblade, surf, play sports, and do many other activities in the ocean or beach. You should also check out the Clearwater Marine Aquarium if you're an animal lover. There are many moving companies Clearwater FL provides, but be careful when choosing the right one for you! You want your relocation to be a smooth and enjoyable experience, to really kickstart your stay in this great suburb. 
Largo
Largo is definitely one of the best suburbs in Tampa area. It's has a population of 84,666 residents. Located in Pinellas County, it offers the same kind of urban and suburban blend as Clearwater. The average home price in Largo is $134,499 while the average rent is $1,131. It's a cheaper choice than Clearwater and Brandon for sure! But that doesn't mean this place is any less great. The schools are highly rated, there are many job opportunities and the nightlife is excellent. The Belleair and Indian Rocks beaches are close to Largo, so whenever you want to take a dip in the ocean or just spend time near the water, you can quickly get there. But of course, this suburb wouldn't be on this list if it didn't have many other activities and options for your free time.
We already said it has great nightlife, but it also has amazing parks and outdoor places which you will definitely enjoy. Make sure you pay a visit to the Florida botanical gardens located in Largo. It's a 150-acre park with so many different species of plants you'll be amazed. McGough Nature park is also one of the locals' favorite spots. It is also known as turtle park, due to the sheer number of turtles inside. Of course, there are many other reptiles, birds of prey, and other types of animals, so if you're an animal lover you will absolutely adore this place. You can also relax and enjoy in Largo Central park if you wish to sit in a shade and enjoy the fresh air. Get in touch with the best moving companies Largo FL has at its disposal and get moving!
Dunedin
Dunedin is a suburb of St. Petersburg, with a population of 36,480 people. It's on the smaller side of the scale when compared with other Tampa area suburbs, but it isn't any less attractive than our previous mentions. The price range of homes is pretty similar to some of our previous entries. The average home price is $219,000 while the average rent is $1,127. Since it's a suburb of St. Petersburg, if you have kids then your kids will have the best education they can get. The previously mentioned St. Petersburg Collegiate High School is located there! It's in Niche Magazine's top 30 list of the best suburbs in the Tampa area, with a great nightlife scene and low crime rate. But these are not the only things making Dunedin an awesome place to live. 
There are so many great attractions in Dunedin worthy of your time. The first and best one is Caladesi Island State Park. It is one of the last untouched islands on Florida's Gulf coast. This completely undeveloped island is accessible only by boat! This island has some of the best and most beautiful beaches in the whole country. The other waterfront place we recommend is Honeymoon Island state park. It has 4 miles of beaches and a 3-mile-long trail. If you are an art lover, the Dunedin Fine Art Center will definitely interest you. Apart from exhibitions and collections, they offer some great classes for you to attend. Be sure to use the services high-quality movers Dunedin FL has at its disposal. The experience of reliable movers will make all the difference in your upcoming relocation. 
Palm Harbor
Yet another suburb located in Pinellas County, Palm Harbor is the home of more than 60,000 people. The median home value is $246,000 and the average rent there is $1,373. More than 75% of people in Palm Harbor own their homes, so just about 25% of them are renting. It is a classic dense suburban place, ranked in the top 25 best suburbs to live in the Tampa area. It also has a vibrant shopping district with many restaurants with cuisines from all over the world. Since it's located on the west coast of Florida, plenty of beach time is guaranteed! Now, let's take a look at the activities and fun options Palm Harbor has to offer you.
The most unique thing you can do in Palm Harbor is visit the Suncoast Primate Sanctuary Foundation. This sanctuary built in 1954 is the home of over 130 primates, like chimps and orangutans, and many other animals. There are also designated picnic areas where you can sit and eat while being surrounded by these beautiful animals. The other great place for animal lovers is John Chesnut Sr. Park. It's spread on 255 acres of land and is the home of many different species of animals, like turtles, hawks, raccoons, and many more. There are also many awesome cafes, bars, and restaurants in Palm Harbor, as well as a vibrant farmer's market. No wonder why it's one of the best suburbs in Tampa area! Our movers Palm Harbor FL can't wait to take your call and help you with your relocation. 
Keystone
The final entry in our list of the best suburbs in Tampa area is Keystone. This rural suburb is the home of slightly more than 25,000 people. One interesting fact is that an astounding 95% of people own their homes, while only 5% rent! The average home value is $397,200, while the average rent is slightly below $2,000. It is also the third-best suburb to live in Tampa area, as per Niche Magazine. That same magazine gave it an overall A+ grade for livability. It's an excellent place for families, with great diversity and schools, as well as a very low crime rate. When you add enjoyable weather throughout the whole year, you quickly realize why this suburb is so popular. Does Keystone offer fun activities and places for you to visit and relax? Absolutely! So, contact residential movers Tampa. Don't miss out on this opportunity.
First of all, don't miss out on Keystone Park. It specializes in after-school programs and summer camps for children, but it also offers special interest classes, senior programs, and athletic leagues. What's cool about this park is that it offers a wellness access pass. For 10 dollars a month, residents of 18 years and older can gain access to a fitness center, many different classes, as well as activities out in the open like volleyball, badminton, tennis, and so on. Within walking distance, you will find a Veteran memorial as well as the Austin Davis Library. Apart from the park, Keystone has many great restaurants, cafes, and bars, as well as some nightclubs. Even though it's the smallest suburb on this list, it is just as much fun and interesting as all the other ones.
A final word about the best suburbs in Tampa
So there you have it, folks! We've listed six of the best suburbs in Tampa area that we've seen firsthand. As one of the highest-rated moving companies in Florida, we've been able to see these places and understand on the spot why they are so attractive to so many people. There are, of course, many other great suburbs in the Tampa area that we didn't place here. Honorable mentions include Cheval, East Lake, Wesley Chapel, Valrico, and many others. Your next home really depends on your own wishes and needs. Reading articles and reviews online can definitely help, but you will only know for sure if a place is a right fit for you by actually visiting it and looking around. Firsthand experience is all that matters at the end of the day, but we hope we've helped you with this article!
Wherever you decide to move, we at müv will gladly accept your call! Explore this area in detail in order to find the perfect place for you and your family. Suburbs can differ quite a lot in terms of the price range of homes, so first of all make sure you have a well-planned budget. Once you are done scouting the best suburbs in Tampa area and found the home of your dreams, we'll be waiting!
Few simple steps
Contact our business
Reach out to our Florida movers by phone, email or through our website.
Get your free quote
Give müv the details of your upcoming relocation and receive a no-obligation moving quote and a tailored plan of action.
Enjoy your relocation
Forget about the stress of moving while one of the top moving companies in Florida handles your move.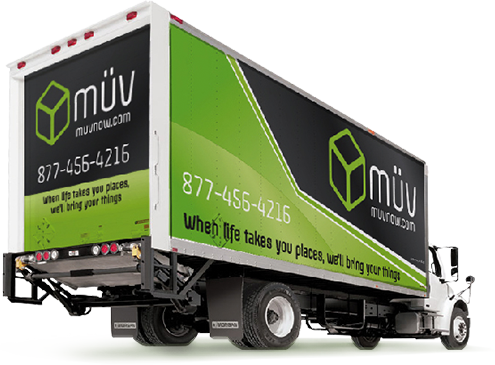 Sales Center Hours of Operation:
Monday - Friday: 9am-6pm
Saturday: 9am-1pm