How much storage do you need while moving?
Get Your Moving Quote
"*" indicates required fields
The moving process requires a lot of time, energy, careful planning, and good organization. It involves many activities and important decisions. Researching moving companies Melbourne FL is one of the tasks. How much storage do you need? That is one of the questions you can ask yourself. Renting a storage unit can greatly facilitate your relocation. However, moving isn't cheap and people often wonder whether they need a storage unit in the first place. Once you realize how useful storage can be, you will understand that relying on it will only make your entire relocation easier. You may also know someone who used it for other purposes all with the same result! Ending up with extra space for your items is a real lifesaver and you should go for it no matter what!
Do you need storage?
Not everyone needs storage while moving. Some people don't have a lot of possessions, are moving locally, or don't want additional expenses. On the other hand, there are many advantages when renting a storage facility during relocation. First of all, it's important for your home to feel spacious and neat if you plan to sell it. Buyers want to see a decluttered space so that they would be able to picture what it'll look like once they move in and bring their possessions. Those who have bigger homes usually have more inventory. Once you start preparing for your relocation, you will realize that the amount is much bigger than you thought. This is where a lot of people will start panicking and making mistakes that are later hard to correct. Renting a storage unit in Florida is for those who recognize that their inventory may be a lot to handle.
The second reason is the fact that renting storage lowers the stress level and gives you more time to prepare for relocation. You can move out in stages, start packing early and have time to decide which items you want to bring into your new home. In addition, most Space Coast movers provide a movie window. In such situations, it is comforting to know that your things are available in nearby storage and you don't have to worry about moving dates. Finally, if you have possessions that require special conditions, such as antiques or artwork, it is best to rent climate-controlled storage. In this way, your things will be in safe storage with a regulated temperature at all times.
How much storage do you need and how to determine the storage size?
It is important to properly determine the size of storage Melbourne FL. On one hand, you don't want to overpay the storage and end up with a lot of free space. But, it is no use renting a small storage unit that doesn't fit all your belongings. This is where you make a good and strategic plan to reach all your goals. Keep in mind that as long as you stay on the right track this entire process will be easy. 
The size of storage units ranges. You can choose between a small unit (25-50 square feet), a medium one (75-150 square feet), or a large storage unit (200-300 square feet). So, it would be best to determine the square footage of your moving boxes and all your belongings and then choose your storage unit. The average size, or a medium-sized unit, is approximately 100 square feet or 10×10 feet and it can fit belongings from 1 to 3 bedrooms. If you are still not sure how to choose the storage size, you can ask your movers or a storage manager to help you.
Make an inventory list to determine how much storage you need
Another trick that can help you choose the storage size is creating a list of all belongings that you plan to store. The inventory list should be detailed and include everything. Not only will this enable you to accurately determine how much storage you, need but also calculate moving expenses. You will know exactly how many packing materials and moving boxes your will need and the size of the moving truck. You can also decide whether to opt for packing services or to pack by yourself. How much storage do you need? You will stop wondering if you follow these steps.
This is something you should do before you make a plan with movers. As inventory plays a huge role in your relocation. Apart from the new destination, it should be your priority. The easiest method to do it quickly is to start by writing down bigger items first. You can even make two separate lists. How much storage do you need? Make these inventory lists and you will know. As those smaller items are the trickiest, make sure you have enough time on your hands for this. 
Save money on a storage unit
The moving process is quite costly but, luckily, there are ways to cut down on expenses. Before you start packing or choosing a storage unit, you must declutter your home. Get rid of things you don't use, clothes you no longer wear, pieces of furniture that won't fit into your new home, etc. Remember that the size of your move will determine its cost.
Also, the more things you have the higher the storage rental fee. Go through all your belongings and divide them into piles. Decide which items you want to keep and donate, sell, or throw away the rest. In addition, try to pack smart. The goal is to protect your item from them efficiently. Use cardboard boxes instead of plastic bags to take up less storage space. The answer to the question "How much storage do you need?" is now easy.
How much storage do you need if you are not moving your home?
Of course, you can use storage for your office relocation as well. The method is pretty much the same and should be easy if you follow the same path. You will even have your team for an additional backup and that will save you a lot of time. What you can do is assign a couple of employees to determine the inventory and then proceed to find proper storage. Your new office or headquarters could be anywhere in the state of Florida, and what matters is that you will have enough space to set them up. Be careful when dealing with your delicate equipment. These things can be pretty sensitive. If you wish to store them, you should know how. Storage units can be spacious but that doesn't mean you must fill them up completely. Make sure there is enough space between your equipment just for added protection.
Some other situations can make you use storage as well. If you are a student or a parent of one, college means moving too! This is especially important for those who plan on going to another state or attending college that is far from home. There are countless student storage ideas that could make you deal with all those items and don't waste time along the way. College students know approximately what items they wish to bring with them, so it will be much easier to determine the type of storage.
What to do with excess space in storage?
Even the best of us can make mistakes and that is completely normal. As long as you know how to deal with them and where to look for a solution, everything will be fine. If you get yourself storage that is too spacious you shouldn't go back to the beginning. You will end up losing a lot of time and money as there is a perfect way to settle this. Those who are moving should think a couple of steps in advance, especially about things regarding their new home. If you have enough free time you should inspect your home for future renovation works. Once you come across certain repairs that have to be done, all you need to do is include the storage you already use. Renting storage during renovations is a very common thing to do so, why not combine it in advance?
The storage that you use for your inventory can now be used for tools and renovation materials. As long as you properly prepare everything, nothing in there will be damaged for as long as you use the unit. As a result, you will be able to proceed with renovation work and slowly start setting up your home. Another great idea for using all that space in storage is to store things you will not need for a certain period. Moving and storage companies will allow you to use storage for as long as you want, and you can do it even when you finalize your move.
What happens next?
Once your relocation is over and your items are all set up in your new place, you will realize that everything turned out all right. And just like you will do with the rest of your things, you must deal with those you decided to store. Carefully take everything out and set them back in your new place. If you wish to get rid of some of them for good, this will be the time to do it.
There is no need to pile things up in your new home, so avoid filling your basement or attic. You can simply throw away those old things you no longer use or find another solution. Your new neighborhood surely has some organizations that can help you with this. Give them to someone who will have good use of them or ask friends or family members if they need anything. You will feel much better knowing that you found them a new home and that these items won't be in your way anymore.
Additional factors to consider
There are several factors to take into consideration when choosing a storage facility. The first one is, of course, its size. Also, think about the storage location. It should be close to your new home so that you would have easy access to your belongings. Choose a storage facility that has security, a surveillance system, and guards. The safety of your possessions is of the utmost importance. Finally, compare the costs of several units and choose the one that fits your budget.
Organize successful relocation
If you want to ensure a safe and smooth relocation, you need a good action plan. Knowing what you should be doing before, during, and after the moving day is crucial. Remember that the moving process doesn't start on the day of the move but weeks, even months before. Preparation is the most important part of the process so start well in time.
Research moving companies in Melbourne FL and find the one that can meet all your requirements. Make sure that you choose a reliable and experienced company, such as müv. Your movers should be licensed and well-trained. Visit companies' websites and check license information and reviews. Also, visit specialized moving websites where you can find companies' ratings, previously submitted comments, and complaints. Request several in-house moving estimates before choosing a particular company.
Enjoy your move!
Moving home is an outing new chapter. Although this is a tiring and time-consuming process, it is also interesting and fun so try to enjoy it. How much storage do you need while moving? Well, this is not a question anymore, you have the answer. Storage space can make your relocation much more convenient. The lack of space issues can pop up at any given moment, so know that it could be useful to you even if you are staying home. However, those who plan on moving shouldn't risk anything and should rely on trustworthy tools and companies. We wish you a safe and successful move!
Few simple steps
Contact our business
Reach out to our Florida movers by phone, email or through our website.
Get your free quote
Give müv the details of your upcoming relocation and receive a no-obligation moving quote and a tailored plan of action.
Enjoy your relocation
Forget about the stress of moving while one of the top moving companies in Florida handles your move.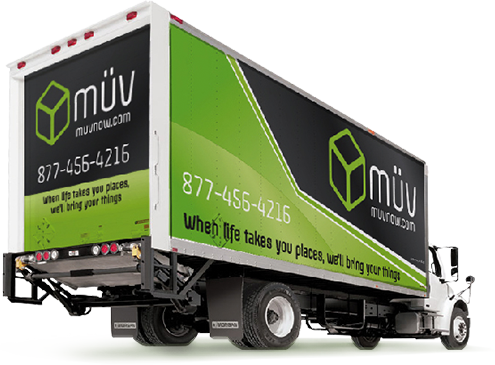 Sales Center Hours of Operation:
Monday - Friday: 9am-6pm
Saturday: 9am-1pm