Challenges of starting a business in Orlando
Get Your Moving Quote
"*" indicates required fields
Starting a business as well as moving can be a big challenge. If you have decided to start your new business in Florida, we can tell you that you have made a good decision. You probably already know that Florida is one of the most favorable states for living and working. And the main characteristic is that Florida is a friendly taxes state. So, if you decide on starting a business in Orlando, FL, you have made the right decision. Many benefits await you both for work and for life. And as for your move, Central Florida movers will take care of it. So, now we will introduce you to business opportunities in Orlando, but also to the city itself. We will reveal to you why this is the best location for your business. Keep reading!
Is Florida a good place for starting a business?
We have already said that Florida is one of the most favorable states for living and working. In addition to the main tourist activity, Florida offers you many other possibilities. If you plan to start a business in this sunny country, many benefits await you. When we talk about the job market in Florida, we can say that the labor market is very developed and that the unemployment rate is low, which is 2.8%. In addition, Florida is a tax-friendly state and will allow you to successfully operate a business with very low taxes.
To everyone who decides to start a business, this country will provide support in the form of tax exemption. This would mean that S corps, LLCs, and sole proprietorships are tax-exempt. Also, establishing a company will not be a difficult step. You need to come up with a unique name for your company, and register it with the Department of Revenue.
Also, Florida has its own rules when it comes to starting your own business. For some activities, you may need some permits. That's why you need to ask about everything before you make a final decision.
All you need to know about starting a business in Orlando
When we talk about Orlando and your desire to start your business in this city, consider that you have made a smart decision. According to research by WalletHub, Orlando ranks as one of the best big cities to start your own business. Also, this city belongs to the top 100 best US cities with an excellent business environment, access to resources, and favorable business costs. Orlando is one of the best business destinations, offering you a strong economy and many opportunities for its residents. If you are planning to move your business, commercial movers Orlando are at your disposal. And Orlando city will provide you with quick and easy advancement as well as many business opportunities.
What you need to know when you decide to start a business in Orlando is that this can be a big challenge for you and your employees. What is needed is that you are ready to invest time, effort, and money in your business so that you can see good results. Also, you need to be informed about all the possibilities and be careful. Because starting a business in a new and unknown environment is a big risk.
This can be a big challenge!
Starting a new business can be a big risk, and one of the biggest challenges is choosing the right people for your job. So, be careful. Starting a company, doing business, and making money can all be very exciting, but know that you, as the boss, will not be easy at all.
So, here are some challenges you may encounter:
Failed plan
Lack of customers
Bad marketing
Lack of skills and knowledge
Hiring the right and responsible people
Budget and Finance
Leadership
Business management
Lack of time
Competition
These are all some of the challenges you can face. But don't panic. Because if you want to overcome the competition and achieve good business, you need a strategy that you will make before you step into this business world. So it's simple! Make a plan, update it regularly, monitor your finances, and make a good marketing and you're on top.
Meet Orlando
If you have chosen Orlando as your new place to live, consider that you have made one of the best steps in your life. Orlando is the third largest city in Florida, with a population of about 300,000. The main characteristic of this city is that it's ideal for all generations. And especially for seniors who adore this area. Also, growing technological sectors and a growing population make this city an ideal choice for young professionals and families looking for quality education, a successful economy, and many interesting things to do throughout the year.
Also, Florida and Orlando give you 12 months of constant sunshine, good weather, and the opportunity to spend all your free time on beautiful beaches and enjoy the various activities that this city can offer you. So, if you want to live and work in this city, it's time to start your preparations. Moving and storage Orlando companies are at your disposal. We believe that you will enjoy it because this city will offer you a nice mixture of urban and suburban living.
Now it's time to move and start a business!
So, now that you have familiarized yourself with the characteristics of this city, as well as the possibilities that await you when it comes to business, you can proceed to the next step. And that is the organization, packing, planning, etc. But when it comes to packing, don't worry, because luckily, packing service Orlando will make this job easier for you. Also, don't forget that starting a business in Orlando brings with it many challenges, and with a good business plan, a little will, and effort, you will achieve all your goals! Good luck!
Few simple steps
Contact our business
Reach out to our Florida movers by phone, email or through our website.
Get your free quote
Give müv the details of your upcoming relocation and receive a no-obligation moving quote and a tailored plan of action.
Enjoy your relocation
Forget about the stress of moving while one of the top moving companies in Florida handles your move.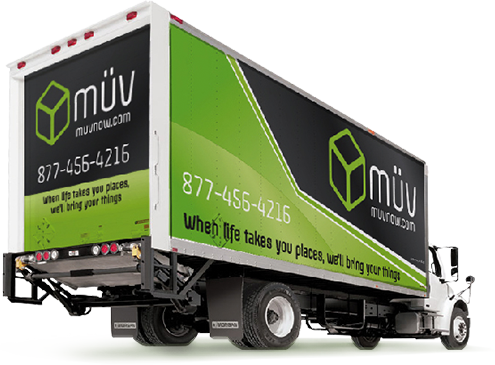 Sales Center Hours of Operation:
Monday - Friday: 9am-6pm
Saturday: 9am-1pm