Compare cities cost of living: Orlando vs Tampa
Get Your Moving Quote
"*" indicates required fields
Before moving to a new city, it's important to inform yourself in the best way possible. Knowing the cost of living in different places is one of the most significant pieces of information you can find out. Because of this, we are here to help you compare the cost of living in Orlando vs Tampa. Here at müv, our goal is to make every single one of our clients happy, and their relocations memorable and easy. We will work with you to make sure that you can start your journey prepared. With our knowledge and experience, you will be able to make an informed decision on what suits you best. Don't be afraid to get excited about your new life. Both Orlando and Tampa have a lot to offer and you're about to begin an important journey. We are happy that we can lend you a hand along the way!
Orlando vs Tampa: factors that determine the difference in cost
There are a few different factors that affect the cost of living in a city. If you're planning to move, and you still haven't decided where, you'll need to think about living expenses. Therefore, you should also know about all the things that play a part when you determine how much money you will spend in a certain place. Firstly, you'll need to inform yourself about the cost of things important to your everyday life. These are the groceries, utilities, transportation, and healthcare. Secondly, the housing prices and rent are there for you to consider. Although this second factor can seem like the more important one, you should keep in mind the importance of the things you use every day. For example, even if the cost difference for the groceries doesn't look that big, the value will build up over time, since you need groceries every day.
We are aware that comparing the cost of living in Orlando vs Tampa doesn't always seem that simple. However, you don't have to worry. You have some of the best movers Tampa has to offer on your side. There are quite a few similarities between the two cities, as well as differences. When we explain them to you, you'll see that there are no objectively better options, but you'll be able to decide what is the best fit for you.
Comparing living expenses
When you compare the cost of living in Orlando vs Tampa, you'll probably find out about the cost of living index scores. These scores exist to help you determine the expenses you can expect in your new city in comparison to the rest of the USA. The average score for the whole country is one hundred, although most major cities are ranked slightly higher than that. For example, the general score of Orlando in 2022 is 104.1, while the score of Tampa is 100.1. On paper, this seems very simple. Since Orlando has a bigger score, it has to be more expensive, right? Well, the answer isn't simple. Different factors affect the cost of living in a certain place, so you should know more details about them. To make it easier for you to compare the cities, we'll talk separately about two of the most important factors for living expenses:
The cost of living in Orlando vs Tampa
The housing prices
The cost of living in Orlando vs Tampa
The cost of everyday life differs from state to state and from city to city. Although the differences in this category can sometimes seem insignificant, this represents the things you need every day, so every good financial decision can be rewarded in the long run. Before you decide to ask about the moving services in Orlando or Tampa, let us break down the average cost of everything you need for a normal life.
Groceries – the average index score in Tampa is 105.1, while Orlando has a score of 100.7. Therefore, groceries are significantly cheaper in Orlando.
Healthcare – Orlando has a score of 97.2, while Tampa's score is 98.5, which means the two are fairly close in this department, with Orlando a bit less expensive.
Utilities – the score for this category in Orlando is 102.3, a fair bit higher than the score in Tampa which is 96.3. So, you will spend less money on utilities in Tampa.
The housing prices
The second factor that determines the cost of living in a city is the housing prices and rent. Depending on your lifestyle, you can expect different results. The index score for housing is 94.9 in Tampa and 106.1 in Orlando. This means that Tampa is less expensive when it comes to renting or owning a home. The market is, of course, prone to changes, but this is the situation in 2022. Another thing you should investigate before moving to a place is the median home cost. For the whole of the USA, this number is $231.200. For Tampa, the median home cost is $219.400, while being $245.400 for Orlando. So, if you're looking to buy a home, you might find it an easier thing to do in Tampa. However, this still doesn't mean that Tampa is cheaper than Orlando in general. Everything depends on your preference.
Conclusion
To sum up, knowing the cost of living in Orlando vs Tampa offers you a chance to make an informed decision when the time comes for you to move. When you finally decide, you'll be certain that you did the best thing for yourself. Therefore, continue your investigation and give yourself time to think. Every city is different, and we can only share the facts we have learned. Only you can decide what suits you best. Whatever happens in the end, the most reliable packing service Tampa has to offer is something we can do for you to make your move even easier. Our trained professionals are here to answer to your every need so don't let the size of your task intimidate you. You don't have to do anything alone. Whenever you're ready to go, we will be there to lend a helping hand.
Few simple steps
Contact our business
Reach out to our Florida movers by phone, email or through our website.
Get your free quote
Give müv the details of your upcoming relocation and receive a no-obligation moving quote and a tailored plan of action.
Enjoy your relocation
Forget about the stress of moving while one of the top moving companies in Florida handles your move.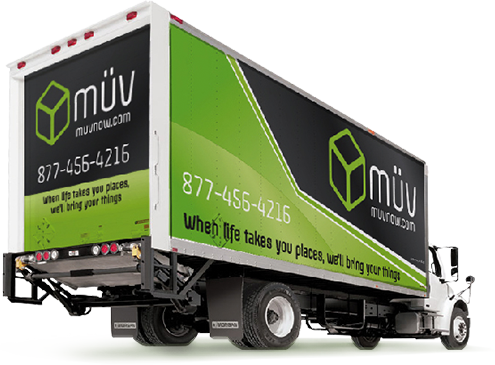 Sales Center Hours of Operation:
Monday - Friday: 9am-6pm
Saturday: 9am-1pm