Moving to Orlando with kids
Get Your Moving Quote
"*" indicates required fields
If you think of finding the perfect place for your kids to grow up, it will be hard. No matter which place you choose, there will always be something you will have to give up. But, lucky for you, there are some places where you will gain a lot and lose little. One of those places is the city of Orlando. Moving to Orlando with kids will be quite a challenge. Well, moving everywhere with kids is a challenge. But thanks to Central Florida movers, the process of the relocation is going to be smooth and easy. So, once you make a final decision and choose to move to Orlando, do not hesitate to contact them and gain some of the best moving experiences.
Why is Orlando so special?
Well, for start, Orlando has a nickname – The City Beautiful. It is one of the best places to live in Florida. There are various restaurants, parks, and activities the whole family can enjoy. Once you get to know the pros and the cons of living in this city and moving here with kids, you will be able to make your final decision. Residents here are polite and friendly and you will never feel like an outsider. Which might be the perfect place for your kids o grow up. Knowing that they will be accepted no matter their color, religion, or the way they dress, your kids will feel loved by every resident of Orlando.
When it comes to the costs of living, you should know that they are 2 percent lower than the national average and 3 recent lower than the Florida average. So moving here with kids means that you will be able to have a comfortable life and provide your kids with more stuff than you could use to. Add to this that there is no state income tax. So no matter where you are moving to Orlando with kids, you will be able to earn some savings. This is a pretty good reason to hire local movers Orlando has and start packing.
Moving to Orlando with kids – living next to a theme park
One of the biggest reasons why people chose to move here with family is that Orlando has direct access to the most attractions in the world. Your kids will be living next to Walt Disney World, Universal Orlando, Seaworld, and Legoland. Pretty cool right? So if you ask your kids, you should have already called residential movers Orlando has and you should already be relocated. But being close to these theme parks has its cons too. You will be facing a lot of tourists which sometimes means that this place is not so safe. According to statistics, Orlando is on the average level when it comes to the violent crime rate and burglary.
That is why if you decide on moving with kids here, you need to be informed about how you can protect yourself and your kids during some busiest times of the year, such as Holidays or summer.
Education in Orlando
Moving to Orlando with kids will definitely be a good choice when it comes to education. There are located some of the highly rated school systems. And your kids will be provided with some of the best education in the country. One of the most famous and wanted schools in Orlando is the Seminole Cunty Public School System. There are over 60,000 students with great rates and some of the best activities out in the open. In Orange County in Orlando, you can find some of the best elementary, middle, and high schools. So before you hire movers Orlando has, you could do a little research about the schools in the area you like. And make your choice based on them. After all, moving to Orlando with kids must be good for them too.
However, if your kids are big, and they are looking for some higher education, the University of Central Florida is located here. It is the second-largest university in the United States. This university offers 230 different degree programs. It means that your kid, no matter how lost he must feel when moving here, will be able to meet new people and maybe discover new interests and hobbies.
There is always something to do
If a theme park being near your doorway is not enough, you can find so many other activities that your whole family enjoys. Besides the great restaurants, there are always some events or exciting things to see and visit that will make moving to Orlando with kids more awesome.
Some of the biggest events that will be fun for all:
Orlando Film Festival. It is dedicated to independent filmmakers.
The Orlando Science Center where your kids will have fun learning about science and technology, and
The Orlando Museum of Art. You can buy tickets online and head to the adventure on the first available weekend you have.
How to prepare for moving to Orlando with kids
Moving with kids means that you will bump into some obstacles. This is why you need to be well organized and have some help. Whether it is help from the professionals or the people you know, it will be a great solution for relocation to pass by smoothly. If you have small kids, call relatives or friends to take care of them while you are packing and organizing a relocation. You do not need your kids to run around the boxes and maybe accidentally hurt themselves or damage the items you have packed.
Moving to Orlando with kids will be a great choice. Be careful how you choose which neighborhood you will move to. But at the bottom line, Orlando can offer something for everyone. Be certain in your decisions and think about how this move will be a great thing for your kids' childhood.
Few simple steps
Contact our business
Reach out to our Florida movers by phone, email or through our website.
Get your free quote
Give müv the details of your upcoming relocation and receive a no-obligation moving quote and a tailored plan of action.
Enjoy your relocation
Forget about the stress of moving while one of the top moving companies in Florida handles your move.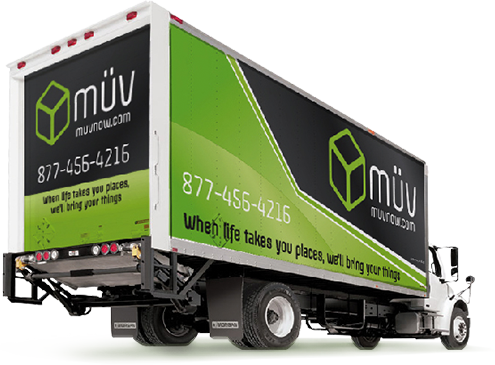 Sales Center Hours of Operation:
Monday - Friday: 9am-6pm
Saturday: 9am-1pm