Fun things to do with kids in Orlando
Get Your Moving Quote
"*" indicates required fields
Orlando is a beautiful city in Florida with plenty of amazing activities. People of all ages could enjoy them, not just the little ones! If you've recently moved to Orlando, then we're sure you are already aware that there are many fun things to do. In this article, we'll go through all the fun things to do with kids in Orlando. We at Muv Now are one of the busiest and most reliable moving companies in central Florida and we've seen these attractions firsthand and know just how much fun and exciting they can be! Make sure to take your time and go with your kids to all of these amazing places, as you'll definitely create a lot of great memories. Not just for your kids, but for you as well! Nothing beats quality family time. Let's get straight into it. 
Disneyland – perhaps the most fun thing to do with kids in Orlando
What can we say about Disneyland that you don't already know? There are so many things to do and see there that you will have a hard time getting it all done in a few hours. It actually consists of many different theme parks and those are: 
Magic Kingdom Park
Epcot
Disney's Hollywood Studios
Disney's Animal Kingdom Theme Park
Disney's Typhoon Lagoon Water Park
Disney's Blizzard Beach Water Park

Make sure you bring your kids to Disneyland Orlando as it is so much fun!
Inside and outside of those parks there are many other excellent entertainment options, restaurants, food & beverage kiosks, hotels, and many more! It's really a place with a lot of value and will for sure create many magical memories in your family's life. If you're thinking about moving to Orlando, make sure you get in touch with the best commercial movers Orlando has to offer and move your business here as well!
ICON
Icon Park is 20 acres worth of pure family entertainment. It's located at the center of Orlando's International Drive. There are plenty of amazing rides and exciting activities to do, for hours on end. In between those rides, you can kick back and refuel your energy levels with amazing food, as there are over 40 different restaurants and kiosks to choose from! Icon Park's biggest attraction (literally) is The Wheel. It's a 400 feet tall observation wheel that will for sure leave you breathless. So to sum it all up, it's a perfect weekend activity that blends awesome food, fun rides, and a jaw-dropping wheel that will for sure get your blood pumping!
Sea Life Orlando Aquarium
Everybody loves visiting the aquarium! It's not only one of the most fun things to do with kids in Orlando, but it's also highly educational! It's places like this that inspire kids to learn more about various different creatures. They'll maybe even develop a lifelong passion for them! It has Florida's only 360° ocean tunnel which will for sure leave you all breathless. You can watch gorgeous sea creatures like sea turtles, sharks, eels, tropical fish, stingrays and many more live their lives in their natural habitat. There's even a touch tank where you can physically touch certain animals! And if you have small kids, don't miss out on Toddler Time which happens every Tuesday. All in all, it's a must-see place in Orlando so get moving, use the best packing service Orlando can provide you, and come see Sea Life right away!
Gatorland 
This is a very thrilling place to be. It's the home of crocodiles and alligators of all shapes and sizes. From their earliest stages when they are babies, up until they're 14-foot long monsters, you should definitely see them all. It's also the home of the very rare white leucistic alligators. There is also the petting zoo, special animal shows, free-flight aviary, and many more. To top it all off, you should check out the Screamin' Gator Zip Line! It's a one-of-a-kind place that you and your kids will definitely enjoy. It's fun, exciting, and educational!
Madame Tussauds
Madame Tussauds Wax Museum is definitely a top attraction. It became one as soon as it came to Orlando. You can stand in front of very lifelike wax figures of your favorite artists, musicians, actors, etc. There are also figures of children's favorite cartoon characters and superheroes, which they will for sure enjoy. The figures are placed and located thematically, so it's easy to navigate around. Be sure to check it out along with your kids and have some fun!
The Wizarding World of Harry Potter is one of the best things to do with kids in Orlando
Harry Potter has shaped many different generations of kids and continues to do so to this day. Many adults of today are lifelong Harry Potter fans as they grew up reading and watching it. That's why the Wizarding World of Harry Potter in Orlando is a must-see attraction! Universal Studios Florida has done an amazing job bringing this world to life. You can explore the mysterious streets of Diagon Alley, visit the Gringotts Bank, enjoy the village of Hogsmeade, get to know Hogwarts inside and out, and many other things! There are plenty of rides in this park that only make it even more exciting! Definitely do not miss out on this great place, your kids will absolutely love it.
Orlando Watersports Complex
This is the area's first waterpark, and one of the best things you can do in Orlando! You can go wakeboarding (which is surfing, waterskiing, and snowboarding mashed into one super exciting activity) and paddleboarding which guarantees exciting times. If you're a complete beginner, don't worry. There is a training available for newcomers to make them feel safe and secure before engaging in anything mentioned above. To top it all off, you can also climb and jump on floating inflatables. There are plenty of fun things to do with kids in Orlando, and this is just one of them. If you're in the middle of your move here, find reliable storage Orlando FL to ensure your possessions are safely secured somewhere. This will enable you to go have fun with your kids without a single worry!
Few simple steps
Contact our business
Reach out to our Florida movers by phone, email or through our website.
Get your free quote
Give müv the details of your upcoming relocation and receive a no-obligation moving quote and a tailored plan of action.
Enjoy your relocation
Forget about the stress of moving while one of the top moving companies in Florida handles your move.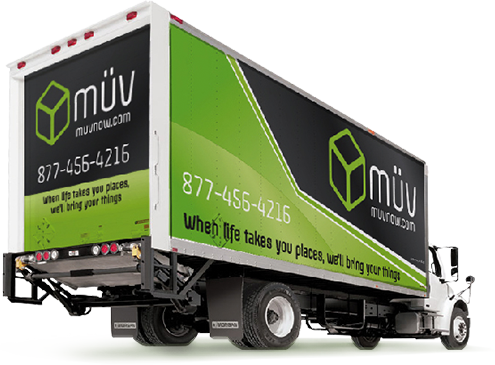 Sales Center Hours of Operation:
Monday - Friday: 9am-6pm
Saturday: 9am-1pm