Who is moving to Space Coast, Florida?
Get Your Moving Quote
"*" indicates required fields
Space Coast has recently been considered one of the best places to live in Florida, if not the best place. The reason for that is mainly the working opportunities this area offers, especially for people whose aim is to have an extraordinary career. In addition to that, even though it may sound contradictory, this is also a place that is great for raising a family. Brevard County has so much to offer, and there are great cities you can choose to start a new adventure in your life. We will tell you who is moving to Space Coast, Florida, and yours is just to call Space Coast movers and schedule your relocation. After reading more, you may realize it is a place for you.
What you should know about Space Coast?
One of the most interesting facts about Space Coast is the origin of its name. Kennedy Space Center, the place from where Space Shuttle and Apollo moon missions were launched is located there. Exactly the Kennedy Space Center is the main employer in Brevard County, and a few thousand residents work there. Speaking of residents, around 606,392 people live in this area. Apart from the aforementioned Center, many people work in Patrick Air Force Base or other airplane companies. If you are looking for a job in this field of business, you can contact müv, one of the best moving companies in that area, right away. That is a great reason to stay on Space Coast and see what else it has to offer in the meantime.
So, who is moving to Space Coast, Florida?
The answer to this question is pretty simple. Everyone is moving to Space Coast. As we have already mentioned, it is a great place for individuals chasing a career, as it is for young families who are looking for a nice place to raise their children. In addition to that, many retirees also live in this area. Brevard County is a mix of differences, but they all function great together. The median home cost is $213,000, which makes it one of the remotely affordable areas. Considering that almost 50 rockets are expected to be launched next year, living there is a great value for money.
There are a lot of cities and towns in Brevard County, as well as census-designated places. They can be the right place for you, depending on your affinities. Who is moving to Space Coast, Florida, doesn't necessarily depend on the city. They are all diverse and appropriate for different groups of people. However, some of the best cities include:
Melbourne,
Cocoa Beach,
Rockledge.
Living in Melbourne
Melbourne in Florida is one of the most beautiful cities because of its great beaches and lovely atmosphere. It attracts a lot of tourists, but many people like to call it their home also. One of Melbourne's best features is endless activities. You can enjoy the outdoors in recreational parks and go swimming and snorkeling. If you prefer to go indoors, there are many wonderful restaurants and cinemas. This city proves that Space Coast is the place where everyone is moving. It can be a home for many young working people, same as seniors call it home.
What also attracts people to Melbourne is the fact that housing costs are pretty affordable. For example, if you want to rent, it will cost you $1,500. If, on the other hand, you want to own a property, you should know that the median home value is $238,000. There is no need for you not to contact movers Melbourne FL and get your move organized. This is especially the case if we mention that there are numerous employment possibilities across all sectors, particularly in technology and space enterprises. The most fantastic growth and riches opportunities are available to IT businesses, aerospace engineers, and defense contractors.
Living in Cocoa Beach
Another great city on Space Coast is Cocoa Beach. The very name implies that it is famous for its beaches. There are more than 50 of them, and you can enjoy every one. The best thing is that you can go swimming even in winter since the water temperature never falls below 60 degrees. If you love an endless summer, call movers Cocoa Beach FL and get ready. However, you have to be aware of the fact that it is somewhat more expensive than Melbourne. For example, the media home cost is $395,600. It is one of the least affordable Space Coast places.
On the other hand, there is something that pet owners will love about Cocoa Beach. It's pet-friendly, and dogs are allowed on most beaches. There is even a dog park in Lori Wilson Park. Despite the high cost of living, Cocoa Beach has many advantages.
Living in Rockledge
If you are thinking about moving to Rockledge, you will be happy to know that out of 27,739 residents, 81 % own their homes. Of course, this means that housing costs are affordable. It is no wonder that many of those people who are moving o Space Coast choose this city. The median home costs are $226,800, which is $3000 lower than the national average. The median rent is $1,333. So, it is time to look for one of the most experienced moving companies Rockledge FL and start preparing. It also has some of the best public and private schools. If you are moving with your family, this is a great place.
What to do in Space Coast?
The entertainment, fine art, and cultural scene on Florida's Space Coast are growing into a communal focal point throughout the area, offering anything from live theater to waterfront concerts and everything else you can imagine. If you want to enjoy live music and theater, visit The Maxwell C. King Center for Performing Arts and enjoy one of the many shows. There are also many street art venues for you to enjoy.
As you have read, the question of who is moving to Space Coast, Florida has a simple answer. Everyone can find a reason to move there and enjoy one of its great cities, activities, and affordability.
Few simple steps
Contact our business
Reach out to our Florida movers by phone, email or through our website.
Get your free quote
Give müv the details of your upcoming relocation and receive a no-obligation moving quote and a tailored plan of action.
Enjoy your relocation
Forget about the stress of moving while one of the top moving companies in Florida handles your move.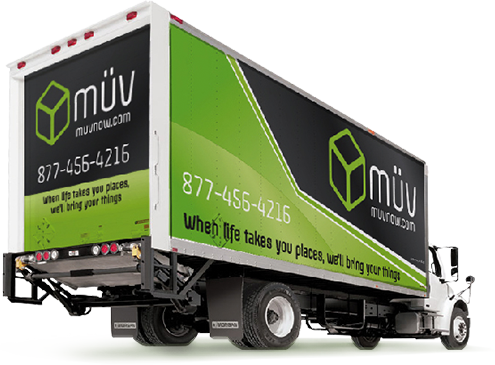 Sales Center Hours of Operation:
Monday - Friday: 9am-6pm
Saturday: 9am-1pm