How to Color Code Your Orlando Move?
Get Your Moving Quote
"*" indicates required fields
Orlando is one of the bigger cities in Florida, located in its central part. A little over 300,000 residents call this place home, and it is ranked as the 32nd best city in the USA for young professionals. Even though it is a big city, it is spacious and family-friendly, with plenty of amenities for all ages. If Orlando sounds appealing, then you might want to hire some moving companies in Central Florida to make it your new home. But before you get to that part, you need to pack your home. If you don't know how to color code your Orlando move and don't even know what it is, you are in the right place.
What is the color coding system?
Color coding is a term used in the moving industry, and it will change the way you label your moving boxes. It might seem complicated and time-consuming, but that couldn't be further away from the truth. The idea behind this system is to assign a color to each room in your home, and to the boxes that come out of it. For example, all the boxes that contain bathroom items will be labeled blue. As simple as it is, even packing service Orlando providers use it sometimes. If you are interested and wondering how to color code your Orlando move, you should:
Use bright colors
Make the labels waterproof
Inform your moving helpers of the system you used
Bright colors
No matter what color you use, make sure that it is bright. Moving boxes have a characteristic color that makes some colors difficult to see. High-quality markers or even printable labels in bright colors are a good idea. And don't be lazy, label each side of the box, so that it will be visible no matter which side goes up.
Waterproof labels
Even though Florida is the Sunshine state, with over 200 days of sunshine, you can never know when it will rain. Rain can ruin cardboard boxes and the labels on them, rendering your system useless. We advise using waterproof printable labels, or simply putting a piece of plastic, see-through tape over the label you created. Whichever method you use, just make sure that it stays until it is time for some residential movers in Orlando to take your boxes.
Inform your helpers
No matter if you get assistance from our moving services in Orlando providers or your friends, you need to inform them of the system. The time and effort you put into it will be in vain if people don't know what your colors mean. For a small-scale move, you can inform them verbally. Large-scale moves will involve more rooms and therefore more colors. Make a list of all the colors that you used and the rooms that they are assigned to. This will make the job easier for both your helpers and yourself.
Final thoughts on how to color code your Orlando move
If you are still wondering how to color code your Orlando move, you likely haven't used this method before. It sounds complicated, but it isn't. If it is something, it is fun. It makes packing more colorful, and unpacking and organizing easier and faster. This will shorten the time you spend unpacking, which will give you time to enjoy the many bike trails in Orlando. We wish you good luck and fun while choosing the colors!
Few simple steps
Contact our business
Reach out to our Florida movers by phone, email or through our website.
Get your free quote
Give müv the details of your upcoming relocation and receive a no-obligation moving quote and a tailored plan of action.
Enjoy your relocation
Forget about the stress of moving while one of the top moving companies in Florida handles your move.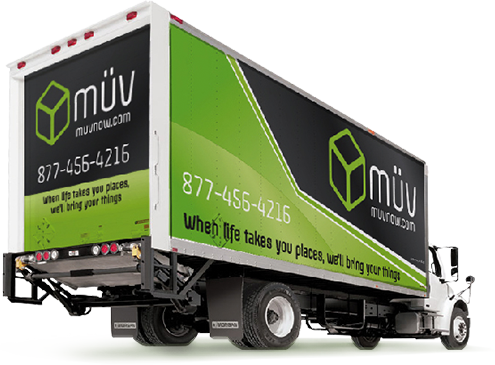 Sales Center Hours of Operation:
Monday - Friday: 9am-6pm
Saturday: 9am-1pm