Where do millennials live in Tampa?
Get Your Moving Quote
"*" indicates required fields
Tampa is constantly expanding and improving. It's no wonder it attracts so many millennials to move into the city, and it motivates the ones already there to stay. This provides for a rather healthy atmosphere, and really answers the question of where do millennials live in Tampa. The answer is that they live everywhere, as Tampa is a great city with so many possibilities. Moreover, lots of them also move into the city thanks to some of the most reliable movers in Tampa FL. And even though they do live throughout the city, there are some neighborhoods where you are more likely to stumble into lots of millennials. The list can help you find what kind of neighborhood would suit your needs if you were to relocate to Tampa yourself.
Some may like Ybor City, a great combination of history and modernity
This is a great historical neighborhood founded in the 19th century. However, nowadays it has undergone important investments and revitalization projects that kicked it high into the list of top places where millennials live in Florida. There's a lot of rich cultural heritage here, proudly displayed in a lot of the historic architecture, museums, and festivals. This kind of dynamic lifestyle suits many millennials. Moreover, thanks to this combination of contrasts, the old and new have made Ybor City a popular destination for nightlife, dining, and shopping all year round. Moreover, Ybor City offers some of the best local movers in Tampa, so make sure you check it out if you want this kind of experience. A few other places will offer such a good mix of things.
The median listing property price in Ybor City, FL was $317.000, up 19.8% year on year. If you were to check it out right now, you'd see that there are 121 properties for sale. The prices range from $40,000 to $8.5 million, which means that Ybor City provides reasonably priced housing options. If you're a millennial and want to move to Tampa, this neighborhood might be just the best opportunity you get. A combination of relatively cheap housing with a decent quality of life is definitely something you don't want to miss. It's also important to note that the income per capita in Ybor City is around $14,000, according to the latest data. However, that is below the average for Tampa in general. Understanding the weaknesses and advantages of these different places can help you make the final decision.
Palma Ceia is always a good answer when wondering where do millennials live in Tampa
This vibrant community is located just south of the end of the city, and it's often seen as a great place for millennials and their families alike. This is thanks to a number of factors. For example, it has a crime rate that's substantially lower than other parts of Tampa. This is especially important for young professionals who want to launch or continue their careers in Tampa. Living in a safe and secure neighborhood really goes a long way when it comes to increasing your quality of life. But what's more out there? There's plenty to do in this neighborhood alone, and you won't get bored. For example, Bayshore Boulevard is the longest continuous sidewalk in the world. That's just one of the examples of cool stuff that's located in Palma Ceia.
These great job opportunities, a safe community, and interesting activities do come at a price, however. For example, the average housing unit in Palma Ceia can be three times as much as the ones in Tampa! If you are someone who cares about safety and quality of life over money, then this can definitely be the right place for you. On the other hand, if you want to save some money, then there are other options on this list that might interest you more. For example, you always need to incorporate other costs, such as for moving to Tampa, when calculating how much a Tampa relocation is going to cost you. Naturally, it's always good to live in a safer neighborhood if you can afford it. You should always decide what you want to give away in order to gain something. For example, a safer community for lower home prices.
Channel District is an excellent choice for those who want to be close to downtown Tampa
This neighborhood offers a unique combination of both urban and small-town living. But don't let that trick you! It's super close to downtown Tampa, meaning you're very close to everything that's happening around For millennials who want to start their careers here, this can be an excellent opportunity. Moreover, it also offers a lot of other things that a lot of people will find really useful. For example, there is no need to drive everywhere. Some of the city's most famous locations are also located within this community, namely the Florida Aquarium, famous art galleries, museums, and other key cultural institutions are super close. This place is the answer to a lot of the questions about where millennials live in Tampa!
Some of the key aspects of this neighborhood are its prices. You can find property for around $493,000, which is a lot less than some other places on this list. It can be a great middle point between various options that are offered in Tampa. This is why this city is so appealing to millennials, who want to live an average middle-class life in Florida. With the average annual household income being close to $109,000, it can be easy to see why this place is more popular than some others on the list. Moreover, thanks to the help moving companies, such s Müv Tampa can provide, it can be both cheap and easy to relocate into the neighborhood. This can be especially important to millennials, who may want to spend their time doing something else, rather than going through the difficult process of planning a relocation alone.
Many millennials choose to live in Tampa's Hyde Park
This is one of the more popular neighborhoods for a lot of millennials in Tampa. Hyde Park offers many housing options, from apartments to new construction and condos. The median housing price is $394,000. That's either on par or lower than other neighborhoods listed on this list, which means this neighborhood offers great prices. Moreover, there are plenty of things to do in here! It's located really close to Tampa's best recreation areas, such as Bayshore Boulevard. This is what allows millennials to spend their time outside or just play sports out there. There are areas for running, walking, cycling, and others. You're even going to find great golf and tennis courts, so it's an amazing opportunity if that's what you like.
Hyde Park attracts many young professionals due to excellent job opportunities, as well. The area's companies are well-equipped to accept young professionals in a number of fields. For example, healthcare, technology, financial services, and even education are all great options. Naturally, you shouldn't restrict yourself to Hyde Park alone. You can work anywhere in Tampa, FL, and still, live here. That's because the neighborhood is well-connected to the rest of the city, so commuting to work isn't going to be hard. Being able to travel to other parts of the city is something that is important for a lot of people, which is why Hyde Park is such a popular choice. Moreover, it has some of the best Tampa storage services you may need, so it's an excellent choice if you want storage close to your home.
When thinking about where do millennials live in Tampa, Courier City/Oscawana is probably the answer
There's a diverse variety of people living here, making it a true pot for different cultures. It's located north of downtown Tampa, giving easy access to the city center. Many millennials and young professionals enjoy being so close to the business center of the city, while still living in a good neighborhood. Moreover, there's also a vibrant nightlife scene that many youngsters enjoy! When you combine these two, it's no wonder why this neighborhood is so popular. There are a bunch of places you need to explore in the area, such as CineBistro, The Paper Seahorse, or even Mr. Penguin. Those will introduce you to all the differences and unique traits this neighborhood offers. If you're getting property in the area, you can always use the packing service Tampa moving companies offer. This should greatly help you when you're settling down into the neighborhood.
Naturally, Courier City/Ocswana offers a variety of housing options for millennials and others alike. In December 2022, the median listing property price in Courier City/Oscawana was $420K. However, if you have a look at some of the listings, you'll quickly see a big variety of prices. Some prices are as high as $700,000, while others are significantly lower (for example, around $300,000). So, if you like this neighborhood, do your own research. Median and average prices can be a bit misleading and scare you off. There are plenty of both cheaper and more expensive options to choose from. Most people in the neighborhood have a salary in between the range of $75,000 to $99,999. As you can see, it's a bunch of young professionals, living their life super close to downtown Tampa!
How to choose the right neighborhood for you as a millennial in Tampa FL
As you can see, there are a bunch of millennials all over Tampa. But the most important thing is, where do you want to live in Tampa? There are plenty of great options to choose from, so it may seem like a hard decision. You need to narrow down your choices. What are the costs you're ready to accept? What kind of neighborhood do you want to live in? Something closer to downtown, or it doesn't matter and etc… Answering such questions can really help you decide what part of Tampa you want to move to. Afterward, it's just a matter of getting the right Tampa residential movers to help you with your relocation! It's as easy as that, as long as you can pick a specific neighborhood. So, doing your own research about these neighborhoods is as important as other things!
Set a clear list of criteria you want to have in a particular neighborhood
As mentioned, there are plenty of different reasons why you might decide to move to a particular neighborhood. For example, you can choose some of the following things you may want:
Good access to public transport and easy-to-walk areas. This is going to be particularly important if you don't have your own vehicle and would need other means of transport to get around the city.
Decent quality of life compared to prices. When you live in a more expensive neighborhood, the general quality of life tends to increase. You need to strike a delicate balance between the two, based on what you want.
Good companies in the area. If you don't want to have long commutes, it's crucial that your next job is going to be close to where you live.
Things you enjoy doing. If you have any hobbies, you should find a neighborhood that offers such places in a nearby area.
Choose Tampa and get the most of what Florida has to offer
Tampa in itself is a pretty decent place to live. Florida is seeing huge population growth due to many amazing cities, and Tampa is just one of them! The average price for a home in Tampa is around $376,000. That's pretty close to a lot of the properties in the aforementioned neighborhoods. That shows that millennials live in just the average neighborhoods the city offers. Furthermore, you should never try to relocate somewhere just because a certain group of people lives there. The real strength of a particular neighborhood comes from having a lot of differences and people there. Move wherever is the most appropriate for you based on your own criteria, not where do Millennials live in Tampa on average. That's how you are going to ensure that you have a pleasant experience in Tampa.
Few simple steps
Contact our business
Reach out to our Florida movers by phone, email or through our website.
Get your free quote
Give müv the details of your upcoming relocation and receive a no-obligation moving quote and a tailored plan of action.
Enjoy your relocation
Forget about the stress of moving while one of the top moving companies in Florida handles your move.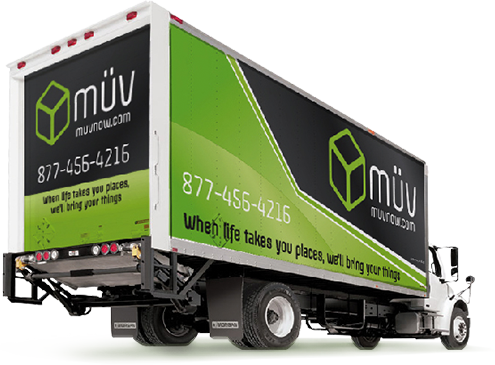 Sales Center Hours of Operation:
Monday - Friday: 9am-6pm
Saturday: 9am-1pm