Benefits of using storage in Florida
Get Your Moving Quote
"*" indicates required fields
Relocation is often a dreadful, time-consuming, and exhausting process. However, moving experts at müv know exactly what can be the biggest problem. More importantly, they know how to solve it. While packing for your move, you often feel that you are just moving your things around the house. And it constantly feels like you're running out of time and space. Well, don't worry! One of the benefits of using storage in Florida is that it can save you a lot of space and time when you start preparing for a move. Also, you don't have to be moving to use storage units. You may just be renovating your house and want to move your bulky items out of your house for a while. Or you just want to keep your important belongings safe. Whatever the reasons, read more to see how to use storage in Florida.
What storage units to use
When it comes to storage services, there are a lot of different types of them. Which one to choose depends on your preferences, but more importantly, on the kind of things you want to store. Some of the most used storage units in Florida include:
on-site storage,
long-term storage,
short-term storage,
climate-controlled storage.
Of course, there are combinations of these types since long-term and short-term storage can be on-site and climate-controlled. When it comes to services that moving companies offer, people tend to use the advantages of storage services more and more these days. Using this kind of service saves a lot of time and energy. Not to mention that in the middle of the process of renovation or house redecoration, one of the biggest benefits of using storage is that you feel less stressed out, and fewer situations can make you lose control. When you know that your items are safe and that you don't have to worry about where to put them, it really can calm you down.
The most important benefits of using storage in Florida
As we said, there are many benefits of using storage units in various aspects of your life, especially when it comes to relocation. Your items are safe and well-protected, and you have much more space in your home. Yours is just to choose the type of storage unit you need and experience all the possible advantages.
The first benefit is the protection of your things
The most obvious benefit of a storage unit, apart from additional space, is the protection of your belongings. Safety occurs on more than one level. First of all, if you often leave your house, especially at the time of relocation, storage Melbourne FL is a great solution for you. It protects your things from being stolen or lost during the chaos of relocation. The same thing happens when you have to renovate the house and have to keep some of your items outside. This way, you know your belongings will be safe. Most storage options have cameras, alarms, and special locks with a password. In addition to that, you can sometimes add some locks. So, if you can't keep an eye on your important items for a while, storage solutions show some of their greatest benefits here.
Another benefit is the possibility of decluttering
Of course, most people use storage units when they have to move things around. However, you don't have to be redecorating or relocating to use them. You can always use long-term storage Orlando FL, for the things you don't want to keep in the house but need from time to time. For example, if you use your car only to travel long-distance, there is no need to keep it in the driveway. It takes up a lot of space. Plus, you have to worry about its condition or protection. Leaving your vehicle in a storage container will spare you a lot of needless worrying thoughts.
Also, you can keep seasonal clothes in storage. Or ski equipment, for instance. There is no need to have your bedroom closet full of boxes with seasonal clothing. Just protect them well and store them in a storage container. You will have more than one benefit if you do so. The same thing you can do with the old antique furniture that you can't use, but it has sentimental value. There is no use keeping those pieces of furniture in the basement or attic and worrying about them getting damaged over time. In climate-controlled storage, the condition of your furniture stays the same, no matter how much time has passed.
Moving to a smaller residence
One of the benefits of using storage in Florida steps on the scene when you have to move from a bigger to a smaller residence. It doesn't matter if you are switching apartments or houses; it is always possible that some of the things you own can't fit into your new home. Especially not at the beginning, right after your move. So, of course, the solution is renting storage Tampa FL and not having to worry about the space. You can always keep your furniture protected there until it is convenient for you. For instance, you may change the interior later if you don't have time during the relocation. Or you can just decide to sell those things, but you couldn't manage to do it before. Whatever the reason, storage units are great for keeping your furniture until you decide what to do with it.
Benefits of using climate-controlled storage in Florida
Using climate-controlled storage is the best way to protect your things. If there are extreme temperatures, storage that is not controlled can't be enough to protect your belongings. In this type of storage, the air constantly flows. So, the things that would decay over time stay in good condition, thanks to the fresh air. Climate-controlled storage is never overheated or too cold. The humidity is also under control, so your important belongings will stay safe.
As you can see, there are many benefits of using storage in Florida. Storage can always be a solution from relocation over house renovation to just freeing up some space in your home. If you add the usage of climate-controlled storage to the equation, you'll never have to worry about your items again.
Few simple steps
Contact our business
Reach out to our Florida movers by phone, email or through our website.
Get your free quote
Give müv the details of your upcoming relocation and receive a no-obligation moving quote and a tailored plan of action.
Enjoy your relocation
Forget about the stress of moving while one of the top moving companies in Florida handles your move.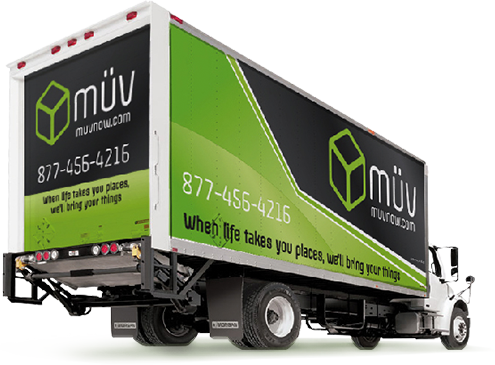 Sales Center Hours of Operation:
Monday - Friday: 9am-6pm
Saturday: 9am-1pm