How to Pack Plants for Moving
Get Your Moving Quote
"*" indicates required fields
Relocating home requires an impeccable moving plan and precise execution. Even more so if you have potted plants with you. The more you have, the more complex your relocation process becomes. Even though you'll have Florida moving experts handling your plants, you still must prepare them for the journey ahead. Therefore, let us help you by providing the key steps on how to pack plants for moving. Let's ensure your plants are relocated safely.
Create a Plan on How to Pack Plants for Moving
A proper plan is required to move plants successfully. The first step is to figure out how big your new home is and if your plants can fit in. You must have enough space for each potted plant unless you are downsizing significantly. Nevertheless, figure out where each plant should go and then start preparing them for this journey. Also, after you inspect your plants, note down how many of them you have because your residential movers Tampa offers need to know this. Especially if you have a lot of them and you must use an additional truck or make two trips. Lastly, inspect your home and figure out if each plant can go out of the home and into the truck without being damaged.
The season you are moving in is important when moving plants
The first thing to know about how to pack plants for moving, is that the season your relocation is in matters greatly. If you must move while temperatures are high or too low, you must prepare for it. This will require a climate-controlled moving vehicle as well as proper packaging. But regardless of the temperature, one thing is certain. You must clean, tend, mend, and rejuvenate your plants before they start traveling. You probably already know how to do this, but we must remind you anyway. Use herbicides and plant-friendly chemicals to get rid of weeds and bugs. This is the perfect time to give your plants a bath and free them of any pests they might have. This way you'll start fresh in your new environment. And do this at least a week before moving to give your plants enough time to recover after the shock.
How to pack plants and how to load a moving truck?
After removing dead leaves, and bugs, and washing your plants, you can pack them for moving. The best way is to cover the pot in bubble wrap and end it by tying a knot at the base of the plant. Obviously, this is the practice for tree-family plants. The fragile ones should be simply covered with linen cloth or wrapped in packing paper. But remember, leave the roof open to avoid crushing the head of the plant. And you can do this by yourself or opt for a packing service in Tampa. Your movers can bring all the materials and do it quickly and efficiently.
If you decide on doing it by yourself instead of enlisting one of the moving companies in Tampa, then you should purchase a few cardboard boxes, packing tape, bubble wrap, and packing paper. It is all you need to safely pack your potted plants. Do it yourself if you know how and let movers carry them to the truck. They know exactly how to do it to preserve each plant.
You can transport plants by yourself as well
Lastly, if you have a bigger personal vehicle or a moving truck, you can transport plants by yourself. Of course, if you have around 10 potted plants or so and if you know how to load a moving truck. If you have more, then you'll have to make a few roundtrips which can cost much more when we add road tolls and gas to this equation. In that case, it is better to enlist a professional moving team and let them do it instead. It will be cheaper and safer. Unless you have only a couple of plants that you can fit into the trunk and in the back seat of your car.
Packing Plants is Easy With the Right Tips
Now you know how to pack plants for moving and how to do it safely. Use proper holders to cradle your plants and higher-quality packing materials as well. It pays to be protected so do not try to save money here. It can easily result in dead plants or broken pots. If you follow our advice, you will pack and transport your plants without any problems.
Few simple steps
Contact our business
Reach out to our Florida movers by phone, email or through our website.
Get your free quote
Give müv the details of your upcoming relocation and receive a no-obligation moving quote and a tailored plan of action.
Enjoy your relocation
Forget about the stress of moving while one of the top moving companies in Florida handles your move.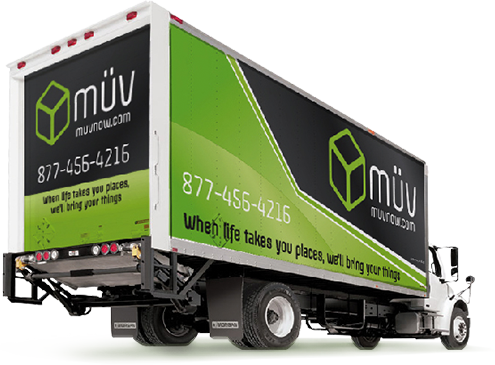 Sales Center Hours of Operation:
Monday - Friday: 9am-6pm
Saturday: 9am-1pm