How to safely store office equipment
Get Your Moving Quote
"*" indicates required fields
So your office is full of different items and you've decided to clean it up. Because you're now sure how to do it properly we at müv would like to help you. A clean place is a good environment to be in, it'll make you and your co-workers more productive. Also, it has been scientifically proven that working in a tidy and clean environment where everything is in its place, will make you more focused on the job. But many misconceptions and questions need to be about how to safely store office equipment. So let's dive in and see what can you do about it!
Planning on how to safely store office equipment
Planning is the key element to all activities in the business; so it's in the moving and storing. If you want to make your office clean and tidy, safely store office equipment and that's it, sounds simple? Well with our plan it'll be a piece of cake. So we at storage Tampa FL will break it down for you.
Decluttering
Create an inventory
Buy or rent a storage
Labeling

Decluttering is always welcome
So this process is simple you'll use it for all types of moves or stores. First of all, you'll have to divide all of your boxes into six different categories such as storage, keep, throw away, fix, donate or sell. This is used in commercial moves, house moves, storing, etc. so it's as simple as it sounds. Find six boxes and label them as one of these categories, after that just throw in the things that belong to that specified category. We as commercial movers Tampa have a lot of experience in helping people do this, so if you need any help just give us a call. You can also search our blog section for more tips, tricks, and creating solutions.
Creating an inventory
Creating an inventory list is crucial for any process in business, so it's nothing less important than storing.  We as one of the best moving services in Tampa can tell you that without this it's really hard to work. So nowadays you don't have to do old fashion pen and paper, there are numerous applications and software that'll make it easier for both you and your employees. By making an inventory you'll have a clear picture of all of the things that you possess in an office. So you'll also do the job of the supply department at the same time. Once you start decluttering start writing everything down, where what goes, so you can also make six categories like in the decluttering phase.
Buying or renting order to safely store office equipment
Now, this step is clearly where you'll need to choose between buying or renting storage. Now the problem is because if you want to buy it it'll be expensive, but if you don't want either option you'll have to dedicate one whole room to the office equipment. This is a good option, right? Wrong, you could use that to expand your business or to put some working equipment to declutter someone's office or a hallway. So there are much more practical uses for an empty room than just throwing old things in it. But when it comes to renting that's a good option. We can tell you from our own experience that more people are opting for the self-storage option. So renting is more expensive in the long run, while buying is expensive at the beginning.
Now not only that you'll have to get a room but, you'll also have to buy more equipment and furniture to store all of these things. First of all, you'll have to buy some cabinets for files, folders, registrators, etc. You can find these items cheap online on websites like Amazon, eBay, Craigslist, or in IKEA. So don't forget that you'll have to do all the packing yourself. You can ask co-workers to help you, but you'll also need packing supplies. Some of the things that you'll need are bubble wraps, wrapping papers, folders, registers, boxes, plastic wraps, blankets, etc. This hardly depends upon what are you storing and how safe you want it to be stored. We also provide packing service Tampa so we can help you with this.
 How to safely store office equipment – simple by labeling
Labeling isn't that hard and it's quite logical. You'll just need some boxes, sticky notes or some paper, any type of tape (the best is transparent tape, like sellotape), and a marker. Write on the boxes numbers or names, you can also use different colors if you have a lot of different items. This is like all the other processes boring and it takes time. So if you would rather spend time doing your work, watching Netflix, or enjoying a meal with your friends or family, consider hiring moving experts. Also if you have to carry some heavy equipment or some complex furniture, that needs to be disassembled and reassembled again, consider calling pros, just in case something goes south.
Thank you for reading this article. We hope that you liked it and that we helped you with how to safely store office equipment. This process requires a lot of time and patience and it can be tricky at times. So if you don't have anything else to do and the task is fairly simple, go ahead; but if the task requires some complex office machines and appliances and you're not sure how to handle it, hire pros. We stand at your disposal for any type of storage or move, so you can give us a call and you'll get a free estimate. Have a great day and a stress-free move!
Few simple steps
Contact our business
Reach out to our Florida movers by phone, email or through our website.
Get your free quote
Give müv the details of your upcoming relocation and receive a no-obligation moving quote and a tailored plan of action.
Enjoy your relocation
Forget about the stress of moving while one of the top moving companies in Florida handles your move.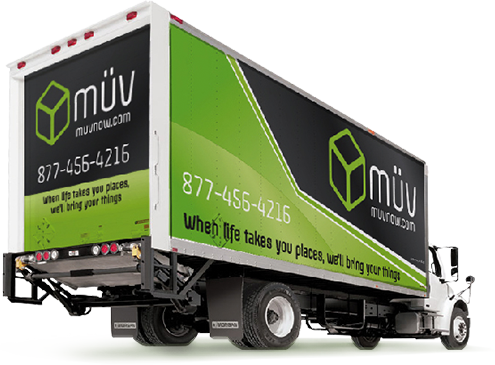 Sales Center Hours of Operation:
Monday - Friday: 9am-6pm
Saturday: 9am-1pm