7 reasons why move to Melbourne FL
Get Your Moving Quote
"*" indicates required fields
Did you know that Florida is one of the most popular states for all generations? Florida isn't only a favorite, but also one of the most favorable states to live in. You will not regret moving to any city in Florida, because Florida is a state that can provide you with everything, from work, a comfortable life, entertainment, beaches, and much more. Of course, there are parts of Florida that are extremely expensive, but you can always find something for everyone's pocket. For example, Melbourne is one of the cities in Florida that has an extremely low cost of living, and at the same time, this city has many reasons why it should be your choice. Also, müv Florida moving company can reveal some hidden secrets of this city. So, here are 7 reasons why to move to Melbourne FL. Take a look!

Affordable living costs – One of the main reasons why move to Melbourne FL
One of the reasons why more and more people are moving to Melbourne is the very affordable cost of living. The average cost in Melbourne is about 90.9%, which is 10% lower than the Florida average. Food prices in Melbourne are around $490 for one person and $1,280 per month for a family of four. Which would mean that in Melbourne you can have a decent and comfortable life without having to think about your monthly budget. Also, if you plan to rent an apartment, the rental prices are very favorable. and they range from $1,030 to $1,405.
But believe us, you will spend the least amount of time in the apartment because this city has so many fun things to do. Which would mean that a smaller apartment will be quite enough for you. And don't worry about your belongings because there is storage Melbourne FL that can hold all of the items you don't currently need. Summer lasts all year round, so the fun is always everywhere around you.
You can find countless fun things to do and outdoor recreations in Melbourne FL
Another reason, besides the affordable cost of living, why most people choose Melbourne as a new place to live is because of the variety of activities that Melbourne offers. If you are the type of person who likes outdoor activity, Melbourne is definitely the best place for you. Some of the activities you can do in Melbourne are surfing, boating on the ocean, fishing, and camping.
In addition to outdoor activities, Melbourne also offers many world-class sights and attractions. One hour from Melbourne is the Kennedy Space Center, which gave the Space Coast its name. Another very popular place in Melbourne is the Berwerd Zoo, which houses 195 species. In Melbourne and Orlando's SeaWorld, an amusement park full of water-themed rides.
And if you are a lover of culture and history, you should visit some of the museums in Melbourne, such as the Foosaner Art Museum, Rossetter House Museum Office, and many others.
Outstanding education for your kids
Melbourne is a city located in Brevard County, Florida. And at the same time, it's the city with the best schools in the whole district. If you are looking for an ideal city that can offer your children a quality education, then you are in the right place. Some of the best schools are Quest Elementary School, Westshore Junior/Senior High School, Longleaf Elementary School, and Suntree Elementary School.
Also, in the Melbourne area, there are 4 outstanding colleges, three of which are private and one public. If you are planning a student move, moving companies Melbourne FL are at your disposal. You can also find a large selection of student apartments for rent in Melbourne FL.
Very affordable real estate prices
Real estate in Melbourne FL is very affordable. Monthly rents are about $1,982 maximum, while for a family of four they are $4,381. Also, the rent price can depend on the size and location of the rented facility. Rent prices are about 20% more affordable than in the rest of Florida.
When it comes to house prices, the average price in Melbourne is around $157,000, which is about the average for the USA. So, you can live in one of the nicest places at a low price. If you want to buy an apartment, the prices of apartments are around $2,622 per square meter outside the center and $4,563 per square meter for apartments in the center.
Many business opportunities await you after your move to Melbourne FL
When it comes to business opportunities, Melbourne is one of the cities with the lowest unemployment rate, at 5.1%. Finding a job is one of the things you don't have to think about if you're moving to Melbourne FL. Here you can find many business opportunities from technology to construction, as well as jobs in various industries. Several international companies are located in Melbourne FL, offering outstanding business opportunities. Also, most jobs in Melbourne are open to engineers and young professionals of various professions.
In Melbourne, FL summer lasts all year round
Another reason why Melbourne FL is an ideal place to live is that summer lasts all year round. This city has 234 sunny days a year. This means that you will be able to enjoy the various activities that this city offers throughout the year. If you decide to move to this city, you will have the opportunity to enjoy the beautiful beaches. You already know that the beaches are the main attraction of Florida. Therefore, sunny days throughout the year will allow you to have fun on the beach with various water activities. Maybe Space Coast movers can reveal some beautiful and lesser-known beaches to you. Ask them!
You will meet incredibly beautiful nature
Nature in Melbourne FL is incredibly beautiful. Apart from beautiful beaches, Space Coast and Coastal city offer you many more activities. And every morning you will wake up with a view of the sea. Also, in addition to the beaches, the nature of this city offers you incredibly beautiful green areas across the city. One of the must-visit parks is Erna Nixon Park.
So, after moving to Melbourne, you will have many possibilities for entertainment, life, and work. We believe you will really enjoy it. These were some of the main reasons why move to Melbourne FL. We believe that these reasons made a strong impression on you and convinced you that Melbourne FL can be a good choice.
Few simple steps
Contact our business
Reach out to our Florida movers by phone, email or through our website.
Get your free quote
Give müv the details of your upcoming relocation and receive a no-obligation moving quote and a tailored plan of action.
Enjoy your relocation
Forget about the stress of moving while one of the top moving companies in Florida handles your move.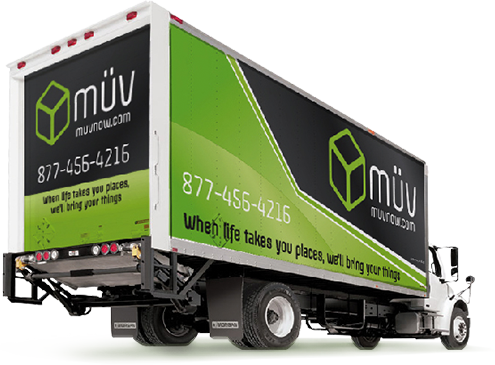 Sales Center Hours of Operation:
Monday - Friday: 9am-6pm
Saturday: 9am-1pm