How to Stage Your Tampa Home for Sale
Get Your Moving Quote
"*" indicates required fields
You are preparing for your move and want to present your Tampa home in the best possible way to potential buyers. Staging your home is one of the best ways to prepare your property for sale and present it in the best possible light. Home staging will highlight the strengths and minimize the weaknesses of your property. Moving out of your home can be a stressful experience with all those large boxes and leaving your home. But it's a critical moment to showcase the home to potential buyers and for them to imagine themselves living in your home. If you type in reliable moving companies near me, you will find tips on how to successfully and efficiently stage your Tampa home for sale.
Why is it important to stage your Tampa home for sale?
Home staging presents your property in the most impressive way possible so potential buyers can imagine themselves living there. Making efforts to stage your Tampa home makes your sale stand out from others in the area. You can do this work yourself or hire a professional service. In numerous real estate sales listings, a potential buyer instantly decides which ones to look at and which to eliminate. That's why the photos of your home must be neutral so that the buyer can see themselves in the given space. In addition, statistics show that most sellers have made sales quickly with the highest possible profit by staging.
Declutter room by room
A house overloaded with items will not enhance the space in your home. The first step is to dispose of the objects you no longer use or need. Every home has many belongings that have accumulated over the years. Since you are moving, now is the time to get rid of them. Don't store items in closets, as customers will peek into them. The same goes for the utility rooms. Give the impression that your home has enough storage space.
Clean room by room, so you don't forget anything. The impression you need to give to guests is that everything looks like you don't live there. One option for storing unnecessary things is a storage unit. You can use storage Tampa offers because they will provide you with professional and safe storage services.
Depersonalize
While decluttering your home, don't forget to remove family photos, souvenirs, and personal items. When clearing out items from the kitchen, also remove the pile of magnets on your refrigerator. You may find this step difficult, as your home will no longer look like yours. However, by doing so, you will allow potential buyers to see your home as their future. That is also a great way to prepare for your move at the same time. If your move is taking place in Tampa, trust the local movers in Tampa. In addition to professional services, you can also count on great deals.
Create a new furniture arrangement
Look at each room individually and play with the layout of your furniture. Move furniture from one crowded room to another to de-clutter the space. If you have large upholstered furniture, leave it in lighter tones. It will make the room appear larger. Also, avoid leaving a room completely white, as it will look too plain and boring. Similarly, to make the space come alive if it is in the same tones, mix furniture, fabrics, and colors. Use large rugs to cover the floors, especially in the living room. This way, the living space will visually appear bigger.
Define the rooms
When you start through the process of staging your Tampa home for sale, make sure that each room has a specific purpose. Buyers will be able to see that the space is being used to the fullest and that each room has its purpose. If you have an attic and you're not using it, set it up as a workspace. Take care of the unused nooks and corners as well. The purchaser must see that every inch of the house is in use.
Floors, walls, and ceilings
Worn and dirty floors and carpets are off-limits when staging your home. Wooden floors are the most durable if they are well-maintained. That's why the living room, dining room, and kitchen are the main rooms when considering investing in hardwood floors. If you already have hardwood floors, you can always cover and protect them for the next buyer. Also, if you notice cracks in the walls and ceilings, it would be a good idea to fill them in and repaint them. It may also be a sign that there is a problem with the foundation. If this is the case, warn buyers of a potential problem during the sale.
Do you have to renovate your bathroom and your kitchen?
The kitchen and bathroom can leave a negative impression when selling a home. If your kitchen needs to be renovated, don't think you're at a loss. You can make up for the investment in the sale price. Sometimes you don't need to change the entire kitchen, but painting the kitchen cabinets can be enough to make a huge difference. Similarly, bathrooms with visible moisture do not leave a good impression. A new kitchen and bathroom will show your home in its best light when you put it up for sale.
Don't forget the exterior
An interested buyer will take a look at your property before they even enter. Your home is also outside if you live in a house. Therefore, investing in the exterior is just as important as investing in the interior.
Mow the lawn
Plant flowers
Clean the paths around the house
Repair exterior walls if necessary
Clean the gutters
Inspect the condition of the roof
If you search for a Tampa moving company, you will find moving companies with trained crews and professional equipment. They will meet the specific requirements of each move and offer services tailored to your needs. But, you are only hiring them because you already have a new home that you like. Think about that when you stage your Tampa home for sale.
Deep cleaning and odor elimination
A clean house shows customers we have maintained our home. Make an effort to clean the house from floor to ceiling. Pay special attention to cleaning the bathrooms. Thoroughly examine the areas around the toilet, sink, and tub. Everything should look like new. Hang up soft and clean towels for a better impression. Uncleanliness distracts from the positive aspects of your property. Also, make sure your home smells good. Many odors can creep into your home, such as mildew, pets, or food, without you being aware. Scented sticks can freshen up the living space, or use lemon to remove odors from the sink.
Staging home is important and easy
Finally, you wonder if home staging is worth your time and effort. Statistics say that you can gain a significant advantage when selling. To stage your Tampa home for sale, use these tips to find the best ways to increase the value of your property.
Few simple steps
Contact our business
Reach out to our Florida movers by phone, email or through our website.
Get your free quote
Give müv the details of your upcoming relocation and receive a no-obligation moving quote and a tailored plan of action.
Enjoy your relocation
Forget about the stress of moving while one of the top moving companies in Florida handles your move.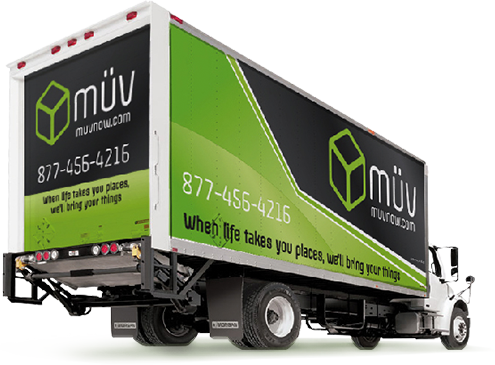 Sales Center Hours of Operation:
Monday - Friday: 9am-6pm
Saturday: 9am-1pm