Space Coast Hidden Gems
Get Your Moving Quote
"*" indicates required fields
Florida's Space Coast is full of adventures where everyone will find their place and have fun. The locals know the real hidden gems of the area, so don't hesitate to ask them. If you're considering moving to or visiting Brevard County, you can watch a rocket launch, enjoy the beaches or go surfing. And if you're the kind of person who likes to walk around and enjoy the scenery, you'll find the most beautiful nature walks here. The Space Coast hidden gems are many, and you will find out more about them. Also, your moving experience can be enjoyable if you know where to find professional and reliable help. The müv moving experts have the necessary knowledge and trained crews to move your belongings safely.
What are the Space Coast hidden gems?
Even though there are so many wonderful things on Space Coast, some of them really deserve our full attention. Those places include:
Exploration Tower,
Cocoa Beach,
Palm Bay,
Valiant Air Command Warbird Museum.
Exploration Tower
An architectural landmark that is not so hidden because of its imposing size. It will keep you entertained and learning something. On all seven floors, you'll find various exhibits and participate in the interactive Exploration Tower experience. You'll enjoy the panoramic view of Port Canaveral and the Kennedy Space Center. There is also an observation deck in the tower where you can watch rocket launches. Inside the tower, you'll find a café and a gift store. It is the perfect place for an unforgettable family adventure.
If your new home is on Florida's Space Coast, sandy beaches and surfing await you. Leave the moving to experienced hands like Space Coast movers, and you can start enjoying the new sights.
Cocoa Beach
With six miles of coastline, Cocoa Beach offers an unexpected combination of sunshine, beautiful seas, and open space to explore. This authentic beach town has something for everyone. It's a perfect choice for family adventures. Also, on the Space Coast, you'll find plenty of beaches where you can surf or have fun. Below are some of the things you can explore and visit:
Rocket Launches – This is where you will experience what the Space Coast is known for. Breath-taking rocket launch scenes are something you don't get to see and experience. NASA, SpaceX, and ULA launch more space rockets from the Space Coast than any other spaceport on Earth. Please note that launches are not always guaranteed. Launch counts will only be taken if everything is perfect.
Lori Wilson Park – Right in the heart of Cocoa Beach, this park offers safe beach access and free parking.
Florida Surf Museum in Cocoa Beach – Take a walk through the history of surfing and feel the tradition that lives on in Cocoa Beach today.
The only thought that comes to mind during the move is to get everything done as quickly as possible with a positive outcome. With moving companies that do their job professionally and reliably, that is what will happen. For example, movers Cocoa Beach FL will focus on your moving requirements and ensure that the move goes smoothly and safely.
Palm Bay
We will introduce you to another of Central Florida's well-kept secrets. Palm Bay, located near the Kennedy Space Center and Cape Canaveral Space Station, is full of hidden gems. This charming city of over 120,000 people is known for its parks and nature preserves. It offers many opportunities for outdoor recreation.
Relocating with all our goodwill and the help of friends can be too challenging. That's why, if you are moving to Florida, choose professionals like moving companies Palm Bay. They have the experience and tools to move to a new home efficiently.
Turkey Creek Sanctuary
With over three miles of marked trails winding through 130 acres, you'll find new hiking trails every time you visit. Mountain bikers will also find their little paradise here. There's also a pocket nature preserve here. Along Port Malabar Boulevard NE, you will find the best place in the city for bird watching.
Valiant Air Command Warbird Museum
The museum's collection includes more than 45 historic warbirds, and The Valiant Air Command Warbird Museum was founded in 1977. It is an educational organization dedicated to the preservation, education, and commemoration of warbirds from different eras. Also, through the history of the Air Force, you will meet the men and women who flew and fought in these aircraft. So, this is truly one of the Space Coast hidden gems.
Nature and outdoor activities
At first glance, you won't immediately notice all the hidden gems of the Space Coast. The sea and the beaches are in the foreground, but the interior holds many more surprises. Around here, there are many more places where you can connect with nature and enjoy many outdoor activities. Florida will reveal itself to you in its lakes, winding waterways, and rich forests and marshes. For the true nature lover, there are 20,000 acres of freshwater rivers and about 170,000 acres of wetlands that you can explore by boat or on foot. Also, on the Space Coast, you will see plant and animal species that exist nowhere else.
Bird and wildlife watching
It's one of the favorite destinations for birders, and not without reason. The Space Coast is the meeting point of the subtropics and temperate zones, making it an oasis for birds. Over 300 bird species can be seen here, such as the red-tailed woodpecker, or one of the endemic species, the Florida scrub jay.
What makes this area very attractive to nature lovers is the observatories. From these locations, visitors can see amazing manatees, or take a kayak tour and observe nighttime bioluminescence activity. Of course, we can't forget the alligator, to which the Space Coast is home. One of the best ways to encounter them is by airboat on the Indian River Lagoon or the St. Johns River.
Outdoor recreation
The Space Coast has more than 50 trails through wetlands, such as the Ritch Grissom Memorial Wetlands. Following these trails, you will discover nature and the exciting world of animals. There are also many hiking and biking trails. For sure, the Cosmic Coast will enchant you with its nature.
Fox Lake Sanctuary is located in Titusville and is part of the Environmentally Endangered Lands program. Mountain bikers and hikers will enjoy outdoor activities and scenic views.
Enjoy the Space Coast
Space Coast hidden gems feature many activities and beauties. Both on land and in the sky. You'll discover many of the Space Coast's natural beauty and realize that the very name of the coast can only trick you. Once you start exploring, you will probably find many more hidden gems.
Few simple steps
Contact our business
Reach out to our Florida movers by phone, email or through our website.
Get your free quote
Give müv the details of your upcoming relocation and receive a no-obligation moving quote and a tailored plan of action.
Enjoy your relocation
Forget about the stress of moving while one of the top moving companies in Florida handles your move.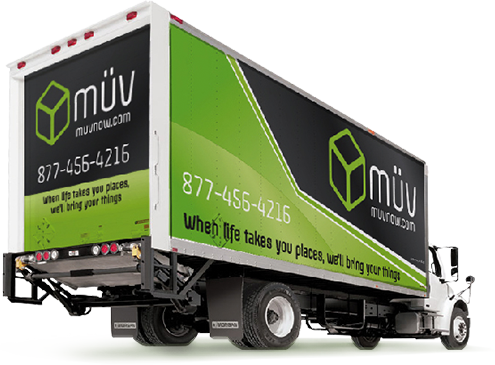 Sales Center Hours of Operation:
Monday - Friday: 9am-6pm
Saturday: 9am-1pm