Buying a home in Broward County: where to look
Get Your Moving Quote
"*" indicates required fields
If moving and buying a home in Broward County is what you have in plan, then this guide we at müv prepared for you is exactly what you need. A home-buying process can last much faster if you know where to search. Fortunately for you, Broward County is a real-estate gem worth researching since it offers many housing options. Once you have that part settled, feel free to contact our team to help you relocate all your stuff!
Broward County includes some of the best places for working and living
It's safe to say that the famous Broward County attracts many new residents for a reason. Living in a thriving place like that is definitely worth the moving effort. However, don't rush with purchases just yet. Take time to research some of the best places in Broward County where you can find a top-notch real estate option for you. Just make sure to hire a credible real estate agent to help you make the best home-buying decision.
Coconut Creek is a real estate heaven
Coconut Creek isn't that far from Fort Lauderdale, which makes it perfect for those who work there. The city is not only well-planned but also quiet and safe. It has award-winning home designs available to choose from! The price points may vary. However, purchasing a home in Coconut Creek is a valuable long-term investment. Living in Coconut Creek, in general, is beneficial in so many other ways as well. The community cultivates a healthy work-life balance, all the necessary amenities you need are in one place, and there's always something to do. After walking the Coconut Creek Promenade, you can either visit unique pubs and restaurants or check out new movies at Silverspot Cinema.
Cocoa is also one of the top places in Broward County with affordable housing
Besides affordable housing, there are many reasons why relocating to Cocoa is the right choice. This quiet town with a pleasant and open-minded community is suitable for people of all ages. Seniors, remote workers, or even future parents find Cocoa perfect for a fresh start. Once you book professional movers Cocoa FL and move there, your life will start to change for the better. A moderate pace of life and proximity to outdoor spots like Cocoa Beach is the recipe for a happy life according to Cocoa residents. A strong sense of community is also the reason why people of Cocoa tend to have lots of fun. Cocoa Beach Pirate Fest and Surfing Santas are just some of the numerous festivals in which people love to partake.
Palm Bay has one of the cheapest house markets in Broward County
Another quiet and calm place you should move to if you seek quality and affordable lifestyle is Palm Bay. This cute place has the highest safety rate in the county and boasts low-priced real estate. That's why entrepreneurs who run their companies from the comfort of their homes gladly move to Palm Bay. They get to enjoy the warm climate and proximity to the beaches. Plus, it's possible to reach other parts of Florida from this lovely town easily. In addition, Palm Bay is ideal for families due to affordable housing and great schools. In case you're interested in living there, keep in mind that it's possible to purchase a home at some point. It's a worthy investment if you plan to stay in Palm Bay to raise a family.
You'll need professional movers to help you start fresh in Palm Bay. That said, take time to browse and compare the movers Palm Bay FL has on offer. Many companies are ready to come to execute the move professionally and make it seamless!
Rockledge combines affordability and a quality lifestyle
Another top-notch place in Broward County that will make you feel at home is the city of Rockledge. Currently, the real-state situation is the most affordable in the entire county. Plus, most people in Rockledge own their homes rather than rent. The median So, if you seek the place where you'd buy a permanent home and live a high-quality lifestyle, Rockledge is where you should move. However, make sure to start searching on time since the demand is high. Once you find the home that fits your criteria, search for movers Rockledge FL has on offer, and choose the best ones for your moving needs.
Some of the best movers in Broward County can handle your move without problems
Your moving journey starts after you purchase a home in either of mentioned places in Broward County. Rest assured, finding movers up to the task is not difficult. It takes a quick web search to access an array of moving companies that can meet all your relocation needs.
Moving locally vs. moving long-distance
While both relocation types require thorough organization, local moves are less time-consuming than long-distance ones. Plus, you don't have to pay as much for storage services. A portable container is enough, while a long-distance moving journey requires bigger, climate-controlled storage space.
Make sure to declutter before the move
Before buying a home in Broward County, take time to declutter all your stuff and make space for the new. If that dark blue sofa doesn't fit into your new home, sell it or give it away to someone you know. If there are clothing pieces you've worn only once, sell them online or gift them to someone close to you. Rest assured, you probably have plenty of items you don't need anymore. That's why decluttering is an opportunity to earn some extra money and live a clutter-free life in a new place.
Few simple steps
Contact our business
Reach out to our Florida movers by phone, email or through our website.
Get your free quote
Give müv the details of your upcoming relocation and receive a no-obligation moving quote and a tailored plan of action.
Enjoy your relocation
Forget about the stress of moving while one of the top moving companies in Florida handles your move.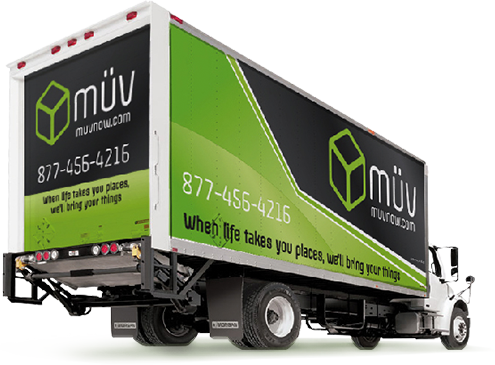 Sales Center Hours of Operation:
Monday - Friday: 9am-6pm
Saturday: 9am-1pm