Most surprising moving day myths
Get Your Moving Quote
"*" indicates required fields
The more you know, the easier it will be! At least, that is what they say about relocations. Well, they are not far from the truth, as relocation really is all about planning. And to manage to make a good plan, you must know what to expect and what is not likely to happen. Just like a lot of things out there have certain myths surrounding them, your relocation has too. Thanks to people who love sharing their experiences and professionals who are ready to help you move, today is easy to know how the moving process will unfold. Take a look at some of the most surprising moving day myths and why they shouldn't bother you at all!
Moving day is nothing but stress
Which is totally not true! In fact, your relocation can easily be a wonderful experience you will remember forever. The stress will take over when there is a lack of organization, time, and skills which doesn't have to happen at all. To prevent this from happening start by looking for reliable moving companies near me, and find yourself a good moving partner. Movers can do so many good things on your moving day that you will be grateful for trusting them with your items.
Apart from that, you should make a good plan way before the relocation begins. This is how you will deal with unexpected situations in case there are any. When you have a backup solution ready, you will hardly find yourself stressing out but rather continue with your tasks and moving.
One of the biggest moving day myths is that you can DIY your move
And even if you could, why would you? Today, when good moving companies can do it all for you and at a good price, moving on your own shouldn't be an option. Your Tampa moving company can release you from a lot of hard work, including moving and loading your entire home. To pull off the entire relocation alone, you will need not only a lot of time but money as well. Think about spacious vehicles that will transport your items, the time you need to spend on packing your items, and everything else that is included in your relocation.
The main reason why people want to move on their own is that they think it will cost them a lot. But there is nothing to be scared of! There are many companies that are affordable. After all, movers can do it way faster while you deal with the rest of the moving tasks.
The short distance equals quick relocation
Sometimes even moving across the street can last for days. It all depends again on your organization and the number of items you wish to move. Even though the distance will play a huge role in your relocation, it is not the defining factor. Because of that, you shouldn't completely dismiss spending time on the entire process just because you will not travel too far. If you rely on local movers in Tampa, the estimated time of your relocation will be much shorter nevertheless.
Items that you can't take with you, you should throw away
In fact, there is so much more you can do with items that you no longer need. For starters, one of the common moving day myths is that you should get rid of them. If you have certain things that are too old or too large for your new home, but you don't feel like throwing them away, storage will be a great solution. Usually, units are spacious and can hold a lot of your boxes and items in general. Once you place everything in storage Tampa companies offer, you will have much more time to come up with a solution. Feel free to consider selling some of those items, giving them to charity, or even repurposing them.
You can pack your home easily
Probably one of the most common mistakes is thinking you can pack on the last day before moving. This is not only untrue but can cause a lot of issues for everyone involved as well. So, no matter if you are moving around or out of Tampa, FL, or anywhere else, you must have enough time for packing. The best outcome is to begin packing as soon as you decide to move. You can begin with the rooms you use the least and slowly proceed towards the living room and your bedrooms.
If you are really short on time, then try to speed up packing and make sure your new place is ready for your arrival. This way, you will be able to make a couple of trips in case of an emergency. What matters is that you stay calm and not stress out.
And finally, you must, after all, disassemble some furniture items
It would be much easier to simply load the trucks and move everything at once. But with some items, that are not possible. One of the biggest moving day myths is that you should transport some items the way they are. These could be large wardrobes, musical instruments, or any other items that are made of smaller parts. Soon enough, you will realize that disassembling them is a much better option. Yes, it will take some of your time, but you will gain a lot of space, and the risk of damaging the item will be minimal.
Knowing some of the most common moving day myths, you are completely ready to schedule your relocation. Trust your instinct and always count on professional help. Once movers arrive, your items will be on their way to a new location, and you can relax as the hardest part will be over. 
Few simple steps
Contact our business
Reach out to our Florida movers by phone, email or through our website.
Get your free quote
Give müv the details of your upcoming relocation and receive a no-obligation moving quote and a tailored plan of action.
Enjoy your relocation
Forget about the stress of moving while one of the top moving companies in Florida handles your move.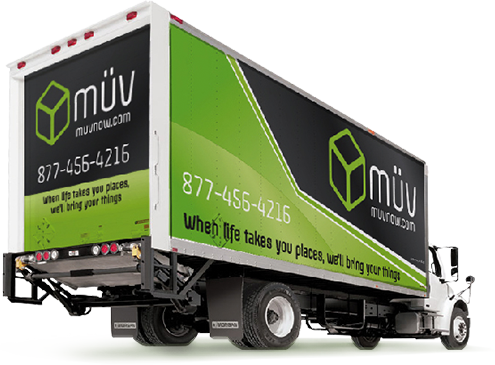 Sales Center Hours of Operation:
Monday - Friday: 9am-6pm
Saturday: 9am-1pm