Moving to Tampa guide
Get Your Moving Quote
"*" indicates required fields
Moving to another place that you are not familiar with knows to be quite stressful. That is why there are simple tips and tricks that will help you get to know the place you have chosen to be your new home. From researching it to getting to know the people who live here, you will be one step closer to loving your new neighborhood. And when it comes to moving to Tampa, you will be glad to hear that we have made a simple guide on what can you expect and how to deal with moving to this lovely place. When it comes to moving, there is no better choice than to hire müv and gain some exceptional moving experience.
Why is Tampa perfect for you?
Choosing the right place for you depends on so many factors. Looking after your needs is the most important thing when choosing your new neighborhood. Moving with local movers in Tampa will bring you the peace and oy you have been looking for. It is one of those places that is suitable for everyone. With activities, both great for retired people and young families, tapa is a place where you can finally relax from the big cities and crowds. Settled in Florida, Tampa is giving you an opportunity to spend so many days outdoors. Enjoy some of the nicest weather in Florida.
Costs of living in Tampa
Tampa has costs of living on average level. It is a little more expensive when it comes to groceries. But the best part of this place is that the income taxes are smaller than n the rest of Florida. So if you are going to move to Tampa searching for a new job or starting your own business, you will be pleased to hear that there will be no additional taxes to be paid. You can still have a great job and save some money. Whether it is for the vacations, or you can want to take all the moving services in Tampa, your home budget will be alright.
Perfect neighborhood
If you are thinking of moving here with your little kids and family, Tampa is giving you various opportunities. The daycare here is on the average level too, so you will not have to spend so much money on getting everything for the kids. When it comes to people living here, Tampa residents are known to be the most polite and nice people in Florida. They really care about their home town and they have a great sense of community. There are annual events that people here organize to collect money and donations to build and renovate Tampa. So if you are a fan of taking care of your environment, moving here will be the best choice for you.
How to prepare for moving to Tampa?
After you have done your research about Tampa and you have seen how good this place might be for you, the next thing you must do is to prepare for relocation. One of the things you need to do after you have hired a moving company is to start packing. This can be really stressful and hard task to do so the best advice you can get is to get some help. Whether you are looking for help from professionals or help from your friends, you will be to get the job done as soon as possible. This means that preparing for a move must start earlier than you have planned.
Packing and storage
There are a few tips and tricks on how to get packed for the relocation with minimum distraction and obstacles. Starting with renting storage Tampa FL. Here you can place all our valuables or items you have no room to place. Keeping valuables safe will be a great help because you will not have to think about them. Not losing your mind about where is your valuable stuff will make you focus on other things.
When it comes to packing there is a simple guide on how to pack more efficiently.
Pack room by room -This way you can pack the items from your home that you are not using all time.
Label the boxes – Not just the ones that will contain something breakable and fragile. Label them all so that you can unpack easier.
Do not overload the boxes – The items might damage or the box can break if there is too much stuff inside.
Prepare the essentials bag for the relocation day – This bag will contain everything you are in need of all the time, such as phone, charger, extra clothes, etc.
Get help for specialized items – like a piano. If you have a home gym or some other bulky-shaped items in your home, professionals will pack them and load them in a truck without any problem.
Think of your moving budget when moving to Tampa
In order to move with less stress and anxiety, make sure you have calculated your budget for moving to the city of Tampa. Decide what kind of services you will need and what you can do by yourself. You should also think of some kind of services that you will need after you empty your home. And that is whether you will hire cleaning services. You should not leave your home dirty and smelly. Make sure it is clean.
In conclusion, moving to Tampa can be really exciting if you are well prepared and organized. Find the activities in this place that you and your family will like. Get help from professionals. Living in a place that has so much to offer with some of the average prices for a living can really be your dream home. Prepare for this relocation well and you will gain some of the best moving experiences. People there will welcome you like you have been living there for a very long time. Good luck in our new chapter.
Few simple steps
Contact our business
Reach out to our Florida movers by phone, email or through our website.
Get your free quote
Give müv the details of your upcoming relocation and receive a no-obligation moving quote and a tailored plan of action.
Enjoy your relocation
Forget about the stress of moving while one of the top moving companies in Florida handles your move.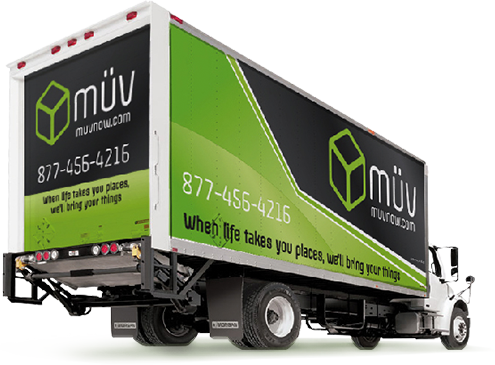 Sales Center Hours of Operation:
Monday - Friday: 9am-6pm
Saturday: 9am-1pm