Top tips for moving household goods
Get Your Moving Quote
"*" indicates required fields
When you are moving home, many things have to be done the right way in order to prevent your items from being damaged. That's why relocations require some time and patience in order to prepare everything for the move. Our team at müv came up with helpful tips for moving household goods so you have a smooth and stress-free move. It's a very important transitional period, which is why these tips will make the entire endeavor much simpler. Furthermore, you will need a skilled team to help you carry out your household move on time, with precision. Therefore, feel free to contact us for more details about our extensive offer of quality services!
Your move will go smoothly by following these tips on moving household goods
Moving isn't necessarily as complex as it seems. At the same time, it's not possible to complete the right way without proper organization. This is the first thing to do when moving your household. Paper and pen, or tablet, will be your best tools. So take time to curate the schedule according to yourself.
Don't forget to make a separate checklist of things you must do:
Check moving services in Tampa and hire suitable movers.
Buy enough packing supplies.
Decluttering the entire household.
Declutter your household goods before the move
Maybe you never thought of the fact that your household is cluttered with too many spare items. Broken, or rusty items are just some of them. On the other hand, you might want to start over and just get rid of certain items for good. For these reasons, don't waste time and start decluttering as soon as possible.
Dedicate a couple of days only to decluttering. However, remember that not everything needs to go to the trash. Make the list of items you want to get rid of, then sort them into categories:
Items for sale – If possible, put some items up for sale (at reasonable prices)
Donations – Find out more about local charities and what donations they accept.
Give away – Are your friends and family members in need of spare sofas and tables? Would unexpected gifts in the form of bags, or clothing pieces make them happy?
Recyclable items – Nowadays you can recycle a wide range of materials, including outdated electronics. Do your best to minimize the waste that often follows every moving endeavor.
Remember to book a storage unit
You will have to put the items somewhere until you start unpacking after the move. No matter if you are moving to another part of your city or further, storage rental is necessary. Fortunately, some of the best storage Tampa FL units are available at quite affordable prices. You can get top-level storage service for a reasonable amount of money. Therefore, make sure you are hiring a company with top ratings for their storage services, and a price range that is friendly to your estimated moving budget.
Pack your household goods for the move the right way
Packing comes after you declutter your household and buy enough moving supplies. Not only do you have fewer items to pack and move, but also less money is spent on boxes and other necessities. However, make sure to get small, medium, and large standard moving boxes. Also, consider specialty boxes for all odd-shaped and bulky items you have.
Start with smaller and heavier items. Wrap them in packing paper or clean fabrics, then put them inside small-sized, padded boxes. Use crumpled paper, clean fabrics, socks, or sponges for padding. Medium and large boxes are perfect for lightweight items.
Why choosing the right company is important for your household move?
If you want your household move to run smoothly and faster, consider hiring a moving company. Some of the most credible moving companies in Tampa are capable of delivering top-quality moving journeys, while all you have to do is relax and enjoy the process. Relocating to a new place of residence is easier when you have a team of professionals to handle all the hard work for you.
Heavy loads are better to leave to professional packers. If you do it yourself, you risk getting injured and damaging the goods. Plus, packing large furniture and kitchen appliances is time-consuming. On the other hand, moving experts know how to easily disassemble, secure, pack and store all of your larger goods. Furthermore, having a moving crew at your side means having someone to assist you even in unexpected situations. It's much easier to deal with common factors (weather, sudden events…) that disrupt your moving schedule when you have local movers in Tampa to rely on.
Tips for finding the movers to relocate your household stress-free
Search for certified movers that include a free moving quote in their offer.
Check what the reviews have to say about their services and moving crews.
Narrow down your list of movers to those that are available on your preferred dates.
Book free estimates, then compare them. This is the best way to make the best judgment.
Don't hesitate to directly contact the movers that interest you for more information.
Avoid packing your household goods in a rush
One of the best tips for moving household goods you will ever get is – don't rush and pack one item at a time. Rushing only leads to more work and mess, which you don't need. Another con of packing in a hurry is that you probably won't pack everything properly. Patience and precision are essential to a successful household move. Therefore, organize your move well, and decide how much time can you allocate to decluttering and packing each day. Remember that moving is a process that can be less stressful only if you take it slow.
Few simple steps
Contact our business
Reach out to our Florida movers by phone, email or through our website.
Get your free quote
Give müv the details of your upcoming relocation and receive a no-obligation moving quote and a tailored plan of action.
Enjoy your relocation
Forget about the stress of moving while one of the top moving companies in Florida handles your move.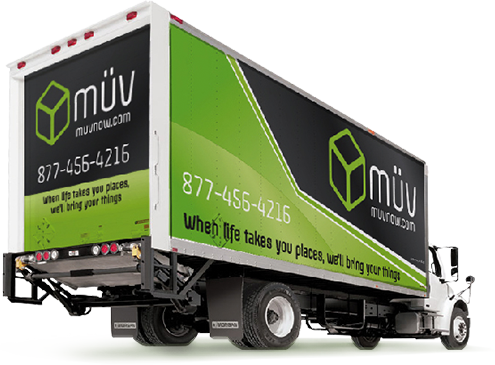 Sales Center Hours of Operation:
Monday - Friday: 9am-6pm
Saturday: 9am-1pm