Pros and cons of living in Orlando
Get Your Moving Quote
"*" indicates required fields
If you are considering Orlando as your next moving destination, then this helpful guide is exactly what you need. We at müv did a little research so you can know what comes with living in Orlando. Each place of residence has its advantages and disadvantages, which is why it's necessary to get as much information as possible. Changing a location is one of the biggest decisions you can make. Furthermore, moving means a lot of preparations and tasks you must prepare for. However, it can all go smoothly and stress-free if you choose among the best moving companies in central Florida. Our entire team stands at your disposal once you make your decision and start packing for the move. 
Is living in Orlando worth the move?
Before you make up your mind about any place you plan to move to, you must take some key factors into consideration. First and foremost, you must be well-informed about the living standard in that particular place. Furthermore, find out if that place offers everything you need for a comfortable and prosperous life. That being said, your duty is to conduct detailed research on life in Orlando before you even start packing for the move.
Housing in Orlando is quite cheaper
House prices in Orlando are among the cheapest you can find in the state of Florida. An average home value is up to $130,000 cheaper than in Miami, for example. The majority of its population rents homes, although it's possible to buy a house. In that case, make sure to hire an experienced real estate agent who will guide you through Orlando's market and help you make the best buying decision.
Living in Orlando means a wide array of job vacancies
Being one of the thriving cities in Florida, Orlando is a melting-pot of various professionals in different fields. The IT sector, healthcare, and entrepreneurship are just one of the industries that are flourishing in Orlando. Jobs in education and retail are also quite sought-after. As of the year 2022, the average salary of $45,327. Due to the affordable housing market, remote workers often move to Orlando for a certain period.
One of the cons of Orlando's job market is the high competition rate. Furthermore, many young professionals who strive for a higher financial gain consider moving out of Orlando at some point. However, it all comes down to the type of your job and how well-paid is it. For these reasons, you should secure a stable job in Orlando before you start preparing for the move.
Orlando isn't one of the most affordable places
Grocery prices and utilities go a bit higher in price compared with the majority of cities in Florida. Orlando may not be an overpriced place for living, however, it doesn't count as too affordable either. On the other hand, it can be said that life in Orlando doesn't lack quality.
Many places to visit and things to do
From art shows and vibrant nightlife to historical districts – Orlando has something for everyone. If you are a foodie, you'll enjoy a wide range of exquisite restaurants. As a history-lover, you'll be amazed by Lake Eola Heights  Historic District. In addition to regular exhibits and art installations, you can enjoy eye-gazing street art that makes Orlando so unique. As a cherry on top, you may expect plenty of green surfaces. Simply put, life in Orlando is never dull and you can always plan some fun or relaxing activities.
Pick professional movers to help you relocate to Orlando
If moving to Orlando is what you really want, then all it takes is to find and hire some of the most trusted local movers Orlando has on offer. Moving to your new home is something only professionals should handle. Therefore, remember to seek only licensed movers who are praised by numerous customers.
In order for your move to run effortlessly, make sure to start preparing on time. In addition to moving services, you have to add the following to your checklist:
Packing supplies – After you declutter your home, make a list of packing supplies. Make sure to buy boxes of different sizes, and enough bubble wraps, packing paper, and multi-color markers. Also, don't forget about a strong packing tape and a packing gun.
Storage units – Choose a moving company that includes a spacious, clean and secure storage unit. Don't forget to schedule a visit to storage in order to be sure your items will be safe there. Choose only from some of the best storage Orlando FL units and don't settle for less.
Moving insurance – Once you call a company you consider hiring, don't forget to ask about the insurance options they have on offer.
Avoid fraudulent movers
The goal is to find affordable yet quality moving services in Orlando. This is exactly why you should avoid fraudulent movers that don't prioritize your best interest. If a company doesn't mention a free estimation as part of their offer, move on to the next one. Don't let anyone convince you that hiring a company that charges for an on-site estimation is a good idea. Usually, such companies charge extra fees you don't expect at first, which ends up in a higher final price of the move.
Learn more about living in Orlando as you are preparing for the move
Have in mind that moving is a demanding process. In order to stay motivated, it's good to remind yourself of all the reasons why living in Orlando is a great decision. Check pubs, coffee shops, and other interesting places where you see yourself during your leisure time. That way, your move will go much faster and you'll feel less stressed.
Few simple steps
Contact our business
Reach out to our Florida movers by phone, email or through our website.
Get your free quote
Give müv the details of your upcoming relocation and receive a no-obligation moving quote and a tailored plan of action.
Enjoy your relocation
Forget about the stress of moving while one of the top moving companies in Florida handles your move.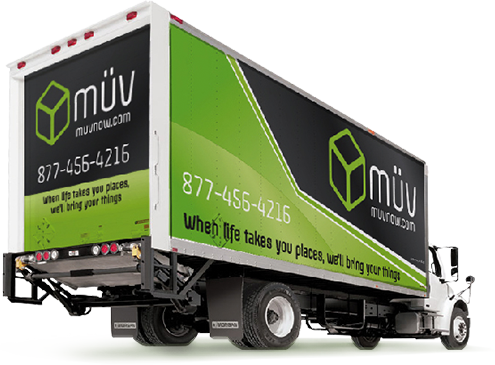 Sales Center Hours of Operation:
Monday - Friday: 9am-6pm
Saturday: 9am-1pm