Renting a storage unit in Florida: all the reasons why
Get Your Moving Quote
"*" indicates required fields
Whether it is about your items inside a home or an office, when the time for moving comes, it can be challenging to find a way to transport them safely. The moving process usually includes additional tasks such as downsizing or renovating. For these reasons, you may need a storage solution at your disposal to manage the relocation process smoothly. But relocation is not the only reason why you might need to rent storage. There are plenty of other reasons why people all across Florida decide to rent short-term or long-term storage. Today our müv experts will help you find out most of the reasons why you should consider renting a storage unit in Florida. Stay with us and identify some of the reasons why you should look for a suitable storage unit. After reading this article, you'll understand the benefits of renting storage near your new home or office.
Relocation is one of the most common reasons why you should opt for renting a storage unit in Florida
Although purchasing and selling homes in Florida is frequent, moving out and moving in is not always a straightforward step that can be accomplished in just a day. Unluckily, after you leave your old home, you might need to wait up for even a week or more to move into your new home. Even if everything seems perfect, delays often occur. For instance, if you need to leave your current home by the end of the month, but could not move into your new home until the being of the next month, renting storage Tampa FL will be a necessity. Whether you will renovate your new home or just need time to conduct adaption tasks, your items will be kept safe and sound in the meanwhile.
Opt for renting a storage unit in Florida when you need to move an office
Moving an office is often equally challenging as moving your household. This is because your office space contains a lot of furniture, files, documentation, and other items that you need to transport. In case your new office is less spacious, you'll need to decide which items you should not keep. Making such difficult decisions is something you will need time for. So, if you place your office inventory in storage, you'll have enough time to sort out your office inventory. Even if you are moving to a larger office, renting a storage unit in Florida will benefit you. According to our commercial movers Tampa, it will help you keep running your business with minimal interruptions. So, instead of being away for your clients for days, use storage to speed up your office move.
You need to downsize, organize or renovate your home
Before the holiday season, each of us wants to set up a home. Although sometimes one weekend is enough to complete this task, you may face space issues. Your current home is full of clutter or items you rarely use? It will be good for you to purge and organize your items. But if your basement and garage are full of filled boxes, you will need extra space to put your belongings. Once you contact our moving and storage Tampa specialists and find a perfect-sized storage unit for your belonging, setting up your home will become easier. Moreover, you will finally get a chance to downsize and remove all excess items from your home. You can bring them all to your storage unit, whether it is about seasonal items, equipment, or your kid's toys.
If you have decided not to leave your current home, renovating will be a complex process. Fortunately, you know how you want your home to look after you have done renovating. But you still need to figure out where to keep your items during this process. Since you don't want your carpets or furniture covered by a layer of dust, it'll be ideal to place them in storage. Once the work is completed, you can return all your items to your renovated home. But you can take the advice from our local movers in Tampa and leave in your storage all those things you are not going to use that soon. After leasing a storage unit in Florida, you can relieve your home from clutter and old items.
Staging your Florida home for sale
If you plan to sell your Florida home, you should remove all unwanted items before potential buyers come. In case you have children, pets, or just plenty of possession, it'll be hard to remove all of these items. But if you rent a storage unit, you are ready to stage a home. All you need is enough time to pack the excess of items and place them in your storage. There you can keep your items during the selling process. If your home is free from clutter, it will add value to your home. Remember, potential buyers are not happy to look at clunky items all around. They will get the wrong first impression for sure, and you don't want that.
Your needs are not the same anymore
Day by day, our needs change, and we all trying to improve our living spaces. Whether you need to add more furniture or just organize closets, renting a storage unit in Florida can be a solution. Since Tampa, the City of Orlando, and many other cities across Florida keep attracting new residents, sometimes it can be hard to conduct the move right away. But if your know there are safe and affordable storage units nearby, everything becomes simple. Whether you want to move to another neighborhood or city, or empty your dorm room in the summer, count on our storage solutions. We will meet your needs since our storage units are customized for many purposes!
Few simple steps
Contact our business
Reach out to our Florida movers by phone, email or through our website.
Get your free quote
Give müv the details of your upcoming relocation and receive a no-obligation moving quote and a tailored plan of action.
Enjoy your relocation
Forget about the stress of moving while one of the top moving companies in Florida handles your move.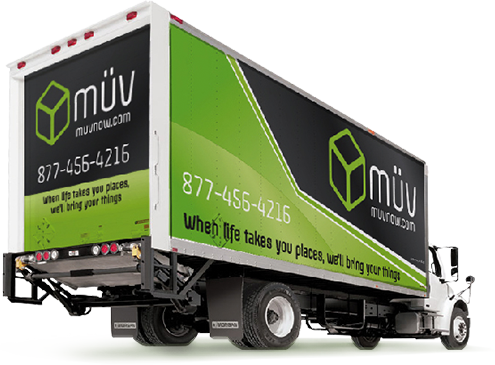 Sales Center Hours of Operation:
Monday - Friday: 9am-6pm
Saturday: 9am-1pm