Things to consider before moving from Largo to Tampa
Get Your Moving Quote
"*" indicates required fields
Moving can be a stressful event in anyone's life. You will have to plan and be ready for a lot of challenges. The best thing is to do a lot of research regarding everything from packing to unpacking. We will explore some key things to consider before moving from Largo to Tampa. With the help of müv, we are sure you won't have too much trouble and that we will provide you simple and hassle-free moving experience. Moreover, we will give you lots of useful information that can help you to decide what's the right choice. We all know moving can impact a lot of things in a person's life so we take it really seriously here.
Organize everything ahead
Good organization is one key thing every moving situation needs to have. Don't underestimate the job that needs to be done in order to move, even if it's a close location like from Largo to Tampa. If you don't have a lot of free time and energy, we suggest you hire movers in Largo FL or ask for help from your friends. Moving companies can aid you in a lot of ways when moving by taking burdens off your shoulders. Lots of times people think they can do the move in 2-3 days and it ends up dragging for weeks on end. You don't want to be in this situation and the best way to ensure it is by asking for help.
Look for good packing services
The next best thing to do is to plan your packing. There are a lot of ways to go about packing things, even though it seems pretty simple. Put things in boxes. But things you need to consider are the type of boxes you are using, your valuables need to be somewhere safe all the time while you moving and at the same time you need to protect your clothes from the elements. We suggest you consider packing service Tampa and ask for help in packing your stuff more professionally. Also, if you are under a lot of stress, you can misplace or forget something and it will cause a chain of negative events down the line.
If you find a perfect place, consider asking movers in Tampa FL for help with your moving. These things can be done in a few days and there is no need to do all the extra work yourself. We consider your levels of stress pretty seriously and moving can have a huge impact on them. Think about the furniture and items that you have in your home. Far too many times people seriously underestimate how many things they need to move. What you thought would be 20 boxes and 4 trips ended up being 50 boxes and 10 trips. All this can have a huge impact on your life as it consumes time and energy.
Some of the benefits packing services offer are:
Better organization
Less chance of unexpected damage
Less time and energy wasting
You don't have to buy your boxes and organize everything
With a ton of experience comes faster packing and professional care for your valuables
Explore what benefits will you have when moving from Largo to Tampa
One of the main benefits as you may already know is that Largo is about 50% more expensive than Tampa. With a median home cost of around 750,000$, Largo's real estate market is less forgiving than Tampa's, where the median home cost is around 300,00$. Health-related expenses are about 60% more in Largo. So overall, Tampa will have a much lesser financial burden than Largo. On the other hand, you will need to consider how much you're comfortable with the higher crime rate. Largo has an annual crime rate of 4.04, which is considerably lower than Tampa's crime rate with a rate of 5.5 per 1,000 residents.
You will want to consider not picking some more dangerous neighborhoods in Tampa. According to the statistics of FBI data, Downtown, Drew Park, East Ybor, and Historic Ybor are the most dangerous neighborhoods in Tampa. These areas have the highest ranking in property and violent crimes. Moreover, avoid Highland Pines and Sulphur Springs. Crime rates here are pretty considerable and these areas should be avoided. 
Get adequate storage
You will need to declutter everything before moving and with that comes storage comes into play. Having extra space so that you can move stuff while you're decluttering can save a ton of headaches. Consider using storage Tampa FL for your storage needs as it offers everything you need regarding storage. You can find yourself in a bad situation where you have half of the stuff in your old home and half of it in your new home. Personal storage serves as a middleman between these two. Furthermore, you might have some unexpected problems at the most crucial times and you will want to have your own space to get everything back in order.
Also, you will need to buy a lot of things for your new home, and having everything in your storage is good for planning the layout of your new home. It's hard to see what a room would look like with 2 pieces of furniture if it's stuffed with boxes. Work-related things can also benefit from personal storage. If you have any valuables from the office and are getting a new office or a job, you will want to keep them in storage so it doesn't get mixed up with all your stuff. 
Final thoughts on moving from Largo to Tampa
We understand that moving can be a lot of work. Finding the perfect suit, with adequate pricing in a solid neighborhood, can be pretty tedious work. Consider your plan and especially your energy and stress levels before jumping into moving. We hope this article provided some information on what to consider before moving from Largo to Tampa.
Few simple steps
Contact our business
Reach out to our Florida movers by phone, email or through our website.
Get your free quote
Give müv the details of your upcoming relocation and receive a no-obligation moving quote and a tailored plan of action.
Enjoy your relocation
Forget about the stress of moving while one of the top moving companies in Florida handles your move.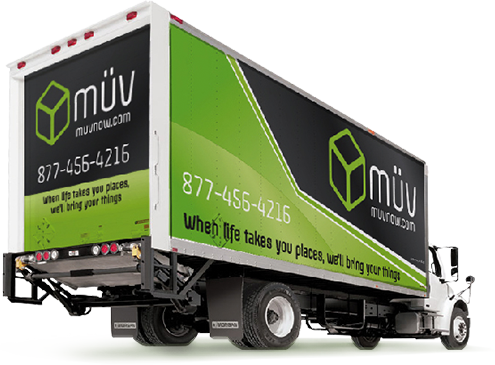 Sales Center Hours of Operation:
Monday - Friday: 9am-6pm
Saturday: 9am-1pm