How to decide whether to relocate to Oakland?
Get Your Moving Quote
"*" indicates required fields
If you are ready for a new step in your life and you want to move to another Florida city, congratulations! Now, the first step is to decide where you want to move. There are many Florida cities you can move to, and Orlando is one of them. Orlando has some of the best neighborhoods in Florida, with Oakland being one of the best. If you are still in doubt and don't know how to decide whether to relocate to Oakland, we are here for you. You will find out everything you need about this Orlando neighborhood. When you make up your mind, the second step is to find reliable movers. That one is easier because Central Florida movers cover a large area in Florida. Whatever you decide, they will have it covered.
Where is Oakland?
In Florida's Orange County, there is the town of Oakland. It is a small community of only 3,516 people. Those are the numbers from the 2020 Census. That number increased by 38.5 percent since the 2010 census. Officially, Oakland is a part of Orlando. Of course, these pieces of information are not enough to help you decide whether to relocate to Oakland and whether to call movers Oakland FL to help you with that relocation. Don't worry – the rest of the information you will get include:
Oakland's affordability,
safety,
information about schools,
job opportunities,
and activities you can do in your free time.
The costs of living in Oakland
Since Oakland is part of Orlando, the differences in the costs of living aren't that big. Even though the cost is somewhat higher, this is one of the most affordable neighborhoods in Florida. The fact that many people choose to move there proves it. Also, residential movers Orlando have a lot of work, especially in the summer. So, it is better to make up your mind sooner than later and decide to call them. Oakland's overall cost of living index is 120.6, compared to Orlando's 104.1 and Florida's 102.8. Living in Oakland may be a bit more expensive than the average, but it's worth it.
Housing costs in Oakland, FL
The median housing cost index for both rented and owned properties is 157. This is the greatest difference in the median cost when compared to Florida and Orlando and when compared to the national average. The median housing cost in Orlando is 106.1, while in Florida, it is 102.8. Home prices in Oakland are higher than the national average. If you want to own a residence in Oakland, you will have to pay around $502,500, which is the median home price in 2022. That is an increase of 15% compared to 2021. Owning a home in Orlando and Florida is less expensive. The average home price in Orlando in 2022 was $312,136. Still, despite that fact, many people are still hiring local movers Orlando and moving to Oakland.
Rent costs in Oakland, FL
Naturally, most people rent a home after they move. So, most people when they are trying to decide whether to relocate to Oakland they want to see rent prices. Of course, renting a studio is the cheapest. Unfortunately, there aren't many studios for rent in Oakland. The average size for an apartment in Oakland is around 985 sq ft. However, this doesn't mean that you will find an apartment of exactly that size. There are cheap and luxury alternatives for houses and apartments in Oakland, FL. And  985 sq ft is just an average size. Naturally, studio apartments are the smallest and cheapest. 1-bedroom apartments are closer to the average, while 2 and 3-bedroom apartments offer more living space.
The average rent in Oakland in 2022 was $2,075. And, you can find homes that are way cheaper and way more expensive than that. If you decide to move to a smaller home, that can be a problem because of the excess items that you will have to deal with. Still, you can always rent storage Orlando FL and keep your excess items there until you decide what to do with them. Here are the average rent costs depending on the size of the home:
Studio – $1,200
1-bedroom apartment – $1,287
2-bedroom apartment – $1,480
3-bedroom apartment – $1,901
4-bedroom apartment – $2,211
Utility costs
Buying or renting a home, unfortunately, isn't the only housing expense that you need to factor in. You also need to think about utility costs. Electricity, gas, water, phone, and internet are not cheap these days and represent a big item in every household's budget. The average monthly electricity bill in Oakland, FL is around $162.26. The average phone bill is $178.55. Not cheap, but still, 5% cheaper than the national average.
How much does food cost in Oakland, FL?
Housing costs are one of the most important factors that you need to consider when trying to decide whether to relocate or not. However, since the pandemic, food costs are also becoming a significant element. Let's, therefore, take a look at food costs in Oakland, FL. Groceries, in Oakland, FL, are 6% more expensive than the national average. Here are some of the prices that you can find in local stores:
A loaf of bread in Oakland costs $3.66
A gallon of milk in Oakland costs $2.34
Carton of eggs in Oakland costs $1.66
A bunch of bananas in Oakland costs $3.55
A hamburger in Oakland costs $5.02
Healthcare costs in Oakland, FL
When trying to decide whether to relocate to Oakland, surely you would be interested in healthcare costs. That can be one of the most significant items in your budget. Especially if you live with some medical condition that requires constant care and visits to a doctor. To help you understand your possible expenses after moving to Oakland, we gathered some of the healthcare costs that you can expect to find here. For example, a visit to a doctor will cost you around $113.91. An average visit to a dentist costs around $97.40. If you need to visit an optometrist, it will cost you around $105.50. Prescription drugs' average cost is $453.27. And if you have a pet that needs medical attention a visit to a vet will cost you on average around $54.82.
Decide whether to relocate to Oakland based on its safety
When it comes to safety in Oakland, it can be considered one of the safer places in Florida. But, the rates depend on the type of crime. For example, there are 0 murders per 100 residents. the situation is similar to other violent crimes. On the other hand, there are 95 robberies per 1000 residents. Overall, Oakland's property crime rate is 33.8, which is lower than the nation's average of 35.4.
Education and schools in Oakland
When it comes to education in Oakland, there is only one public school in this area. The school is called Oakland Avenue Charter, and around 520 students attend this school. However, this school is among the 20 % of the best schools in Florida because its students have high results in math and reading proficiency tests. On the other hand, many cities and neighborhoods in the vicinity also have great colleges and public and private schools, which is another thing that can help you when trying to decide whether to relocate to Oakland FL.
The kids from this area also can go to Orange County Public schools, which include Tildenville Elementary School, Lakeview Middle School, and West Orange High School. So, even though there aren't many choices in Oakland itself, if you are moving with your family, they will have good educational options in the vicinity.
Job opportunities in Oakland, FL
When it comes to job opportunities in Oakland, most people don't go there to chase a career. It is a good place for students and people who want to work part-time jobs. There are often vacancies when it comes to working in bookstores or as a cashier. On the other hand, the Orlando region is No. 1 in the country for job growth for the fourth consecutive year. The unemployment rate in Orlando is 3,1 %, while the national average is 3,5 %. Also, Orlando is considered one of the best cities when it comes to job stability. Compared to 180 other cities in the USA, Orlando still comes as one of the best.
So, even though there are not that many job opportunities in Oakland, it is offset by career opportunities in Orlando. This means that maybe it is time to hire one of the moving and storage Orlando companies to help you prepare for the relocation, seek a job in Orlando, and move to Oakland to lead a peaceful life. The main industries in Orlando are:
Healthcare
Hospitality and Tourism
Aviation and Aerospace
Information Technology
Life Sciences
Logistics and Distribution
Free-time activities in Oakland are scarce but you can always enjoy Orlando
When it comes to activities you can do in your free time in Oakland; unfortunately, there aren't many. But, same as with job opportunities, there are many nearby places where you can easily go and change your everyday routine. Universal's City Walk is the first activity you have to do and the spot you have to visit. There is always free music, many family activities, and shopping spots. Also, this is the right place for you if you want to enjoy the nightlife and move away from the calm life in Oakland from time to time. Spook Hill is also one of the fun things you can do in Orlando. People still wonder whether it is an optical illusion or the hill is haunted. In any case, that is one of the spooky attractions you don't want to miss.
If you decide to move to Oakland, do it with the help of professionals
Based on information from our blog, you can decide whether to relocate to Oakland. But, that decision should be only yours. Consider the pros and cons, and think about the fact that Orlando is one of the best cities in Florida so you will be near but still in the peaceful Oakland. If, in the end, you decide to move to Oakland, don't forget to hire reliable moving and packing services Orlando that will ensure a safe and carefree move for you and your family.
Few simple steps
Contact our business
Reach out to our Florida movers by phone, email or through our website.
Get your free quote
Give müv the details of your upcoming relocation and receive a no-obligation moving quote and a tailored plan of action.
Enjoy your relocation
Forget about the stress of moving while one of the top moving companies in Florida handles your move.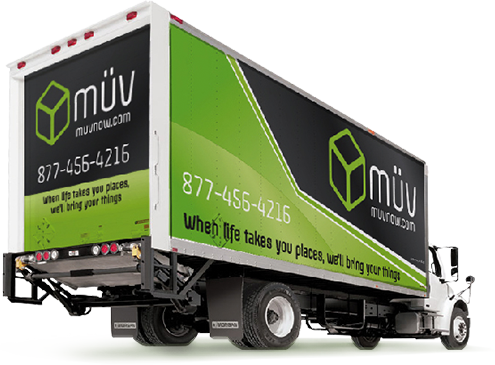 Sales Center Hours of Operation:
Monday - Friday: 9am-6pm
Saturday: 9am-1pm