All the advantages of living in Oakland FL
Get Your Moving Quote
"*" indicates required fields
We as prominent central Florida movers would like to introduce you to the picturesque town of Oakland, Florida. We'll discuss all the advantages of living in Oakland FL. Back in 2017, Oakland celebrated its 130th birthday, and it's the oldest municipality in Orange County. With its population of just a bit over 3 000, it's a perfect place for singles or families to move to. It has a lot of diversity and nature and on the contrary, it's quite urban. So let's dig a bit deeper and see what this beautiful place has to offer you. Let's dive in!
The advantages of housing and renting in Oakland Florida
So let's start with housing. The median home price is $464,633as of July 2022, and the average price for square feet is $252. This is according to the real estate website ZeroDown. The prices of real estate have increased by 28.1% since last year, but that is as expected. As you all know post-pandemic inflation is kicking in, since a lot of money has been printed during covid, and the whole world stopped for almost two years. On the other hand in East Europe, the ongoing war in Ukraine won't stop anytime soon. Now there is also tension between China and Taiwan, so the economy and prices are more than likely to go up. From rents to household items like sugar, and we shouldn't forget the gas. So get ready the winter is coming.

We as local movers Orlando don't mean to scare you; we just want you to be prepared for what's about to come. Now if we talk the average renting price is $1,798. If we talk about the median household size in Oakland is 3.13, and the standard family size is 3.33.  People mostly buy something like Single Family Homes or Condominiums. One fun fact is that about 80% of the residents own a house, while 20% are renting. So the average national renting price is $2,002 last month July 2022, which means that it's Oakland is cheaper than the national average. Now according to FRED (Federal Reserve Bank of St. Louis), the average price in the second quarter of 2022 the average house price is $525, 000. This means that also houses are below the national average.
Green space is the next advantage of living in Oakland FL
As our first reason, we as movers Oakland FL saved you some money, by revealing low real estate and renting prices. You just have to come and see this place, if you have any time google it for pictures it's amazing. We can help you with all the moving around as well as storage and packing. There are electric vehicle chargers in  Oakland. As the name says there are a lot of old Oak trees, the family loves them and especially a young couple who wants to raise their family. People who retire also tend to move here, since it's more peaceful.  There are also Oakland Nature Preserve and Healthy West Orange Boardwalk at Oakland Nature Preserve. For those whole love nature, this is a perfect place. Also, let's not forget Lake Apopka and Johns Lake.
Nowadays there is a concreted path from Oakland to Winter Garden, so you can go there with your bike or golf cart. It's just in the perfect place between Winter Garden and Clermont. Because of the well-developed highway, system which is quite convenient to use, you can be anywhere in Orlando within half an hour. Now if you haven't decluttered properly and you're moving in a hurry we as moving and storage Orlando can help you. Moving isn't so hard as in busier cities, since this one is nestled between these cities so most of the time it's peaceful and quiet. There are a lot of green lawns, and most of the houses have big front and back porches.  While most of the garages are on the rare side.

Traffic, insurance, schools, and shopping advantages of living in Oakland FL
Health insurance is a bit lower than the average Floridas average, as well as the US average.  Now another important thing is transportation and it's better than average, this includes:
Gas prices
Car insurance
Passenger Car Commute
SUV, Pickup Truck Commute
BestPlaces Traffic Index
Avg. Commute Time (min)
Motorcycle Gallons
Miles driven per year commuting
Motorcycles
There are more factors, there are just the most important ones. Now for schools, we're gonna suggest you ones that most people choose for their kids. If you have different preferences, check other sources on the internet and check the campus yourself. Some of these schools are Hope Charter School, Lake Eola Charter School, and Orlando Science Elementary Charter School. These are some of the best primary schools. Some of the best high schools include Orlando Science Middle/High Charter School, Cornerstone Charter Academy, and Imagine South Lake Charter School. If you're a coffee fan check out Prairie House Coffee Co. For the furniture, you can check out the Palm Casual Patio Furniture. There are also shops like Dunkin', Sam's Club, Aldi, Costco, Wholesale Club, etc.
The conclusion
As you can see there are many advantages of living in Oakland FL. There is plenty of green spaces, schools, and shopping opportunities, plus it's near Orlando. We hope that you'll like it here and we encourage you to move. One extra piece of advice is to think about renting storage, there are plenty of benefits of renting storage in Florida. Nowadays there are plenty of choices like climate control and also storages are good for protecting your things. Especially if you haven't decluttered properly, which is often the case, or you simply are moving to a smaller residence. This is it for today, thank you for reading, and have a great move!
Few simple steps
Contact our business
Reach out to our Florida movers by phone, email or through our website.
Get your free quote
Give müv the details of your upcoming relocation and receive a no-obligation moving quote and a tailored plan of action.
Enjoy your relocation
Forget about the stress of moving while one of the top moving companies in Florida handles your move.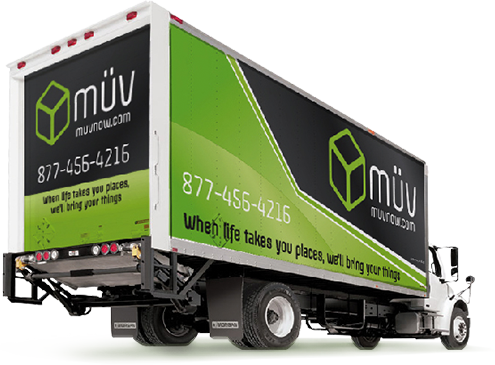 Sales Center Hours of Operation:
Monday - Friday: 9am-6pm
Saturday: 9am-1pm