Common mistakes when renting storage
Get Your Moving Quote
"*" indicates required fields
So, you've decided to move, need extra storage, and you are thinking about renting one? We at müv would like to help you and present you with some of the most common mistakes when renting storage. Either if you're moving a house or decluttering a business, it can still be a challenging process. Sometimes people just can't decide what to keep and what to throw away, so we'll help you with that as well. So let's see what you can do to avoid these mistakes – let's dive in!
The most common mistake when renting storage is the wrong size
If you're renting a storage unit for the first time, that can be troublesome. Many people want to save money and they usually pick the smaller size which makes sense until you start unpacking. Let's say you want to store office equipment and you picked a smaller size store but you managed to squeeze everything in. No matter if you're moving office or your house items, in a tiny space something is probably going to get broken. No matter how compact it looks, weight plus gravity over time will do its magic. So if you don't want anything cracked you can check our website or call us if you need any help with picking the right size for you. Our professional staff will assist you and help you with any storage issues.
Another common mistake when renting storage is lack of planning
Like in every successful business, planning is the key. So you'll need to make an inventory and label boxes properly, so you know where you put what. After that, when you take your things, you'll have to organize the storage. It's much easier to store when you see what you're dealing with. For example, put the heavy things and things that you won't need soon in the back.
On the other hand, put the things that you'll require soon near the entrance as we do in storage Orlando FL. One more thing, please make a clear pathway since if you just put all the stuff like a 4-year-old in a toy box, you'll probably have a lot of trouble finding what you need. This means that you can reach everything in the storage with ease.
Storage insurance and packing materials
Owners of storage facilities are not responsible for any harm done to your possessions while they are being stored. Insurance coverage that covers every item in the storage space is essential to guarantee the security of personal belongings. For an extra cost, we can provide solutions for self-storage protection plans. Your householders' or tenants' insurance policy is unaffected if you need to file a claim. So, think about taking an insurance policy or at least consider taking a bigger storage unit.
Now when it comes to packing materials, remember that you're packing your belongings or your company. Be very careful when picking the right boxes and how you're storing items in them.  Use packing paper instead of newspapers. Especially during summer when it's so hot outside, newspapers are prone to leaking or leaving stains. You can try and use bubble wrap, since it's easy and cheap. Also, it protects against outside impacts, and it keeps items within boxes firm, so they don't move around. You can use towels, and blankets to cover more sensitive items that may be damaged in the moving process. You can use plastic sheets to protect wooden items from dust.
Consider hiring professionals and don't pack wet items
If you are not sure about properly packing things or you simply don't have enough time, consider hiring pros. You can hire them for both moving a business or a home. If you need storage Tampa FL and you don't want to waste time on packing, we can help you with this problem. But if you want to DIY, it's not that difficult, but it's time-consuming and it can get pricey as well, since you'll need a lot of materials. On the other hand, pros know what they're doing and they're quite capable. Also, they'll take out all of the boxes, pack them and unpack them. If there are any hard angles to move around the house or apartment building, they'll handle that with ease.
Another thing that we saw a couple of times at storage Melbourne FL is that people don't check what they've packed. When it comes to pros this hardly happens. But, when people attempt DIY packing, wet items can occur more often. That is why you should always opt for climate-controlled storage units. Most people will usually put on some clothes or something that isn't dry enough and that can cause mold to grow. So, be careful what you put in the boxes and ensure everything is dry. You can also make a laundry schedule if you want to wash everything before you leave your old place. An inventory would be perfect again for packing and labeling, as we've previously discussed.
Conclusion for the most common mistakes when renting storage
First of all, we hope that we've helped you with this article. We know that moving is not easy and is one of the hardest processes you'll ever do. These were our most common mistakes when renting storage. We hope that you find it useful!
Few simple steps
Contact our business
Reach out to our Florida movers by phone, email or through our website.
Get your free quote
Give müv the details of your upcoming relocation and receive a no-obligation moving quote and a tailored plan of action.
Enjoy your relocation
Forget about the stress of moving while one of the top moving companies in Florida handles your move.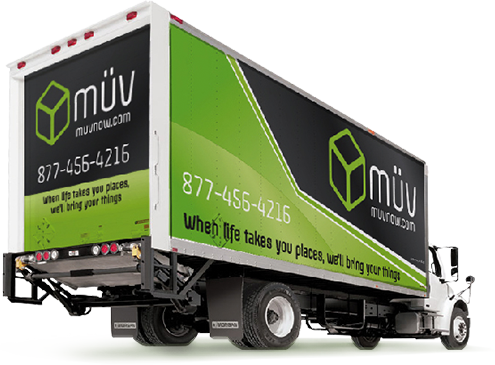 Sales Center Hours of Operation:
Monday - Friday: 9am-6pm
Saturday: 9am-1pm