Best Time to Move to Florida
Get Your Moving Quote
"*" indicates required fields
The Sunshine State is one of the most popular destinations for people looking to relocate. Florida has amazing opportunities for its residents in terms of jobs and education, but also the general quality of life. The tropical climate and year-round sunshine make Florida one of the most popular states to live in in the U.S. If you're moving to the Sunshine State here's how to choose the best time to move to Florida, according to experienced movers at müv, and have a smooth relocation!
Cost efficiency
One of the biggest problems of relocation is the price. A move is going to be expensive, especially if you're moving to Florida from a different state. The time of your move can greatly affect the relocation price, due to several factors. A lot of quality moving companies in Orlando are going to be booked during peak moving season. This can lead to two problems. First of all, you will have fewer options to choose from if you decide to hire professional movers. Secondly, during higher demand and fewer resources, most moving services will be more costly. If you prioritize your budget, it is important to stay as flexible as possible for your moving dates. The best time for moving to Florida for your budget is going to be November through March.
Moving during holidays
Moving during the holidays probably doesn't sound ideal to anyone. And rightfully so! Relocating to Florida during the holidays isn't going to be your best option. If you choose to move during December make sure to schedule everything around Christmas and avoid it. Unfortunately, if you have to relocate during this time, you have to keep in mind that most movers in Melbourne FL, and other cities in Florida don't work on these dates. Additionally, those that do are bound to be booked. Just as during the peak moving season, the higher demand will lead to increased prices. Before you set a moving date make sure to check if there are any holidays overlapping with your dates. However, if moving during holidays is inevitable, try to be flexible and prepare yourself for a potentially longer move. Some of the holidays to keep in mind include:
New Year's day – 31st of December to 1st of January
Memorial Day – 31st of May
Thanksgiving – 25th of November
Veterans Day – 11th of November
Christmas Day – 24th of December
Independence Day – 4th of July
Labor Day – 6th of September
What is the best season for a Florida move?
Even though Florida has a tropical climate and is warm throughout the whole year, there are some differences depending on which season you choose for your relocation.
Spring and Summer
Moving in Spring is a fairly popular option, and it is understandable why. The weather in Florida is perfect for relocating during the spring months. It is warm during the day, but the nights are refreshingly cool. It is mostly dry, and the occasional spring showers are mild and short lasting. This means that weather conditions aren't going to impact your move negatively. Additionally, if you're going to do the labor yourself and carry moving boxes comfortable climate is highly beneficial. However, since climate-wise spring may be the best time to move to Florida you will need to call movers Tampa residents recommend in advance.
If you're moving with children you'll likely want to move during the summer. A lot of families avoid spring relocation due to their kids' school. Transferring schools in the middle of the year can be stressful and inconvenient. Most people move to Florida in July and August, especially families, since the school break is long enough. If you choose to move during peak moving season you should prepare yourself for busy traffic, a lot of tourists, and a lot of already booked movers. The weather is also quite hot and humid, and frequent rain showers could be a problem and cause some delays during relocation.
Fall and winter
Fall in Florida is still quite warm, but the temperature is milder than in summer which be can convenient if you know you will have to spend the day outside moving boxes. The peak of the moving season is over by now, and so is the summer break. This means that there will be more available moving companies to choose from and possibly better deals. Another benefit of relocating to Florida during the fall months is that the housing market is less busy so you could probably find more affordable housing.
If you're moving in the winter you probably won't have any problems in terms of the weather in Florida. The winters are mild and comfortable without too much rain. However, keep in mind that relocating to Florida from another state with a colder and harsher winter can cause problems in transport. You should be prepared for possible delays due to bad weather. On the flip side, it is the most affordable time of the year to move, as long as you avoid any holidays that are around this time. Finding great movers should be easy, and you can probably get good deals because it Is a slower time of the year. Also, the real estate market is not as busy so you should have plenty of time to choose the perfect home and move in at your own pace.
Choose the best time to move to Florida
When it comes to relocation, there is rarely the best time for moving that applies to everyone. So if you're ready to move to the beautiful state of Florida, you should decide what is the right time for you. Keep in mind that whenever you choose to relocate, every season has its pros and cons. The best time to move to Florida is the one that works the most for your needs. Luckily, with a great climate throughout the year, you're guaranteed a smooth move to the Sunshine State!
Few simple steps
Contact our business
Reach out to our Florida movers by phone, email or through our website.
Get your free quote
Give müv the details of your upcoming relocation and receive a no-obligation moving quote and a tailored plan of action.
Enjoy your relocation
Forget about the stress of moving while one of the top moving companies in Florida handles your move.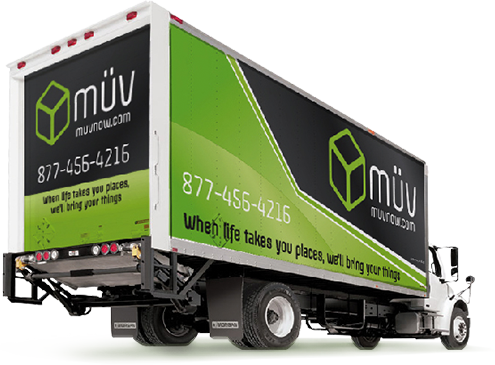 Sales Center Hours of Operation:
Monday - Friday: 9am-6pm
Saturday: 9am-1pm