Discovering Orange County: The Best Things to Do and See in Your New Home
Get Your Moving Quote
"*" indicates required fields
Welcome to your new home! Orange County, a Southern California gem, is well-known for its sunny skies, sandy beaches, and vibrant culture. As your moving expert, I'm thrilled to guide you in discovering Orange County. This place is a unique blend of entertainment, relaxation, and natural beauty, which perfectly paints the picture of life here. You've made a remarkable choice by picking Orange County as your new residence. This region is not just a cluster of cities but a collection of diverse communities, each boasting its own character and charm. From the surf city of Huntington Beach to the artsy town of Laguna Beach, from the upscale neighborhoods of Newport Beach to the buzzing downtown of Santa Ana, there's a perfect spot for everyone. Local movers Orlando relies on are here to tell you all about the must-see places!
Getting around while discovering Orange County
Understanding the geography of Orange County is the first step towards settling in. The landscape is a picturesque blend of sparkling coastline, rolling hills, and bustling cities. A robust infrastructure connects these diverse settings, ensuring residents can easily access the entire county. If driving is your preference, you'll find the highways well-structured and efficient. They link all major points of interest, making it convenient for you to explore your new hometown at your own pace. The I-405, I-5, and CA-55 are some of the main arteries that keep Orange County moving. Rely on moving and storage Orlando services for the relocation logistics.
You can focus on getting to know your new home. But if you'd rather sit back and let someone else do the driving, the Orange County Transportation Authority (OCTA) has got you covered. Providing both bus and rail services throughout the county, OCTA makes public transportation in Orange County a hassle-free experience. The Metrolink rail service, in particular, is a great option for those who prefer a scenic commute. It runs along the coastline, offering breathtaking views of the Pacific Ocean. Hire storage Orlando FL residents trust and leave your belongings there. Go exploring the minute you arrive!
Embrace the outdoor adventures in Orange County
The natural beauty of Orange County extends beyond its beaches. The county is home to a variety of parks, trails, and nature preserves that cater to outdoor enthusiasts of all types. Crystal Cove State Park, located between Newport Beach and Laguna Beach, is a true gem. With its 2,400 acres of backcountry wilderness and 3.2 miles of coastline, the park provides ample opportunities for hiking, mountain biking, and even horseback riding. The park's historic district also offers a glimpse into the past, with its charming beachfront cottages and restored structures.
For those who prefer a more rugged adventure, Whiting Ranch Wilderness Park in Lake Forest is an excellent choice. The park features 17 miles of trails that meander through oak woodlands, grassy hills, and rocky canyons. Keep an eye out for the resident wildlife, including deer, mountain lions, and even the occasional bobcat. Upper Newport Bay Nature Preserve, located in the heart of Newport Beach, is a haven for bird watchers and nature lovers. This coastal wetland is home to over 200 species of birds and numerous other wildlife. The preserve features a network of trails, making it easy to explore its unique ecosystem on foot or by bike.
The magic of Orange County's coastline: beaches you can't miss
Discovering Orange County is incomplete without immersing yourself in its stunning beaches. Each beach along the county's 40-mile coastline offers something unique, creating a beach-lover's paradise that caters to all tastes. Be quick about your move, hire packing service Orlando relies on and start your quest for entertainment in Orange County.
Huntington Beach, also known as Surf City USA, is the perfect spot for those who love the classic Southern California beach vibe. Here, you can catch some waves, soak up the sun, or take a leisurely stroll along the bustling pier. The city is also home to a vibrant downtown area, where you can find a variety of shops, restaurants, and entertainment options.
Newport Beach offers a more luxurious seaside experience. Known for its upscale homes, high-end dining, and chic fashion boutiques, this city exudes sophistication. But it's not just about glamour here. The Newport Harbor and Balboa Island area provide plenty of family-friendly activities, including boat rentals, harbor cruises, and even a charming old-fashioned fun zone.
Laguna Beach will be your favorite spot if you're more inclined towards the arts. Famous for its art festivals, galleries, and unique public art displays, this town is a hub of creativity. The beaches here are just as beautiful, with hidden coves, crystal clear waters, and scenic trails that invite exploration. As one of the top moving companies in Orange County, müv praises your decision to relocate here!
Orange County's cultural treasures: museums and arts
In addition to its natural beauty and culinary delights, Orange County is a hub of culture and arts. The county is home to several world-class museums, art galleries, and theaters, providing enriching experiences for residents and visitors alike. Bowers Museum in Santa Ana is a must-visit for any art and history enthusiast. The museum's collections span several continents and thousands of years, offering a glimpse into various cultures and civilizations. They also host a variety of temporary exhibits, educational programs, and cultural festivals throughout the year.
Another cultural gem is the Orange County Museum of Art (OCMA).  It focuses on modern and contemporary works. Here, you can explore thought-provoking exhibitions featuring local, national, and international artists. The museum also offers a variety of educational programs and events, including artist talks, film screenings, and family-friendly activities. For performing arts, the Segerstrom Center for the Arts in Costa Mesa is the premier destination. This beautiful venue hosts a wide range of performances, including Broadway shows, dance, music, and other live entertainment. It's a fantastic place for a special night out in Orange County.
Delve into the flavors of Orange County's culinary scene
When it comes to food, Orange County has something for everyone. Its culinary scene reflects the county's cultural diversity, offering a multitude of flavors from around the world. Movers Oakland FL know all about the best places to eat in Orange County! In Santa Ana, the heart of Orange County, you can find some of the best Mexican food in Southern California. From street-side taco stands to upscale Mexican restaurants, the city offers an authentic taste of Mexico. Make sure to try some delicious tacos al pastor or mouth-watering chiles rellenos while you're there.
Little Saigon in Westminster is the perfect destination for Vietnamese cuisine enthusiasts. This vibrant neighborhood is packed with a variety of eateries, serving everything from steaming bowls of pho to crunchy banh mi sandwiches. Don't forget to visit the Asian Garden Mall, where you can find a wide range of Vietnamese and other Asian goods. Newport Beach is a seafood lover's dream. With its close proximity to the ocean, the city offers some of the freshest seafood you can find.
Treat yourself to a succulent lobster dinner or indulge in a tray of oysters at one of the many waterfront restaurants. Orange County is also home to a number of food festivals held throughout the year. Events like the Taste of Huntington Beach, Tustin Street Fair and Chili Cook-off, and the Newport Beach Wine and Food Festival provide fantastic opportunities to sample a wide array of local flavors all in one place. And for those who enjoy cooking at home, farmers markets such as those in Irvine, Costa Mesa, and Fullerton offer a bounty of fresh, locally-sourced produce.
Engage with the community
As you settle into your new hometown, becoming an active member of your community is key to making Orange County feel like home. There are countless opportunities to get involved, from joining local clubs to volunteering at community centers. Consider joining a sports league or taking up a new hobby through a local club. This is an excellent way to meet new people who share your interests. If you're passionate about a particular cause, volunteer at a non-profit organization, or participate in local fundraising events. Annual events like the Huntington Beach Fourth of July Parade, the Newport Beach Christmas Boat Parade, and the Laguna Beach Pageant of the Masters are perfect opportunities to connect with your neighbors and immerse yourself in the community spirit.
Don't miss out on Winter Park when discovering Orange County
Winter Park, Florida, is a charming city filled with plenty of activities. Enjoy a tranquil boat tour through the Winter Park Chain of Lakes, or visit the Charles Hosmer Morse Museum of American Art, home to the world's largest collection of Tiffany glass. Stroll the picturesque Park Avenue, brimming with boutique shopping and dining options. For nature lovers, Mead Botanical Garden offers a peaceful retreat. In winter, the city hosts various holiday events, making it a festive destination. Whether you're a resident or a visitor, Winter Park ensures there's always something fun to do. Moving companies Winter Park has to offer recommend this destination to all their clients!
Ocoee is another of the must-see places
Ocoee, Florida, situated in the heart of Central Florida, embodies an impeccable blend of historical charm and contemporary living. This city, renowned for its community-focused ethos, offers a wealth of recreational activities. From the serene Starke Lake to the picturesque West Orange Trail, the natural beauty is simply captivating. The city boasts a superior educational infrastructure, a diverse culinary scene, and a culturally rich environment. To facilitate a smooth transition to Ocoee, professional movers Ocoee FL trusts, provide unparalleled services. Choose Ocoee, and you're not merely relocating; you're stepping into a life enriched with quality, comfort, and community spirit.
Family fun in Orange County
If you're moving to Orange County with kids, you'll find no shortage of family-friendly activities and attractions. From theme parks to educational centers, there's something to keep children of all ages entertained. Disneyland Resort in Anaheim, known as the "Happiest Place on Earth," is undoubtedly the most famous attraction. Here, you can meet your favorite Disney characters, enjoy thrilling rides, and watch spectacular shows. But Disneyland is not just for kids; adults will find plenty of fun and nostalgia as well. Another notable attraction is Knott's Berry Farm, America's first theme park. With its mix of exhilarating rides, live entertainment, and unique history, Knott's provides a fun-filled day for the whole family. For a more educational experience, consider visiting the Discovery Cube Orange County. This science center offers interactive exhibits that make learning fun and engaging for kids.
From luxury brands to local boutiques!
Shopping in Orange County is an experience in itself. The region boasts an array of shopping destinations, from luxury malls to charming local boutiques. South Coast Plaza, located in Costa Mesa, is a paradise for luxury shoppers. This sprawling mall houses an impressive collection of high-end brands, making it one of the premier shopping destinations in the country. Additionally, if you prefer a more relaxed, outdoor shopping experience, Fashion Island in Newport Beach is the place to go. This open-air mall offers a mix of upscale brands, and trendy boutiques. Furthermore, it has a variety of dining options, all with beautiful ocean views. For a unique shopping experience, head to the local farmers markets or the artisanal boutiques in downtown areas. Here, you can find everything from fresh local produce to handmade crafts and one-of-a-kind gifts.
Your journey in discovering Orange County begins
As you explore the beaches, savor the cuisine, and engage with the community, you'll find that your new home is a place filled with excitement, warmth, and unforgettable experiences. So, take the time to explore, enjoy, and embrace everything that Orange County has to offer. Your journey is not just about the destination, but about the memories you create and the connections you make along the way. Discovering Orange County goes beyond visiting places and doing activities; it's about embracing a lifestyle. Here, life is about enjoying the outdoors, savoring good food, appreciating art, celebrating diversity, and being part of a vibrant community. Therefore, as you embark on this new chapter of your life, we hope that you'll find Orange County to be more than just your new home- but a place where you truly belong. Welcome to Orange County, your new paradise!
Few simple steps
Contact our business
Reach out to our Florida movers by phone, email or through our website.
Get your free quote
Give müv the details of your upcoming relocation and receive a no-obligation moving quote and a tailored plan of action.
Enjoy your relocation
Forget about the stress of moving while one of the top moving companies in Florida handles your move.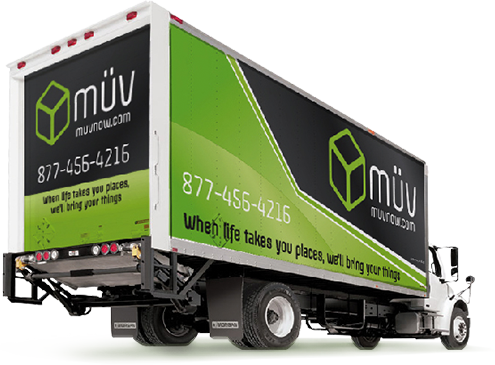 Sales Center Hours of Operation:
Monday - Friday: 9am-6pm
Saturday: 9am-1pm