How to pack and move from Orlando to Oakland
Get Your Moving Quote
"*" indicates required fields
The decision on moving home to a smaller place is as often as the decision to move to a larger place. In both cases, you will need to get through the moving process. Some relocations are less complex than others, due to many factors. But even if your move does not seem that complex, you'll need to prepare for it properly. If you have decided to move to Oakland from Orlando then you should just stay with us. Whether your move is small or large, we can help you prepare to pack and move from Orlando to Oakland without complications. So, stay with us and consider hiring one of the finest moving companies in Central Florida for your upcoming move. With our simple packing and moving tips, you will get to your new Oakland home in no time. Let's conduct your move seamlessly and enjoy time in Oakland after it.
Things to know before you pack and move from Orlando to Oakland
Just about 19 miles from the city of Orlando in Orange County, there is a very small town called Oakland. This is place is exactly where you can escape from Orlando which has a population of over 307,000 residents. With a population of nearly 3,000 people, this is a quiet and peaceful town with a strong sense of community. Despite its size, Oakland has all the amenities needed for comfortable living. This place has a stable job market, but it is also suitable for students and people looking for part-time jobs. Although this is smaller than Orlando, Oakland has high housing costs. But once you move with our movers Orlando residents recommend, you will realize it is worth it. In Oakland, you will enjoy so many things in a completely different environment that you will like. This is a livable and safe place with affordable costs of living.
Try avoiding a DIY move
After you find out that you need to move to Oakland or you choose to do so, think twice before you opt for DIY moving. Although this small town is near your current home, don't underestimate the complexity of the upcoming moving tasks. Even a local move can be overwhelming without the help of reliable moving assistance. Also, your fragile belongings aren't going to be less fragile just because you are moving several miles away. So, once you decide to pack and relocate from Orlando to Oakland, make sure to protect properly your items for transport. If you are not sure how to do it or just don't have enough time, appoint your moving date and rely on our movers Oakland FL has to offer. We know this area by heart and we will perform your move safely.
Simple ways to pack for a move from Orlando to Oakland
Although packing is a serious task, with a good strategy it can become smooth and pleasant. For sure you don't want to move everything you own at your Orlando home. So, firstly your should sort out your belongings and decide which items you will place in storage Orlando FL. After you do this, it will be much easier to pack and move from Orlando to Oakland. Take an inventory of items you want to pack and purchase proper moving supplies. Make sure to provide enough supplies ahead and enlist help to pack up your household. Remember to take enough time for packing your delicate items or let this job to professional packers. If you decide to do it on your own, divide your items into several groups and pack them separately. Don't forget to label your moving boxes and you will enjoy unpacking at your new Oakland home.
Don't pack the items you don't use
No matter how the idea of quick packing is tempting, make sure to avoid it. You'll waste a lot of time if you just get all your items in boxes and get them in the truck. This means you will have to leave sorting out your things until you arrive at your new home. When you start unpacking your moving boxes, you will figure out you are not going to use many of the items that you have packed and moved. This will result in wasted money on the transport of your belongings and less time to settle down quickly at your new home. It is a much better idea to hire residential movers Orlando and let them help you plan out your move. Certainly, they will remind you of the excess of your items you should take care of before the big day comes.
Get ready for the big day
The last thing you should do is to leave your items unpacked until the moving day. It is never early to pack at least half of the items you don't use that frequently. Our recommendation is to first take care of packing your valuables and large and heavy items. Even though your items will be transported to your new home quickly, check if you did pack them properly. Protect your floors, clear all walkways and hallways and prevent complications. Since there are certain items your movers will not pack and move such as plants and liquids, make sure to move them on time by using your vehicle. This is not a job you should leave for the big day, it will just unnecessarily add stress to your move. And when you are stressed out, you could get injured while carrying your items in boxes.
Regardless of the reasons you are moving to Oakland, you should be happy about it. This small town is in a perfect location, has good elementary schools and green spaces, and parks. In addition, here you can count on great weather almost throughout the entire year. It is an ideal place for families, young professionals, couples, and students. Hope this article helped you to pack and move from Orlando to Oakland. We wish you a pleasant adjustment period after coming to Oakland.
Few simple steps
Contact our business
Reach out to our Florida movers by phone, email or through our website.
Get your free quote
Give müv the details of your upcoming relocation and receive a no-obligation moving quote and a tailored plan of action.
Enjoy your relocation
Forget about the stress of moving while one of the top moving companies in Florida handles your move.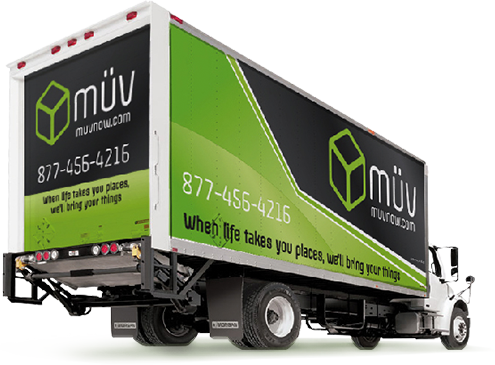 Sales Center Hours of Operation:
Monday - Friday: 9am-6pm
Saturday: 9am-1pm