Moving from Winter Park to Orlando: guide for future homeowners
Get Your Moving Quote
"*" indicates required fields
Moving from a small town like Winter park to the big city that is Orlando is an exciting yet stressful experience. Orlando is the fourth largest city in Florida. The city is primarily known for its amusement parks, therefore earning the nickname "Theme park capital of the world". Relocating to a city famous for entertainment and a lot of tourists can seem overwhelming to someone coming from Winter Park. While Orlando may be known for its fun activities, it has so much more to offer to its residents. Good quality education, diverse neighborhoods, beautiful green areas, and job opportunities make this city a great place to live! With professional movers in Orlando FL, moving from Winter Park to Orlando has never been easier!
Choose the right neighborhood when moving from Winter Park to Orlando
Living in Orlando has so much to offer. The city itself has over 100 neighborhoods to choose from. It is important to explore all of your options and decide which one is the best for your needs. Depending on the reason for your move you should choose the right neighborhood. Whether you're a young couple, a student, or a family with kids, there is a perfect neighborhood for your needs. Some of the more popular parts of Orlando are:
College Park
Lake Eola Heights
Thornton Park
Hunters Creek
Lake Nona
Celebration.
Explore the housing options in Orlando
If you're planning to settle down and buy a house in Orlando you should first explore all your options. Since buying a house is a big investment, you want to make sure to find the best possible house for your budget and your needs. Orlando real estate has been booming post-pandemic as more and more people are relocating and buying houses here. You can save some time by hiring movers Winter Park while you explore houses.
With housing in Orlando being in high demand, the prices are going up. The housing market is getting really competitive and houses are starting to sell faster. This means that the average time for selling a house after it has gone on the market is only 13 days. The prices are getting higher each month and the homebuyer affordability index went down. However, the median home price which stands at $335,000 is still significantly lower than the national average.
If you're moving from Winter Park to Orlando and planning to own a house keep in mind it is still the seller's market. This means that the number of houses that are sold is larger than the number of houses available. An important note, prices are expected to keep growing and the rent prices are also getting exponentially higher. Accordingly, buying a house in Orlando can be a great investment down the road!
Hire the best Orlando FL movers when moving from Winter Park
When you find the house you will call your new home you can start planning the rest of your move! Finding the best moving companies in Florida will help you relocate with ease. You should decide if you want to hire full service movers or DIY your move. Florida is offering a large number of moving and storage companies, so you should aim to find the right storage Orlando FL for you. Since most of your time will be taken by choosing the right house, you should leave the moving process to professional movers and enjoy your relocation.
Benefits of living in Orlando
Orlando has been a great city for anyone looking for a job. The opportunities are countless no matter your field of work. That has been one of the main reasons people are looking to relocate here. There has been a recent decrease in unemployment in Orlando. The job market is consistently expanding making finding a job that much easier. It is also becoming a popular location for companies and businesses, especially in the tech field.
If you're moving from Winter Park to Orlando for educational purposes you're on the right track. Orlando is offering a great variety of both public and private schools. The quality of education with a growing job market is what makes the city of Orlando a great place for families. With help from Central Florida movers, relocation to Orlando has never been easier.
We can't talk about the benefits of relocating to Orlando without mentioning the entertainment. Famous for its amusement parks, the fun is never-ending in Sunshine City. Some of the most famous pop culture attractions include the legendary Walt Disney World, LEGOLAND, Universal Studios, and SeaWorld. For adrenaline lovers, there are countless amusement parks with some of the most exciting rollercoasters in the world. But the fun doesn't end here! Orlando is also home to great clubs and has a rich nightlife to offer to fans of clubbing.
The weather in Orlando is another reason for moving
The weather in Orlando is one of the many benefits of living in Florida. The climate is warm and sunny during 95% of the year. It makes Orlando a perfect place for outdoor activities. The tropical climate can sometimes bring unexpected rain showers, however, they are of short duration and do not lower the temperature. The beautiful weather can be valuable when you want to escape urban life and enjoy nature. While Orlando is a modern city, it has a lot of greenery. You can always take a walk in one of the parks or visit one of the lakes in the area.
If you are moving from Winter Park to Orlando we are sure you will have an exciting relocation. With all of its benefits, Sunshine city is one of the top places to live in. Buying a home is a life-changing event that brings a lot of security down the road. Hopefully, you will find the home of your dreams in Orlando! Have a safe move from Winter Park!
Few simple steps
Contact our business
Reach out to our Florida movers by phone, email or through our website.
Get your free quote
Give müv the details of your upcoming relocation and receive a no-obligation moving quote and a tailored plan of action.
Enjoy your relocation
Forget about the stress of moving while one of the top moving companies in Florida handles your move.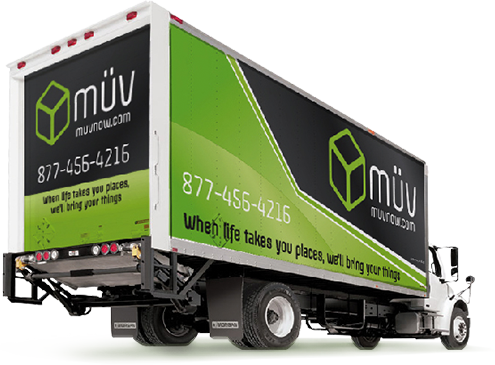 Sales Center Hours of Operation:
Monday - Friday: 9am-6pm
Saturday: 9am-1pm