Moving your office from Clearwater to Tampa – Quick tips & tricks
Get Your Moving Quote
"*" indicates required fields
Moving your office from Clearwater to Tampa? Commercial relocations have one big difference compared to when you are moving your home – you have to ensure everything runs smoothly and be as efficient as possible in order to ensure minimum downtime. In the following article, some of the best office movers in Tampa will show you how to do it quickly and efficiently.
Moving your office from Clearwater to Tampa efficiently
If you're planning on moving your office from Clearwater to Tampa, müv prepared some quick tips and tricks to make the process smoother:
Make a plan
Create a checklist
Hire professional movers
Pack and label everything
Create an inventory list
Coordinate with your IT department
Update your address information
Communicate with your employees
Plan for downtime
Plan ahead
Start planning your move at least a few months in advance. This will give you enough time to organize everything, including notifying your employees and clients about the move.
Create a checklist
Make a detailed checklist of everything that needs to be done before and during the move. This can help you stay organized and avoid forgetting anything important.
Hire a professional moving company
Consider finding some reliable movers Clearwater FL has to offer. They can help you pack and transport your office equipment and furniture safely and efficiently.
Pack and label everything
You can hire movers to pack you or you can do it on your own. If you are doing it without professionals, make sure all boxes and equipment are labeled clearly with their contents and their destination in the new office.
Take inventory
Take inventory of all the items you're moving to make sure everything arrives at the new location.
Coordinate with IT
Coordinate with your IT department to ensure that your technology and internet services are set up and ready to go before you move in.
Update your address
Don't forget to update your address with all relevant parties, including vendors, clients, and service providers.
Communicate with your employees
Keep your employees informed about the move, and make sure they know what to expect and how to prepare.
Plan for downtime
Plan for some downtime during the move, as it may take some time to set up everything in the new office.
Why business in Tampa is better than in Clearwater
Is the business in Tampa better than in Clearwater? Well, both cities have their unique advantages and opportunities for business growth. However, Tampa does have some advantages that may be more appealing to certain businesses. For example:
Larger population and more diverse economy – Tampa has a larger population and a more diverse economy than Clearwater. Naturally, this may provide more opportunities for businesses to find customers and clients.
Access to major transportation hubs – Tampa is home to the Port of Tampa, Tampa International Airport, and major highways, making it easier for businesses to transport goods and travel to and from the city.
Stronger business infrastructure – Tampa has a larger business infrastructure, including more office space and a greater number of networking opportunities, which may be beneficial for some businesses.
Business in Tampa
Tampa, Florida has a thriving business climate that is supported by a diverse economy, pro-business environment, and talented workforce. The city is home to a variety of industries, including finance, and healthcare, but also technology, providing ample opportunities for businesses to grow and expand. Also, Tampa's business-friendly policies, low taxes, and minimal regulations have made it an attractive location for entrepreneurs and startups. Moreover, the city's strategic location, excellent infrastructure, and access to top talent have made it a hub for innovation and growth. With a strong economy and favorable business climate, the city of Tampa is a great place to start or expand a business.
Plan ahead and find efficient movers
That is all you need to know about moving your office from Clearwater to Tampa. As you can see, with the right preparation and reliable moving and storage Tampa offers it can be done quickly and efficiently, and, most importantly, with minimum downtime.
Few simple steps
Contact our business
Reach out to our Florida movers by phone, email or through our website.
Get your free quote
Give müv the details of your upcoming relocation and receive a no-obligation moving quote and a tailored plan of action.
Enjoy your relocation
Forget about the stress of moving while one of the top moving companies in Florida handles your move.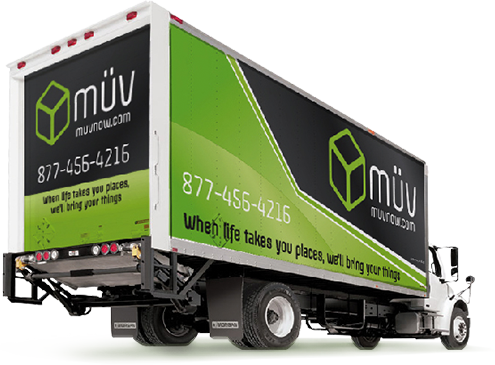 Sales Center Hours of Operation:
Monday - Friday: 9am-6pm
Saturday: 9am-1pm