Living the Florida dream: Pros and cons of moving to the Sunshine State
Get Your Moving Quote
"*" indicates required fields
At first glance, Florida seems so perfect, like a state without a single flaw. But is that really so? It's not! There is not a single place, city, village, or state in the world that we can say is perfect, without a single flaw. What you must know is that every place in the world has its pros and cons. And when you plan to move it's one of the main things you need to consider. So, if you are moving to Florida before you start your move and contact müv company, look at all the pros and cons of moving to the Sunshine State. This will help you to be sure of your decision and make sure once again that you have made a good choice. And now, let's see all the pros and cons of moving to FL!
Is living in Florida like a dream?
White sand, sunny and blue skies, crystal clear water, 360 miles of coastline, and 189 official beaches – Does this sound like a dream to you? What does it associate you with? We will tell you that this can really seem like a dream. And it associates you with all-day enjoyment on the beaches, drinking Mojito cocktails, and all-day parties that last until the late hours of the evening. But do you think every day is like this in Florida? No, this is how you will only be able to spend your free days. But if you are lucky, find a good job, a nice home, and have a happy family, your life will be like a dream.
And now let's look at the economic side of this state. Florida residents are exempt from personal income, estate, inheritance, and gift taxes. Also, favourable living conditions, high living standards, and living costs are at an index of 103.1 according to data from. But that's not all either. A healthy and strong economy awaits you, with activities such as production, transportation, and finance, but of all, tourism is the main activity. This can also make Florida seem like a dream state.
What are the pros and cons of moving to the Sunshine State?
If you have decided to move to Florida, the pros and cons of moving to Florida that we will present will be of great use to you. The most important thing is to consider everything, and based on that, reconsider your decision once again so that you are completely sure. When choosing a place to live, don't let the beauty of the picture fool you. And it's always best to see for yourself. For example, Florida has divine beaches, such as Cocoa Beach, which is also one of the most beautiful cities in this state. It's famous for surfing and shops like Ron Jones and Cocoa Beach Surf Company. And, movers Cocoa Beach FL offers can help you to move here if this place is your choice. Just call them.
Pros of moving to Sunshine State
Florida offers its residents many amenities for life. But, if you haven't lived in this Sunshine State before, then you should familiarize yourself with them before moving. Let's begin!
Warm and sunny days throughout the year. After moving, to Florida, you will be able to enjoy over 200 sunny days a year. And that is one of the things that newcomers like the most. Therefore, you will not need winter clothes.
Affordable life. Florida is considered one of the most favorable states for living, working, and having fun. And as we said at the beginning, over 21 million residents here are exempt from taxes.
Discounts for residents. Do you know that Florida is a state that is full of attractions and is never boring? For example, Walt Disney World in Orlando offers discounts on four-day passes. But there are many other attractions waiting for you in Orlando, such as Universal Studios. And, also, moving and storage Orlando companies are at your disposal.
Beaches. Yes, beaches are the main attraction of this state, and some of the most famous and award-winning beaches are Siesta Beach in Sarasota, Clearwater Beach, Pensacola Beach, Delray Beach, as well as St. Joseph Peninsula State Park, and Panama Public Beach.
Cons of moving to Sunshine State
Of course, in addition to all the benefits that Florida offers, there are also a few cons that can be a really big draw. So, if you are not ready to face high temperatures, big crowds, and terrible traffic jams, reconsider your decision about Cto Florida.
Insects. This is one of the biggest cons of this Trp state. And the worst thing is that there is no season for bugs, they are there all year round.
Bad public transport and big crowds. Given that the population of Florida is huge, and that almost everyone uses public transportation, this can create congestion, and represent one of the cons, especially for the elderly population.
There are no seasons. Throughout the year, you will encounter summer and high temperatures. While you can forget the colors of autumn and spring.
Compared to what this state offers, these few cons can be negligible. Unless you really like crowds, high temperatures, and bugs. So, consider them all. And if you still want a slightly cooler climate, consider St. Petersburg FL. winters here are from November to March and are mostly cold but short. The weather professionals say that the coldest period was on December 13, 1962, when the temperature was -6°C. 
Are you still dreaming?
As you could see now and make sure that each place has its own pros and cons, now you can think differently. If we were to summarize the whole story about the pros and cons of moving to the Sunshine State, we could say that Florida is a state where you can really live your dream. Because it really is, if you exclude bugs and other insects, crowds, and bad public transport. But there is one thing that can be solved, and that is the high temperatures. You can look for a cooler place in Florida, like St. Petersburg. And in that case a moving company St  Petersburg FL relies on can be of great help to you. It's enough to contact us and we will start the moving preparations right away.
Few simple steps
Contact our business
Reach out to our Florida movers by phone, email or through our website.
Get your free quote
Give müv the details of your upcoming relocation and receive a no-obligation moving quote and a tailored plan of action.
Enjoy your relocation
Forget about the stress of moving while one of the top moving companies in Florida handles your move.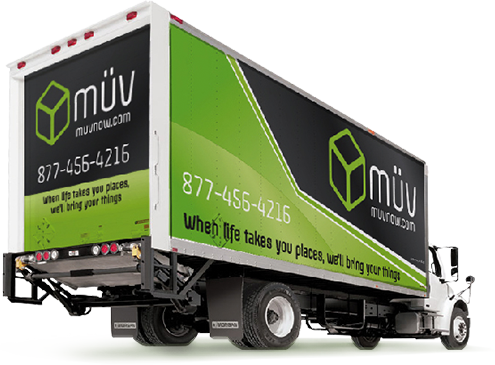 Sales Center Hours of Operation:
Monday - Friday: 9am-6pm
Saturday: 9am-1pm