Tips for moving from Melbourne to Orlando
Get Your Moving Quote
"*" indicates required fields
Are you planning on moving from Melbourne to Orlando? The journey ahead is filled with excitement and challenges, but with the right tips and guidance, you can ensure a smooth transition. In this comprehensive guide, we will provide valuable insights and practical advice to help you navigate your move successfully, from start to finish. müv moving experts are here to help!
Research your new city
Before you embark on your move, take the time to research Orlando, Florida. Explore its diverse neighborhoods, vibrant attractions, and amenities that align with your lifestyle. Dive into the local culture, consider factors such as commute times, school districts, and the cost of living. Equipping yourself with this knowledge will help you make informed decisions and choose the best neighborhood that suits your needs and preferences. Movers Orlando has to offer are here to help you make the transition once you do decide!
Understanding the Real Estate Market
Familiarizing yourself with the real estate market in Orlando is a crucial step in your journey of moving from Melbourne to this vibrant city. Orlando offers a thriving real estate scene with a wide range of housing options to suit different lifestyles and budgets. In downtown areas, you'll find trendy apartments that cater to urban living. These modern units often come with desirable amenities and convenient access to the city's bustling attractions. On the other hand, if you prefer a quieter suburban lifestyle, Orlando offers spacious homes nestled in family-friendly neighborhoods. These areas boast excellent schools, parks, and a more relaxed atmosphere. Get in touch with your movers Melbourne FL relies on and start your move!
The median home price in Orlando was approximately $275,000. To make informed decisions about your housing options, it's essential to research current market prices and property trends. Stay updated on recent sales and listings in your desired neighborhoods through real estate websites and platforms. However, to gain a deeper understanding and personalized guidance, consulting with a local real estate agent is highly recommended. They possess comprehensive knowledge of the Orlando market and can help you find the perfect home within your budget.
Make an informed decision when moving from Melbourne to Orlando
Moving from Melbourne to Orlando is a common occurrence, with thousands of individuals and families making the transition each year. Exploring relocation statistics and trends can provide valuable insights into the experiences of others who have undergone a similar move. Understanding the demographics, common routes, and reasons for moving can help ease any concerns and uncertainties you may have, allowing you to approach your relocation with confidence and a sense of community.
Comparing the cost of living
Before you make the move, it's essential to compare the cost of living between Melbourne and Orlando. Take into account factors such as housing, utilities, transportation, groceries, and healthcare. By understanding the cost disparities, you can budget effectively and make informed decisions about your finances. Consider the potential impact on your lifestyle and plan accordingly to ensure a smooth financial transition.
Utilities and transportation costs align, with similar expenses for electricity, water, heating/cooling, and well-connected road networks. When it comes to groceries, Orlando tends to have slightly lower prices. However, individual shopping habits and seasonal variations can impact actual expenses. Healthcare costs vary based on insurance coverage and medical needs. Research healthcare providers, insurance options, and estimate potential out-of-pocket expenses. By conducting a comprehensive cost comparison, you can budget effectively and ensure a smooth financial transition as you embark on your move from Melbourne to Orlando.
Hiring a moving company you can trust
When it comes to long-distance moves like Melbourne to Orlando, hiring professional movers is a wise investment. Seek out reputable moving companies with experience in handling interstate relocations. Request quotes, compare services, and read customer reviews to make an informed choice. Professional movers will handle the logistics of packing, loading, and transportation, providing you with peace of mind and saving you valuable time and effort.
Pack and organize your move
Efficient packing and organization are crucial for a smooth move. Begin by decluttering your belongings and only pack what you truly need and cherish. Invest in high-quality packing materials to ensure the safety of your items during transit. Label boxes clearly, room by room, and create an inventory list to keep track of your possessions. This will simplify the unpacking process and help you settle into your new Orlando home more quickly and efficiently. You can simply hire packing service Orlando offers and solve your problem!
Make sure that the paperwork is in order
One of the essential tasks during a move is managing your address change and notifying relevant parties. Contact the post office to set up mail forwarding, and inform banks, insurance companies, subscriptions, and other important contacts about your new address. Additionally, update your driver's license and vehicle registration to comply with state requirements. Taking care of these details early on will ensure a seamless transition and help you avoid any potential inconveniences.
Settling into your new home after moving from Melbourne to Orlando
Once you arrive in Orlando, take the time to familiarize yourself with your new surroundings. Explore the neighborhood, discover local amenities such as grocery stores, healthcare providers, parks, and recreational facilities. Introduce yourself to your neighbors and participate in community activities to establish connections and feel more at home. Joining local groups or clubs aligned with your interests can also be a great way to meet like-minded individuals and build a support network in your new city.
Embrace the Orlando lifestyle
Orlando is renowned for its vibrant culture and world-class entertainment. Embrace the unique experiences the city has to offer, from visiting famous theme parks like Walt Disney World and Universal Orlando Resort to exploring the thriving arts scene. Indulge in the diverse culinary delights, attend local festivals and events, and immerse yourself in the rich cultural fabric of the city. Embracing the Orlando lifestyle will not only enhance your experience but also help you forge connections with the community and create lasting memories.
Embark on an exciting new journey!
As you prepare for moving from Melbourne to Orlando, following these tips will help ensure a smooth and successful transition. Conduct thorough research on Orlando, understand the real estate market, and compare the cost of living. Consider hiring professional movers for a stress-free relocation experience, and prioritize efficient packing and organization. Manage your address change and services promptly and take the time to settle into your new home and embrace the vibrant Orlando lifestyle. With careful planning, a positive mindset, and a willingness to embrace new opportunities, your move from Melbourne to Orlando can be the start of an exciting and fulfilling chapter in your life.
Few simple steps
Contact our business
Reach out to our Florida movers by phone, email or through our website.
Get your free quote
Give müv the details of your upcoming relocation and receive a no-obligation moving quote and a tailored plan of action.
Enjoy your relocation
Forget about the stress of moving while one of the top moving companies in Florida handles your move.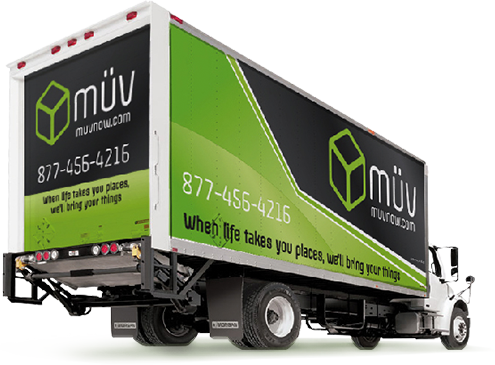 Sales Center Hours of Operation:
Monday - Friday: 9am-6pm
Saturday: 9am-1pm