Best beaches on the Space Coast
Get Your Moving Quote
"*" indicates required fields
Welcome to the Space Coast, an enchanting slice of Florida that effortlessly fuses technology and nature. This area is renowned for its historic space launches, yet it's the beaches that truly ignite visitors' imaginations. Nestled between the Atlantic Ocean and the Indian River, these shores play host to a dynamic array of recreational activities, scenic vistas, and wildlife encounters. But with an abundance of sandy stretches, choosing the perfect beach can feel daunting. Fear not. Your best Space Coast movers aim to assist you. We've meticulously selected the crème de la crème of Space Coast beaches, each offering a distinctive allure. Whether you're a passionate surfer, a wildlife enthusiast, or a peace seeker yearning for tranquility, we have a beach for you. Let us embark on this sun-kissed journey to discover the best beaches the Space Coast has to offer. Welcome aboard!
Cocoa Beach is a standout among the best beaches on the Space Coast
Cocoa Beach is the quintessential beach town often hailed as the crown jewel of Florida's Space Coast. This much-loved destination, sitting beautifully between the Atlantic Ocean and Banana River, holds a special place in the hearts of locals and tourists alike. It's not just the sun-kissed sand or the rolling waves that make Cocoa Beach special, but the friendly community and vibrant atmosphere that keep visitors coming back. Renowned for its surfing, Cocoa Beach offers the perfect break for both seasoned and novice surfers. A trip to the iconic Ron Jon's Surf Shop, the world's largest surf shop, is a must-do. But Cocoa Beach's appeal goes beyond the surf. With its expansive sandy shores, there's ample space for sunbathing, beach volleyball, or simply building sandcastles with the kids.
A trip to Cocoa Beach is incomplete without a visit to the nearby Kennedy Space Center. Combining the natural allure of the beach with the captivating history of space exploration, Cocoa Beach offers a unique experience you won't find anywhere else. The iconic Cocoa Beach Pier, stretching 800 feet into the Atlantic, is a testament to the city's charm. Here, you can savor fresh seafood, shop for souvenirs, or try your luck at fishing. As you stroll along, watch out for dolphins that often grace these waters! When the sun sets, the nightlife comes alive with beachfront restaurants and bars offering live music and mouth-watering local cuisine.  The surf town's allure extends beyond the beach, making it a hub for businesses and families who want to call this beach haven home. If you're planning to move to this surfer's paradise, you might find movers Cocoa Beach FL quite helpful.
Exploring a wildlife paradise
Canaveral National Seashore, nestled on the east coast of Florida, is a mesmerizing testament to the untamed beauty of the Space Coast. This pristine beach, devoid of commercial developments, offers visitors an authentic coastal experience like no other. Encapsulating over 24 miles of untouched sandy expanse, Canaveral is a jewel in the crown of the National Park Service, brimming with lush dunes, lagoon waters, and an astounding variety of wildlife. The untouched beauty of Canaveral National Seashore is nothing short of a paradise for nature enthusiasts. This seashore's heart lies in its remarkable biodiversity. From playful dolphins cavorting offshore to majestic sea turtles nesting on the beach, the wildlife spotting opportunities here are as diverse as they are abundant. In the serene backwaters, you might spot manatees, alligators, or even a diverse range of migratory birds.
Experience Canaveral's sand dunes and scenic trails
This natural sanctuary is home to the largest sea turtle nesting habitat in the United States, making it a must-visit during nesting season. Witnessing these ancient creatures embark on their arduous journey is a truly moving spectacle. Similarly, birdwatchers will find their slice of heaven here. With over 310 bird species recorded, Canaveral is a bird lover's paradise. The beach's awe-inspiring sand dunes, some reaching up to 35 feet high, further accentuate its beauty. These towering dunes, carpeted with a diverse array of native vegetation, play a crucial role in the ecosystem by providing shelter to various wildlife and preserving the beach's integrity against storms. If you're planning a move to be closer to such natural splendor, consider hiring professional movers in Rockledge FL.
Immerse yourself in nature as you explore the various hiking trails that wind through the seashore's diverse habitats. Here, nature takes center stage, and every step takes you closer to the serene heart of Florida's Space Coast. To truly appreciate Canaveral National Seashore, one must take time, breathe in the salty air, listen to the gentle lapping of the waves, and simply exist within its extraordinary natural grandeur. Should the magic of this location inspire a move, moving companies in Palm Bay are ready to assist.
A family-friendly surfing haven
Satellite Beach is a family and surfer-friendly destination on the Space Coast. Located on a barrier island between the Atlantic Ocean and the Indian River, this beach promises an unforgettable experience. It's an ideal location for surfers, with consistent waves all year round. For families, it offers serene picnic spots, ample parking, and lifeguard services. Moreover, Satellite Beach hosts numerous recreational activities. You could enjoy:
Surfing on consistent waves
Beach volleyball at the well-maintained courts
Biking along the picturesque trails
Kayaking or paddleboarding in the calm river waters
Preserving nature at Satellite Beach
Satellite Beach is not just about fun and recreation. It's also deeply committed to environmental conservation. The city takes pride in its proactive efforts to protect local wildlife and their habitats. The Sea Turtle Preservation Society's work here is commendable. They educate visitors about the importance of protecting nesting sites. Moreover, the Satellite Beach's 'Leave No Trace' policy encourages visitors to clean up after themselves. This initiative ensures the beach remains litter-free, protecting both the landscape and the marine life. By choosing Satellite Beach, you're endorsing a community that values and safeguards its natural surroundings. Visit Satellite Beach, and be part of this commendable environmental endeavor. Us at müv also encourage you to follow these guidelines.
A serene escape to Playalinda Beach
In a world where tranquility is often a luxury, Playalinda Beach emerges as an unparalleled oasis of calm. Tucked away on the easternmost tip of the Space Coast, Playalinda, meaning 'pretty beach' in Spanish, stays true to its name. Known for its secluded nature, Playalinda offers an escape from bustling crowds and the hustle of commercialization. Its beautiful sandy stretches reach out towards the horizon, offering a picturesque panorama. Playalinda Beach is the epitome of natural beauty, its sandy shores kissed by gentle waves, all watched over by the timeless beacon of the Cape Canaveral Lighthouse.
Untouched paradise at Playalinda
Playalinda's charm lies in its untouched state, with development being kept at bay. Its pristine beauty shines through the azure waters, powdery sands, and a skyline untouched by high-rise buildings. This lack of development adds a sense of raw appeal, making it a favorite amongst those yearning for a 'back-to-nature' experience. Access to the beach is via rustic wooden boardwalks that meander through the natural vegetation. These walkways are respectful to the environment, ensuring minimal human impact on the native flora and fauna. Along the beach, natural dunes form an idyllic backdrop and provide shelter for local wildlife.
Playalinda is also part of the Canaveral National Seashore, further solidifying its commitment to conservation. This place is a paradise for those seeking peace and solitude. Here, the only sounds you'll hear are the rhythmic ocean waves, the rustle of sea oats, and the call of seabirds. In this serene setting, it's easy to lose oneself in the beauty of the moment. Playalinda Beach invites you to step away from the everyday hustle and bask in its untouched splendor. It's a world away from the typical beach experience, and it's waiting to be discovered.
A traditional Space Coast getaway
Tucked away in the southern part of Florida's Space Coast, Melbourne Beach offers a delightful mix of relaxation and adventure. This charming coastal town is renowned for its laid-back vibe, picturesque landscapes, and a rich history that dates back to the 1800s. As one of the oldest beaches in the region, Melbourne Beach brims with a character that's distinct yet seamlessly blends with its natural surroundings. This idyllic location has gained acclaim for its surfing conditions. A favorite among both locals and tourists, Melbourne Beach presents consistent swells that cater to a wide range of skill levels. With several surf shops dotted along the beachfront, you can easily rent gear or even sign up for surf lessons. If you're planning to relocate to this surfer's paradise, you might find movers Melbourne FL offers quite helpful.
Casting a Line at Melbourne Beach
In addition to its wave-riding potential, Melbourne Beach also holds a reputation as a prime fishing spot. From the inviting shoreline to the well-equipped Sebastian Inlet State Park, anglers have plenty of choices. Whether you're a seasoned fisherman or a novice, Melbourne Beach offers an unforgettable fishing experience. The variety of species that thrive in these waters is truly impressive. From snook to redfish and tarpon, the opportunities for a great catch are abundant. Numerous fishing tournaments throughout the year add an extra dash of excitement, making Melbourne Beach a hotspot for fishing enthusiasts.
Whether you're carving waves on a surfboard or casting lines in the sparkling waters, Melbourne Beach offers an enticing coastal experience. Its unique blend of activities, coupled with its natural beauty and history, make it a must-visit location on the Space Coast. Discover Melbourne Beach and find out why it remains a beloved destination among those seeking the perfect blend of surf, sand, and sea.
Florida's Hidden Gem among the best beaches on the Space Coast
Indialantic Beach is an enchanting seaside gem on Florida's Space Coast. Situated between the Indian River and the vast Atlantic Ocean, it's a perfect beach getaway. Its unique geographical location offers visitors unparalleled panoramic ocean views and tranquil waters. As an oceanfront town, Indialantic's white sandy beach is a major attraction. It's a favorite spot for both locals and tourists. Indialantic Boardwalk, a prominent local landmark, offers food stalls, shopping, and recreational activities. It's the ideal place for a leisurely stroll or a quick bite. Water sports enthusiasts love Indialantic Beach. Surfing and paddleboarding are favorite activities, thanks to the consistent waves. For a calmer experience, try yoga on the beach or cast a fishing line off the pier.
Just a stone's throw from the beach, you'll find Indialantic Riverfront Park. It's a haven for families with picnic areas, playgrounds, and stunning river views. Canoeing and kayaking on the river offer an adventurous way to explore the area. History buffs appreciate the nearby historic Rossetter House Museum and Gardens. It's a testament to Indialantic's rich heritage. Another fun fact – the Guinness World Record for a surfing pyramid was set at Indialantic in 2015. Wildlife thrives in Indialantic. Sea turtle nesting sites dot the beach, and birdwatchers marvel at the diversity of species found here. Don't miss the annual sea turtle walks during nesting season.
Start exploring these perfect getaways
The Space Coast is a true treasure trove for beach lovers. All the best beaches on the Space Coast, like the lively Cocoa Beach, serene Satellite Beach, and the picturesque Indialantic Beach, cater to every traveler's taste. Whether you're seeking adrenaline-fueled water sports, tranquil spots to unwind, or a family-friendly day out, the Space Coast has got you covered. Additionally, every beach on the Space Coast tells its own unique story, inviting you to be a part of its charm. So pack your beach bag, put on your flip flops, and discover the unforgettable beauty of the Space Coast's best beaches.
Few simple steps
Contact our business
Reach out to our Florida movers by phone, email or through our website.
Get your free quote
Give müv the details of your upcoming relocation and receive a no-obligation moving quote and a tailored plan of action.
Enjoy your relocation
Forget about the stress of moving while one of the top moving companies in Florida handles your move.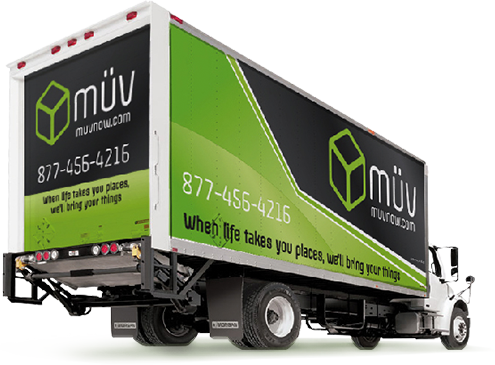 Sales Center Hours of Operation:
Monday - Friday: 9am-6pm
Saturday: 9am-1pm