Will 2023 Be A Good Year To Buy A House In Florida?
Get Your Moving Quote
"*" indicates required fields
Buying a home and settling in permanently has to be one of the biggest achievements for people. Not because society thinks that is a necessary thing to do. It's mainly because we feel very good after it. Doing this means we managed to deal with certain life obstacles and fulfill our dream of having a nice and cozy house. However, once you dive into the entire process you will realize that it is not as simple as it may sound. Your budget will be affected and you will have to make a couple of crucial decisions. For those who plan on doing it, let's see if will 2023 be a good year to buy a house in Florida, and how to do it!
Living costs in Florida
If you are not currently a resident of this state, that means you will soon have a relocation on the way. With the help of Central Florida movers, you will manage to get there easily and on time. However, you will have a lot of work yourself. Moving is not all about loading and transporting your items. You will get to know the place you will be calling home soon. One of the things that will affect your entire lifestyle and future is the living cost. The sooner you get to know the numbers, the better you will organize your budget. 
Florida is one of those states that is famous worldwide, and that means a lot. Tourism is one of the main sources of income, especially in bigger cities like Miami or Orlando. And since tourism is affecting the living costs as well, they may be notably different than those in your hometown. Currently, the living costs in this state rate 103.1/100. As you can see it is just a little bit above the national average which is not concerning at all.
But these numbers include different costs like groceries, utilities, and transportation. Among them is, of course, housing, which will determine a good year to buy a house in Florida. 
Housing costs
The most important ones are of course the housing costs. Way before you hire top ranking residential movers Orlando, you will have to explore the housing costs and markets to the fullest. They will determine the price of your home or apartment. Since they can change anytime, you should always stay up to date. The housing costs in Florida currently are 101.1/100. That is more than suitable and surely is making 2023 a good year to buy a house in Florida. From there you should proceed to explore the market and compare the prices to your budget.
Keep in mind that numbers on average, don't mean that the costs are the same everywhere. This is why it is so important to check them separately in the city you will be moving to. Here are the housing costs for some major cities in Florida:
Miami 136.5/100
Orlando 100.9/100
Tampa 105.2/100
Jacksonville 79.5/100
Will the economy make 2023 a good year to buy a house in Florida?
In recent years, the real estate market in Florida is having significant growth for different reasons. This became even more notable once the global Pandemic was over, as the entire world was in crisis. However, Florida is slowly coming back and so is its economy. As you already know by now, tourism is pushing the state forward, as well as many other factors. According to many official statistics, the prices of real estate in Florida will continue to grow, but much more slowly than in the past. 
At the moment, the economy in Florida is pretty stable. People are getting back to their old habits and jobs and the entire state is successfully dealing with financial losses from 2019-2020. If you are purely thinking about the economy, then it may be time to schedule your relocation with companies related to moving and storage in Orlando.
The best way to always know what is happening in this field is to keep track of the economy in the state. even if you don't currently live there, the internet will be a great tool to help you out. Bookmark important websites and pages and always have trustworthy sources on your side. After a while, you will have a great insight into the market and will be able to make a good decision. 
The importance of the unemployment rate
Another thing that may not be directly connected to all of this, but matters a lot is the unemployment rate in Florida. If you plan on moving there from another state, you will have to find a job sooner or later. Even though those who will be working remotely should know about it on time. Making a huge step like buying a home or property and settling in, requires you to multitask and think about different matters all at once. 
As of 2023, the unemployment rate in this state is 2.30% which is less than it was in December 2022. The good news is that Florida is always looking for people, especially those in the fields of:
Tourism
Education
Medicine
Construction
Sales
If you plan on moving, buying a house, and finding a job you should take one step at a time. Try to send out job applications way before you schedule your move. If you are in the area moving companies Winter Park can help you achieve perfect timing. Once there is a job interview waiting for you, you can proceed to explore the real estate market and finally purchase a house. 
Buying a house in Florida in 2023
And now, off to the main thing. If everything turns out right and you find a home that suits you and your family, the time will come to explore it fully and make a decision. Even if it's a good year to buy a house, you shouldn't be doing it on your own. Real estate agencies in Florida can help you a lot, and you should consider relying on them from the start. The thing that all states and countries in the world have in common is scam agencies.  They will try to take your money, and make you buy an unsuitable property. Since this happens all the time and people tend to have extreme financial losses, you must make sure to avoid them. 
The real estate agent should provide all the useful data as well as be there to answer all of your questions. Luckily, there are plenty of them in Florida and it doesn't take too long to come across one. If you know someone who recently bought a home, you can go with their agent, in case that is a trustworthy company. 
The average cost of homes in FL
Your budget should be your main priority when buying a house. Even the tiniest mistake can lead to huge issues in the future and before you know it, this purchase can turn out to be a mistake. Luckily, doing that is easy to avoid as long as you know what to focus on from the start. Your big plan for this entire thing must include your finances and you should organize them as soon as possible. Divide your expenses and always leave a certain amount of money on the side for unexpected situations. This will turn out to be very useful even if you don't spend it at all.
As of 2023, the average median price of homes in Florida was $385,000. This is the price for a medium-sized home usually with a garden and a garage. Even though the price can vary and can be much lower or higher, it all depends on what exactly are you looking for. Those who have a huge family and are looking for a bigger home should expect to pay for it much more.
Can you reduce the price of your new house?
This is more than possible, especially if you know what step to take. People managed to reduce the costs of their homes to a point when their homes went from very expensive to extremely affordable. The secret is to be economical and avoid financial risks as much as possible. Once you decide to buy a home, try to sell as many things from the old one as possible. These could be items you no longer use or that can't fit anymore. This will help you save on relocation or some renovation work in your new home.
If you don't have to commute, try to find a suitable place in Florida where the prices are lower and homes are nicer. This could be a subtle suburb or a nice area somewhere in the countryside. Those who have their own vehicle will find it much easier to deal with daily tasks no matter where they settle in the end. Just try to be practical and come up with a solution as soon as possible.
Best places to buy a house in Florida
At a certain point, you will have to find a moving agency. You will need to move your belongings to a new home. With their help and a reliable Orlando packing service, you will be ready in no time. But way before you do that, you must choose a place where you will buy your home and eventually move to. Keep in mind that Florida has around 400 cities and towns, you will have plenty of options in front of you. The major factors for making the decision will include your lifestyle, job, and things you plan to do in the future. 
Thanks to the experiences of people who recently purchased real estate and moved to Florida, it is easy to narrow down some of the most suitable places to do so. Buying a home there and settling in will be a good choice no matter what your profession is or how you like to spend your leisure time. Here are some of the most notable ones:
Grand Hampton, Tampa
Chuluota, Orlando
Beach Haven, Jacksonville 
Coral Heights, Oakland 
Good and dependable movers in Oakland FL can even help you plan your relocation once you buy a house. A good moving company will always have an understanding of you and your plans, especially once you manage to make huge changes in a short period. Let them know about the preferable date for your relocation, and they can even suggest the perfect time for it. Almost every neighborhood in FL has a unique event or festival, and you should be there in time for them. 
In conclusion
When you manage to collect all the pieces you will be able to see the entire situation much clearer. And once the time for relocation comes make sure your items are ready for transportation. If you are short on time or space, rely on storage Orlando FL  has. Your items will be safe for as long as you want. Carefully make a plan with your moving company. While they deal with your items you can go and inspect your new home. Be ready to make a couple of trips while the process lasts as this way you will be sure that the place is perfect for you and your family.
It is safe to say that 2023 may be a good year to buy a house in Florida. Living and housing costs are suitable for an average salary and you can easily pull it off. Keep in mind that this is not something people tend to do every day. Take as much time as you need to think everything through. You will find it much better to wait longer than to make rash decisions. Feel free to ask your real estate agent about all the dilemmas you have. Don't be afraid to pass on the offer if it doesn't suit you. The main priority is to find a house you will call home. That is not something that should happen overnight!
Few simple steps
Contact our business
Reach out to our Florida movers by phone, email or through our website.
Get your free quote
Give müv the details of your upcoming relocation and receive a no-obligation moving quote and a tailored plan of action.
Enjoy your relocation
Forget about the stress of moving while one of the top moving companies in Florida handles your move.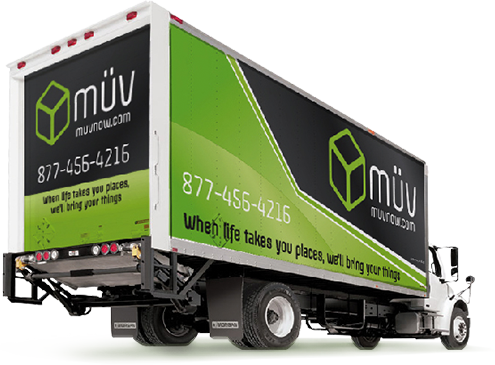 Sales Center Hours of Operation:
Monday - Friday: 9am-6pm
Saturday: 9am-1pm