Benefits of living in Orange County Florida
Get Your Moving Quote
"*" indicates required fields
You've probably heard many times that Florida is one of the best states to live in. If you're thinking of making Florida your home, we can guarantee that you won't go wrong if you make that decision. But have you thought about which part of Florida to move to? When you are looking for a place that can offer you an exciting life, but also good business opportunities, you should consider Orange County. So, we want to reveal the benefits of living in Orange County Florida. And if you decide on a big adventure called moving, seek professional help from central Florida movers. Their help can mean a lot to you.
Orange County – One of the best places to live in Florida
According to the last census, about 1.43 million people live in Orange County. As you can guess, this is one of the most populated places in Florida. But, apart from residents, this place is also a favorite of tourists from all over the world. Orange County is a place that will provide you with an exciting lifestyle, entertainment, various activities – all the fun things to do, and much more. If you're considering moving to this county, don't waste time thinking for too long, because we're sure you won't regret it.
Orange County is home to three airports, including Orlando International Airport, a world-class airport. This facilitates the arrival of tourists and future residents from all over the US. In search of outdoor activities, recreation, and sports, as well as arts, culture, and economic opportunities, the number of people visiting or moving to Orange County increases each year. The number of inhabitants has grown by as much as 24.8% in the last 10 years, which is about 300,000 new inhabitants in the area.
Also, it is home to some of the most famous places, such as Dr. Phillips Center for the Performing Arts, Camping World Stadium, Sun Rail, and a Major League Soccer Stadium. And what this district is proud of are the football teams Orlando City Soccer and Orlando Pride.
Benefits of living in Orange County Florida
The conveniences of living in Orange County are our main topic. That is why now we will introduce you to all the conveniences that this county can offer you. Let's see!
A comfortable life. Orange County scores very highly when it comes to livability. And for many years, it carries the highest grade A. This grade comprises education, cost of living, entertainment, healthcare, crime rate, and residents' satisfaction with life in this district.
Favorable real estate and renting prices. Real estate prices range from $190,000 depending on the location you choose. The median home cost in Orange County is $313,000 which is a decent price compared to the median income of $47,556. Also, average rental prices are around $1,100.
Outstanding education. Education in this county is highly ranked, and Orange County is home to well-known colleges, over 281 public schools, serving 215,356 students, and about 190 private schools in its vicinity.
Excellent business opportunities. The unemployment rate is lower than the average level of the states and tends to fall. Orange County can offer you more than 160 different jobs and occupations. The most sought-after jobs are in health care.
Good fun. Nightlife, entertainment, activities, concerts, and art are just some of the fun things this place can offer you. Orlando is famous for its Walt Disney World attractions, too. So, if this is important to you, you can call residential movers Orlando right away.
Nature. The nature of Orange County is certainly one of the perks of living in Florida. With a large number of lakes, rivers, and pine forests, it will provide you with a pleasant stay whether you are a resident or a visitor. Summers are warm, so it's nicer to spend time in nature in spring and autumn; even winters have their charms.
Best cities to live in Orange County
As one of the most populous counties in Florida, it consists of 13 cities: Apopka, Bay Lake, Belle Isle, Eatonville, Edgewood, Lake Buena Vista, Maitland, Oakland, Ocoee, Orlando, Wintergarden, Winter Park. Winter Park is the best choice for those who want a family life. So, movers Winter Park stand at your disposal for your family move.
In a city with a total of 13,072 households, almost a third are with children. Winter Park is home to about 30K residents, among whom as many as 67% are homeowners. If you plan to rent an apartment, to begin with, keep in mind that the median rent for the city is $996. For many young residents, as well as retirees, Winter Park offers a mix of urban and suburban. With plenty of restaurants, bars, and more than 70 parks where festivals and various celebrations take place, it will keep you and your family entertained all year round.
The average household income is 80,500 dollars and concerning the average expenses, it meets the needs of the population. If you are moving in with children, you will also be interested in the fact that education is at a high level. This is a peaceful learning environment and according to resident reviews there are many excellent teachers "who are willing to go out of their way to make sure their students are successful". 
The City Beautiful
Rightly nicknamed The City Beautiful, Orlando is one of the favorite places for the young population. This information is confirmed by the percentage of young residents in Orlando aged 24-34, which is 23% of the total population. And at the same time, it is one of the best places to live in Orange County. If you decide to move to this city, or you already live in it but are looking for a better location, start preparing in time. Of course, take advice from local movers Orlando who will greatly help you. Whether it is a matter of relocation or the need for storage during the move, you will find their support.
One of the benefits of living in Orlando, Florida is the favorable real estate scene. With a median home price of $390,000, you're likely to realize the idea of home ownership quickly. Even if you buy a smaller house cheaper than average, residential or commercial storage Orlando FL will always find extra space for your unused belongings.
Orlando is home to more than a hundred lakes, including Lake Eola, which is as deep as 80 feet. Another nice thing about Orlando are the swans, of which there are about 50 of five different breeds at Lake Eola. This city is host to many cultural events. Among them are the Florida Film Festival and the Florida Music Festival. The city also supported culture and art through two free art galleries, open to all visitors. If you decide to move to this city, start your preparations on time and, of course, use moving services in Orlando. So, Orlando can be the best choice for you, especially if you find the right movers.
Oakland – healthy place in Orange County
Oakland is one of the healthiest places, not only in Orange County but in all of Florida. This small town is home to over 200,000 trees. As much as 24.7% of Oakland's area is covered by trees, which makes it one of the healthiest living environments. Greenery and large treetops along the sidewalks encourage people to spend time outside breathing in the fresh air. It is a town, where the residents and the police are good friends. You can constantly see them patrolling the streets of these cities, and you can consistently feel safe, including during the night, which is one of the benefits of living in Orange County Florida.
The majority of the population owns their own homes, even median house price is $597,232. Also, whichever part of the city you choose, you will always have good neighbors. The most desirable parts of Oakland are in the southwestern part of the city, and the most favorable is in the western region. Schools are easily accessible, and no matter where you live in the city, they will always be near you.
One of the benefits of moving to Oakland is the strong growth in the number of employees, which increased by 3.9%. With an average salary of $79,750, the average cost of living is covered although it is slightly higher than the US average. If having a high salary is one of the reasons you want to relocate, contact movers Oakland FL. You will have a memorable move.
Ocoee, Orange County
When we talk about ideal places for family life, we have already said that Winter Park is one of them. But it's followed by Ocoee, a quiet and peaceful place ideal for raising a family. With a population of 49,168, Ocoee is the third largest city in Orange County. This Orlando suburb is located just 12 miles west of downtown Orlando. It is ideal for all outdoor activities because it has beautiful nature. With numerous lakes here you can enjoy fishing and walk around the lakes.
More benefits of living in Orange County Florida are Walt Disney World, biking along the West Orange Trail, fishing at Bill Breeze Park, or picking blackberries at Tom West Blueberries. Whichever activity you choose, you'll have a perfect family day out. Neighborhood Lake Whitney has all top A schools and it's perfect for new families. With a low cost of living and plenty of entertainment, you and the kids will love it. So, for family moving, movers Ocoee FL are standing by you. They will be your constant help, the best support, and security during your move.
The safest city, Apopka
Apopka is a safer city than 30% of other cities in Florida. With a population of 53,106, this city is among the 20% safest in the US. This is a place where you can easily become a homeowner, especially if you are moving from a more expensive city. The median house price is $390,900. According to residents, Apopka is a charming town, perfect for raising children, without big crowds and sudden bad events. During the day you can enjoy nature. Fishing, kayaking, canoeing, or hiking are available on the lakes. You will have an interesting family day even if you go explore the Wekiwa Springs, State Park. Being here is one of the great benefits of living in Orange County Florida.
A part of the city dedicated to history is the Museum of the Apopkans, which offers visitors galleries and exhibits that talk about the history of the Acura people who once lived in the area. Apopka schools rank high among Orange County schools. Given that fact, you can plan to grow roots for a longer period. looking at all of the above, we conclude that Apopka is a city that can easily become your next destination.
Hire a moving company and start a better life
Talking about Orange County, we can freely say that all its cities can offer you a comfortable, high-quality, and affordable life.  Don't hesitate to move there. You can even hire packing service Orlando to finish moving preparations quicker. Regarding the benefits of living in Orange County Florida, safety and a low crime rate are among the biggest benefits, after favorable living conditions. So, if you want a quiet and safe place for you and your family, you'll find it here. Orange County Florida is waiting for you!
Few simple steps
Contact our business
Reach out to our Florida movers by phone, email or through our website.
Get your free quote
Give müv the details of your upcoming relocation and receive a no-obligation moving quote and a tailored plan of action.
Enjoy your relocation
Forget about the stress of moving while one of the top moving companies in Florida handles your move.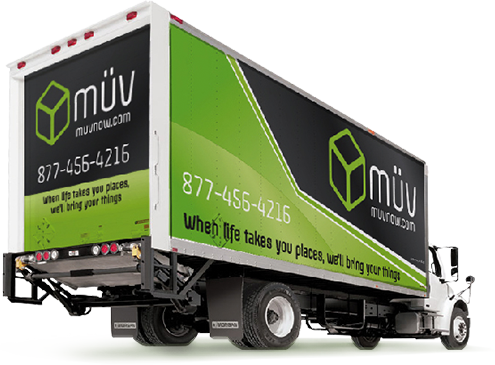 Sales Center Hours of Operation:
Monday - Friday: 9am-6pm
Saturday: 9am-1pm