Benefits of renting storage during holiday season
Get Your Moving Quote
"*" indicates required fields
The holiday season can't be without lights, decorations, and all those essentials. We all need a little magic these days. With the holidays over, however, it's not easy to pack up and find a convenient place for all this stuff. All those decorations need a safe place to stay secure until next year. Therefore, renting storage during holiday season, such as storage Orlando FL, may be the best solution. Wondering what the benefits are? Keep reading to find out.
The gifts will wait for their moment in safety
We were all children once, and we remember how hard it was to wait for the presents. We would look all over the house for them, eagerly awaiting the official party. We're sure you don't want to break the magic of the holidays by being careless with the gifts. By renting a storage unit, you will protect your gifts from prying eyes and searchers. Finally, you'll have a place to wrap your gifts safely and in peace. You are lucky if you live in Tampa because renting storage Tampa FL is the best thing you can do. Keep your decorations safe until the next holiday season.
You are organizing a party, and you don't know where to put the furniture
You want to get your friends and family together for the holiday, but you want everyone to be comfortable. If you live in Melbourne,  don't hesitate for a second. Free up space by storing unnecessary furniture and items. Storage Melbourne FL can provide short-term rental services with no long-term commitment. We'll say it's the right solution, and the party is on.
The temporary storage of summer stuff
Seasonal equipment can take up space in our pantries and on the shelves in the garage, and most of the time, we don't use it. Your free storage capacity in the house will explode by renting a storage unit. With müv, you will have the ultimate moving and storage experience. A trained and friendly staff is here to meet your needs and to stand behind our many years of experience.
Benefits of renting storage during holiday season: store your Christmas decorations
The Christmas holidays bring their own set of ornaments and decorations. When we say goodbye to the celebrations and holidays, it's time to clean up our living space. The storage unit will keep your belongings safe with climate-controlled and good storage conditions.
How to choose a storage unit?
If you've decided to rent a storage unit, keep a few important things in mind:
Choose a location that is close to you and easy to access
Check security measures
Climate-controlled storage units
All of these factors affect the safety of your belongings during storage. By renting a storage unit in Florida, you will ensure optimal storage conditions and preserve your items until the next time they are needed. We hope we were able to show you the many benefits of renting storage during holiday season. Now it's up to you to find the storage that fits your requirements and needs.
Few simple steps
Contact our business
Reach out to our Florida movers by phone, email or through our website.
Get your free quote
Give müv the details of your upcoming relocation and receive a no-obligation moving quote and a tailored plan of action.
Enjoy your relocation
Forget about the stress of moving while one of the top moving companies in Florida handles your move.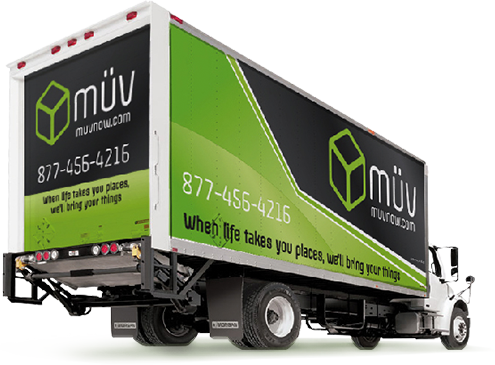 Sales Center Hours of Operation:
Monday - Friday: 9am-6pm
Saturday: 9am-1pm